Before he went down with a calf injury, Danny Green was supposed to be the Philadelphia 76ers' good luck charm because he won back-to-back NBA championships during one-year stints with the Toronto Raptors in 2019 and the Los Angeles Lakers in 2020.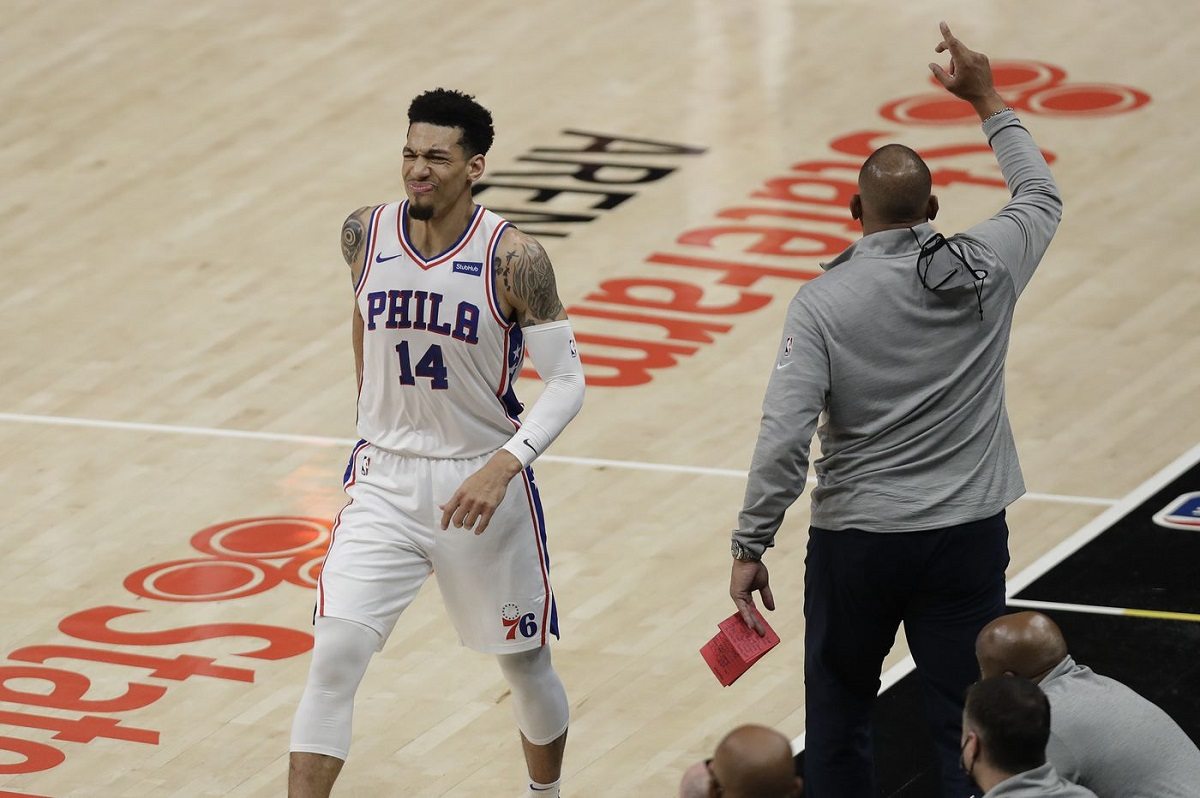 The top-seeded 76ers will lose Green for at least two weeks when his injury will be re-evaluated by the training staff. If the 76ers advance to the NBA Finals, they hope Green will be able to rejoin the team.
"Calf injuries are not great," said head coach Doc Rivers.
Green averaged 9.4 ppg in the first round against the Washington Wizards and shot 47.6% from 3-point range. The 76ers still two wins away from a trip to the Eastern Conference finals, and six wins away from a berth in the NBA Finals.
The 76ers are +600 odds to win the 2021 NBA Championship according to the Circa Casino and Sportsbook in downtown Las Vegas. In addition, the 76ers are +200 odds to win the Eastern Conference. DraftKings updated its NBA playoffs series line and the 76ers are big favorites at -770 odds to advance to the East finals. The Atlanta Hawks are +500 odds to pull off the upset and rally back to win this series.
Danny Green Injury Update:

An MRI today confirmed a right calf strain. Green will be re-evaluated in approximately two weeks.

— Philadelphia 76ers (@sixers) June 12, 2021
Banged-up Philly
The 76ers added Green, 33, to provide veteran leadership for a young team thirsty for a championship. He's actually won three rings, including one with the San Antonio Spurs in 2014 during his seven-year tenure under Gregg Popovich. With Green down, the 76ers will have to scramble, but Rivers has a deep bench and a couple of options, especially after backup shooting guard Shake Milton woke up from his slumber.
After losing the opening game against the Atlanta Hawks, the 76ers won two games in a row to take a 2-1 series lead. But they'll play Game 4 and the next fortnight without Green.
Joel Embiid is already operating at less than 100% after he tore his meniscus in the first round. Embiid gutted through the pain and has been phenomenal this series, averaging 35.3 points, 10.3 rebounds, and 2.3 blocks per game. In Game 2, Embiid scored a career playoff high of 40 points, despite the sore knee.
Next man up: Shake or Matisse
When Green went down in the first half of Game 3, Rivers tapped Matisse Thybulle to fill in. Thybulle only tallied seven points replacing Green, but he shot 3-for-4 from the floor. Thybulle impressed everyone with his solid job assisting Ben Simmons in defending Hawks superstar Trae Young.
Rivers will platoon Thybulle and Milton as injury replacements for Green.
"It is a decision we're going to have to make on what's more important, the extra defender or the extra floor spacer," so good, in a lot of cases you got some of both."
Milton was in the dog house in the first round and fell out of Rivers' rotation, but he's since redeemed himself. He only scored six points in Game 3, but notched 14 points in Game 2 during an inspiring performance off the bench. A hot-shooting Milton shot 4-for-5 from downtown in a 16-point victory.
Green was only playing in his first season with the 76ers, but he had become a vocal leader in the locker room. That's the kind of leadership that's hard to replicate. "When you lose a vocal guy, it's not so much for one person to step up but for everyone," Thybulle said. "It's huge for me and for everyone down the line."
Check out more coverage of the 2021 NBA Playoffs.