The top-seeded Philadelphia 76ers missed a chance to sweep the #8 Washington Wizards in Game 4 when center Joel Embiid exited prematurely due to a knee injury. The Wizards defeated the 76ers to avoid a sweep. Embiid will miss Game 5 after an MRI revealed a partially torn meniscus in his right knee.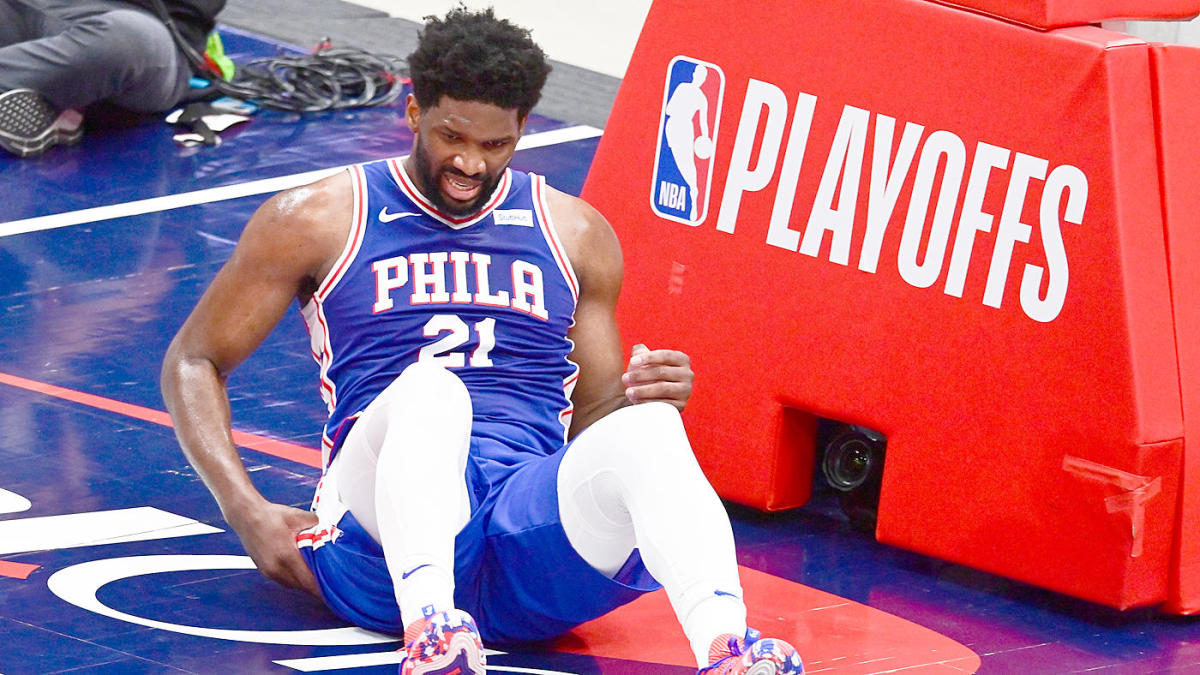 Embiid won't undergo surgery… for now. He's listed as day-to-day while undergoing treatment and physical therapy.
The 76ers host the Wizards in Game 5 in Philadelphia, where they boasted one of the second-best home records in the NBA with a 25-7 clip. They've won both of their home games in the playoffs so far, which included a seven-point victory over the Wizards in Game 1 and a 25-point blowout in Game 2.
---
Game 5: #8 Washington Wizards (1-3) vs. #1 Philadelphia 76ers (3-1)
Tip-off: 7 pm ET
Location: Wells Fargo Center, Philadelphia
Point Spread: PHI -6.5
Total: 229.5 o/u
Money Line: WAS +220 / PHI -250
Series Line: WAS +1300 / PHI -5000
---
When the series shifted to Washington for Game 3, the 76ers crushed the Wizards by 29 points to take a 3-0 lead. Without Embiid for most of Game 4, the Wizards held on to win 122-114 and stave off elimination. Despite losing Embiid, the 76ers are -6.5 favorites in Game 5 against the Wizards. The 76ers are also massive favorites at -5000 odds to win the series according to DraftKings.
Another day, another Embiid injury
Embiid suffered the meniscus injury midway through the first quarter when Washington's Robin Lopez blocked a shot, causing Embiid to lose his balance and fall to the floor. He finished out the first quarter, but never returned to the game. In just 11 minutes of action, Embiid finished with eight points and six rebounds.
Embiid could play tonight, depending on the swelling and level of pain he has. It looks like the 76ers would love to wrap up this series in Game 5 and then allow Embiid to heal his knee injury for as long as possible before the next round begins. If the 76ers advance to the Eastern Conference semifinals, they'll meet the winner of the New York Knicks and Atlanta Hawks series.
"Obviously, we need Joel to win," said Ben Simmons. "He's a big part of this team."
Dwight Howard is the next man up in the rotation. Embiid's backup logged 14 minutes in Game 4, but he missed all three of his shots and tallied just a single point via a free throw. Howard hauled down four rebounds and added two assists.
Simmons will also need to step up in Game 5 for the 76ers. He shot 5-for-11 from the free-throw line when the Wizards employed the "Hack-a-Shaq" strategy by fouling the 76ers' worst free-throw shooter on the court in the fourth quarter.
"Obviously that's what they're going to do," said head coach Doc Rivers. "That's what they should do and I'm OK with that."
Simmons averages a cringe-worthy 11.4% from the free-throw line this series. He's a career 59.7% shooter from the charity stripe over the last four seasons.
Wizards: Do Beal and Westbrook smell blood in the water?
Losing Embiid for the rest of the series is a nightmare situation for the 76ers, but it could be a great equalizer for the Wizards. With Embiid down for an unknown amount of time, it could give the undersized Wizards a chance to steal a game or more.
Bradley Beal averages 29.5 ppg in this series, but he's only shooting 21.5% from 3-point range. After scoring 33 points in the first two games, the 76ers held Beal to under 27 points in the last two games. Russell Westbrook averages a triple-double in the postseason with 17.8 points, 12.3 assists, and 11 rebounds per game. He notched a triple-double in the last two games. In Game 4's victory, Westbrook scored 19 points and added 21 rebounds and 14 assists.
The Wizards also lost sharpshooter Davis Bertans, who also suffered an injury in Game 4. He scored 15 points before he had to leave the game in the second half. An MRI revealed a calf strain, which will sideline Bertans for four to six weeks. If the Wizards pull off a sick miracle and rally from a 3-1 deficit to defeat the Embiid-less 76ers, then they'll have to play the next round without Bertans. He averaged 11.4 ppg this season while shooting 39.5% from 3-point range.
Check out more of OG's coverage of the 2021 NBA Playoffs.