The #4 New York Knicks trail the #5 Atlanta Hawks 3-1 in their opening-round series in the Eastern Conference playoffs, and the two teams square off tonight in a potential elimination game at Madison Square Garden in the heart of New York City for Game 5.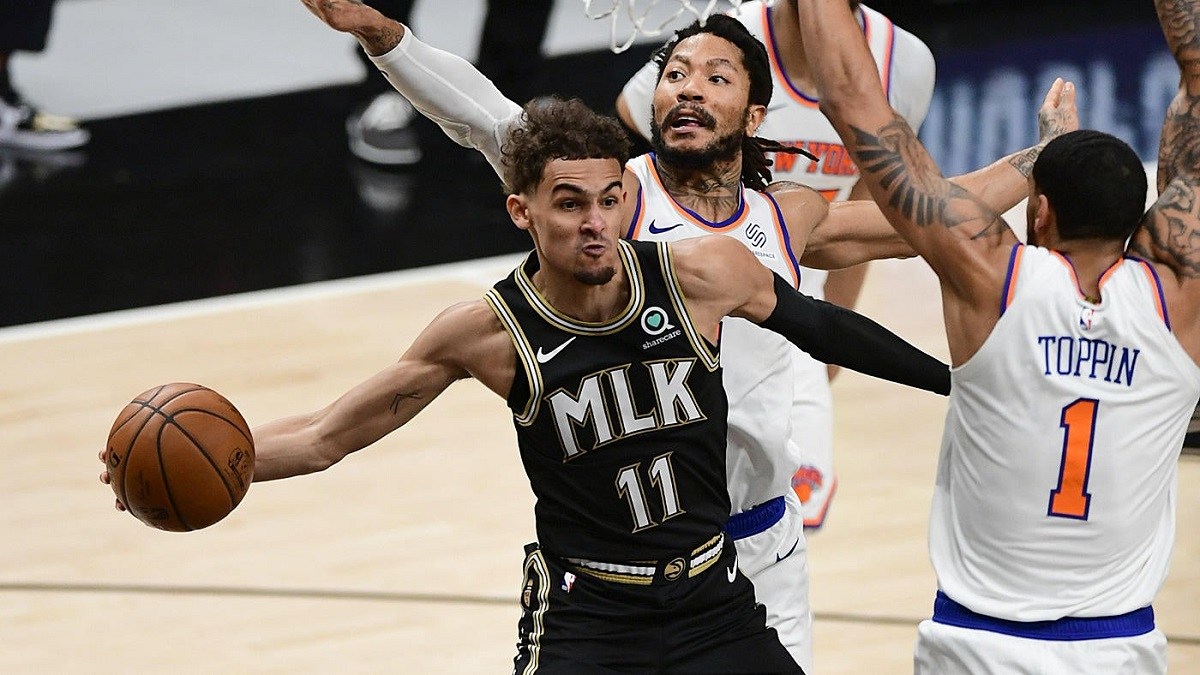 The Knicks ride or die with Randle. When Randle plays his best basketball, the Knicks are a tough team to beat. But with Randle slumping, the Knicks looks like the same old Knicks that can't win a game to save their lives.
The Hawks have the Knicks on the proverbial ropes, but they'll have to head back to Gotham to try to knock out the Knicks at MSG.
---
Game 5: #5 Atlanta Hawks (3-1) vs. #4 NY Knicks (1-3)
Tip-off: 7:30 pm ET
Location: Madison Square Garden, NYC
Point Spread: NYK -1.5
Total: 208 o/u
Money Line: ATL +108 / NYK -120
Series Line: NYK +700 / ATL -1430
---
The Knicks are a slight favorite at -1.5 to stave off elimination and win Game 5 at MSG. The Hawks are a huge favorite to win the series at -1430 odds, compared to the long shot Knicks at +700 odds to come back from a 3-1 deficit.
Knicks: Can someone else score?
With Randle slumping, someone else has to provide a scoring boost to keep pace with Trae Young. The Denver Nuggets proved they could withstand a barrage of 3-pointers from Damian Lillard and a 55-point game, yet still seal a victory. But the Nuggets held off Dame and the Blazers because they had Nikola Jokic who scored 38 points of his own to keep pace with the high-octane Blazers. The Knicks must do the same.
If Randle can't provide a major scoring punch, then the onus is on Derrick Rose as the primary scorer. That means someone like RJ Barrett, Alec Burks, or Reggie Bullock must have a hot shooting night to match Young.
Randle scored 23 points in an ugly Game 4 blowout, but it marked his high total of the postseason. The NBA's Most Improved Player averaged 24.1 ppg in the regular season, but Randle scored just 44 combined points in the first three games, including 30% shooting from downtown.
"We've got a Game 5 back at home to extend this series," Randle told The Athletic. "I love our chances. It's not over. It's not nearly over."
Atlanta fans trolled Randle and the Knicks during Game 4's blowout with a loud chorus of "Overrated! Overrated! Overrated!" raining down from the rafters at State Farm Arena.
"It's been fun these past two games," explained Young. "The fans showed up and brought a lot of energy."
The Knicks have to find extra scoring, but must also do a better job defending the perimeter. The Hawks shot 47% from 3-point range in the last two victories. "We've got to fix it," said head coach Tom Thibodeau. "We've got to fix it fast."
Hawks: One more win
The Hawks had a trio of 20-point scorers in their Game 4 victory over the Knicks. Young led all scorers with 27 points while John Collins added 22 and Danilo Gallinari scored 21 points off the bench.
"We have so many guys who are skilled with the basketball," said Collins. "We have great chemistry with each other. The sky's the limit with this team when we do the right things."
The Hawks deserve credit for keeping Randle in check. Of course, combined with an actual shooting slump, the result has been a disaster for the Knicks. But Randle and the Knicks are a sleeping giant and the Hawks don't want to take any chances with a 3-1 series lead heading into Game 5. "The job's not done," said Young. "It's not done until the series is over. We have to have that same mentality, that same approach, try to go up to New York and finish it there."
Young averages 27.5 points and 10 assists per game in this series. He's shooting 38% from 3-point range. Young jacked up 14 treys in Game 4's win for the Hawks, while the Knicks held Young to 14 total 3-point attempts in the first three games.
Check out more coverage of the 2021 NBA Playoffs.