The NBA announced individual player awards this week and tapped Julius Randle of the New York Knicks as the league's Most Improved Player (MIP), while Jordan Clarkson from the Utah Jazz earned Sixth Man of the Year for his steady play as the first player off the bench for the Utah Jazz.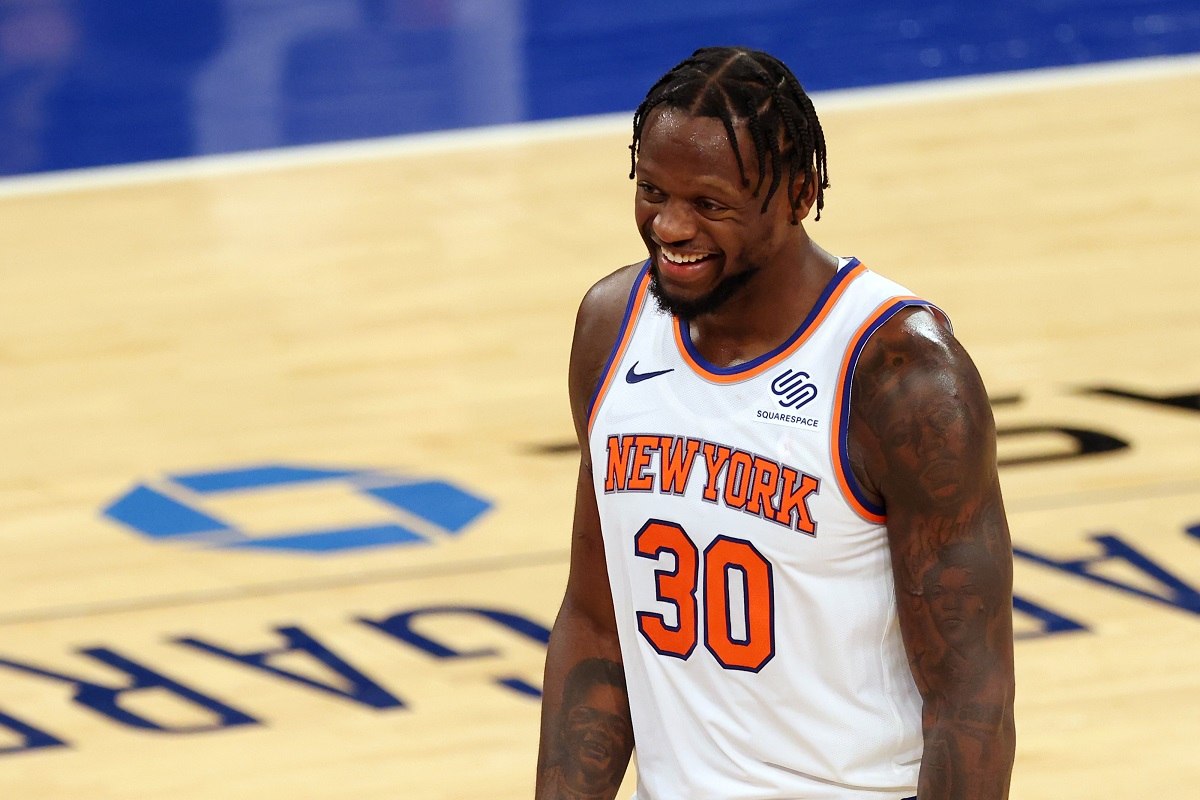 Randle joins several notable All-Stars who bounced back with stellar seasons, including Paul George, Jimmy Butler, Giannis "Greek Freak" Antetokounmpo, and CJ McCollum. Last year, Brandon Ingram from the New Orleans Pelicans earned MIP honors.
NBA MIP Winners (Since 2012)
| | |
| --- | --- |
| 2021 | Julius Randle (New York Knicks) |
| 2020 | Brandon Ingram (New Orleans Pelicans) |
| 2019 | Pascal Siakim (Toronto Raptors) |
| 2018 | Victor Oladipo (Indiana Pacers) |
| 2017 | Giannis Antetokounmpo (Milwaukee Bucks) |
| 2016 | CJ McCollum (Portland Trail Blazers) |
| 2015 | Jimmy Butler (Chicago Bulls) |
| 2014 | Goran Dragic (Phoenix Suns) |
| 2013 | Paul George (Indiana Pacers) |
| 2012 | Ryan Anderson (Orlando Magic) |
NBA Sixth Man of the Year Winners (Since 2012)
| | |
| --- | --- |
| 2021 | Jordan Clarkson (Utah Jazz) |
| 2020 | Montrezl Harrell (LA Clippers) |
| 2019 | Lou Williams (LA Clippers) |
| 2018 | Lou Williams (LA Clippers) |
| 2017 | Eric Gordon (Houston Rockets) |
| 2016 | Jamal Crawford (LA Clippers) |
| 2015 | Lou Williams (Toronto Raptors) |
| 2014 | Jamal Crawford (LA Clippers) |
| 2013 | JR Smith (K Knicks) |
| 2012 | James Harden (OKC Thunder) |
---
Clarkson ended a string of Los Angeles Clippers reserves who earned recognition for their prowess off the bench. Lou Williams, Montrezl Harrell, and Jamal Crawford earned four out of the last five Sixth Man of the Year awards for the Clippers.
Julius Randle: MIP and MVP too?
The New York Knicks suffered two decades of misery under the toxicity of petulant billionaire owner James Dolan. The current Knicks are undergoing a revitalization, however, much to the delight of fans everywhere. The Knicks' rapid accession coincides with an amazing season by Randle, who brings intensity on both ends of the court.
If you watched any Knicks games over the second half of the season, you could hear the echoes of "MVP!" reverberating from the rafters of Madison Square Garden. In the eyes of Knicks fans, Randle should earn some consideration for MVP, but it's also cool to know their guy took home MIP honors for a fantastic season.
"It truly was a team thing," said the humble Randle. "Everybody in the Knicks organization, top to bottom, I can't thank everybody enough. All my teammates, everybody, they trust me and empower me."
Randle posted career numbers across the board with 24.1 points, 10.2 rebounds, 6.1 assists per game with the 41-win Knicks this season. He also shot a blistering 41.1% from 3-point range, which is nearly 13.5% points above last season's clip. As a unit, the Knicks are shooting lights out from downtown this season.
Randle joined an elite group of five players who tallied 20 points, 10 rebounds, and six assists per game in a season. That exclusive list includes Wilt Chamberlain, Oscar Robertson, Larry Bird, Russell Westbrook, and Nikola Jokic. Any time you're on an all-time list with Chamberlain, Bird, and The Big O, you must be doing something sensational.
Randle and Bird are also the only two players in NBA history to average 20 points, 10 rebounds, and five assists in a game while shooting 40% from 3-point land.
Jordan Clarkson: Sixth-man Jazz-man
Clarkson averaged 18.4 points, 4.0 rebounds, and 2.5 assists per game off the bench this season for the Utah Jazz. He started in just one game when the Jazz were shorthanded. Last season, in his first year with Utah, Clarkson averaged 15.6 ppg.
Clarkson spent his first two seasons in the league as a starter with the LA Lakers. By his third season, Clarkson found his groove coming off the bench. When he was traded to the Cleveland Cavaliers, he flourished as the team's Sixth Man.
"When I got that role, I just kind of took it, worked at it," said Clarkson. "This situation, being traded here to Utah from Cleveland, which really enhanced everything, just because everybody knows their role and knows what they are doing. I just accepted it and just took it as one and kept rolling with it."
Since joining the Jazz, Clarkson has become an integral part of Quin Synder's triple-guard offense along with superstar Donovan Mitchell and veteran point guard Mike Conley.
The Jazz posted the top record in the NBA this season thanks to a deep bench anchored by Clarkson and Joe Ingles. Clarkson and Ingles finished in the top two in the 2021 NBA Sixth Man of the Year voting, with Clarkson edging out his teammate.