The Miami Heat head into Game 2 of the NBA Finals with the possibility of not having two starters after Goran Dragic suffered a torn plantar injury and Bam Adebayo injured his neck and shoulder in Game 1. The Los Angeles Lakers took a 1-0 lead with a blowout victory in the series opener.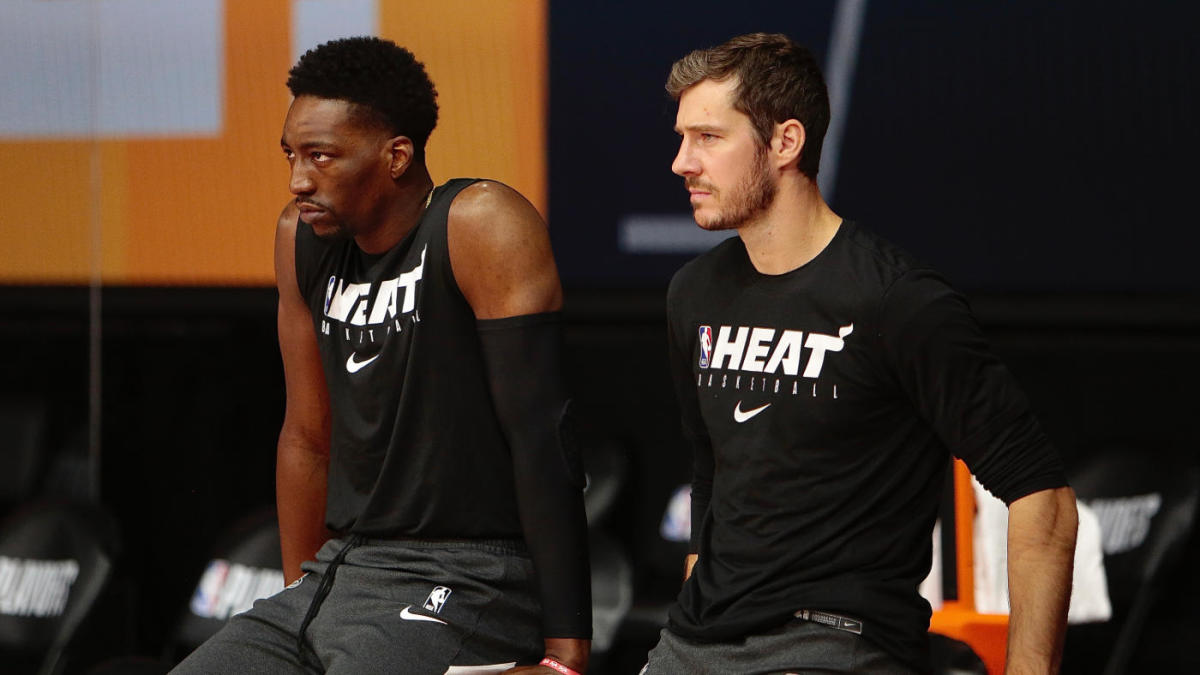 Both Adebayo and Dragic will be game-time decisions based upon their reaction to treatments. Dragic will most likely get a cortisone injection to numb the plantar injury and searing foot pain. Adebayo has a lingering shoulder injury, but it's a neck strain that could prevent him from playing Game 2.
Jimmy Butler also sprained his ankle in Game 1, but he did not miss any time.
LA Lakers (1-0) vs Miami Heat (0-1)
Tip-off: 6:00pm PT
Point Spread: LAL -9.5
Total: 217 o/u
Moneyline: LAL -475 / MIA +385
The Lakers led by as many as 32 points in Game 1, where the Heat's shooters could not get going and Heat were manhandled by Anthony Davis and the bigger-sized Lakers. Miami's scrubs outscored the Lakers' second team in the fourth quarter to make the final score a respectable 116-98.
DraftKings updated their series line and the Heat are +850 underdogs to pull off the comeback and win the NBA Finals. The Lakers are -1667 odds to win the series.
Bosom Buddies: LBJ and AD
The LA Lakers knew their biggest flaw was that aside from LeBron James and Anthony Davis, they did not have anyone else that instilled fear into opponents, especially in the postseason.
After Game 1, that's no longer an issue. The Lakers showed that their dynamic duo is more than capable of bringing the NBA Championship back home to the City of Angels.
LeBron, who missed a triple-double by a single assist, thinks otherwise.
"We've got so much more work to do," said James. "The job is not done, and we're not satisfied with winning one game. It's that simple."
LeBron told reporters that the Lakers are crushing it without a strong cast of supporting players because he and Davis have a healthy relationship, despite being alpha males from different teams joining forces. The chill locker room lacks toxicity often caused by one of the seven deadly sins – jealousy.
"I believe jealousy creeps in a lot," explained LeBron. "And that is the absolute contrary of what we are."
Without mentioning any names, LeBron threw shade at other NBA stars including some of his former teammates (s'up, Kyrie Irving!).
"We know who we are," said LeBron. "We want the best, seriously, every single day, both on and off the floor, for one another. We're just not jealous of one another. When you align that with respect, the sky's the limit."
"Obviously, that can always creep in when you've got two alpha males on the same team," said Davis. "With two guys who are very selfless and want to win as bad as both of us want to, the rest of it goes away. Jealousy has never been a thing on our team from anyone."
Nunn Next Man Up
Kendrick Nunn returned to the Heat after a mild bout with COVID-19. Nunn, an undrafted rookie from Oakland, averaged 15.3 points per game as a starter in the regular season. He shot 35% from 3-point land and averaged 2.0 made treys per game.
Nunn logged 20 minutes in Game 1 for the Heat after Dragic went down. He scored 18 points on a highly-efficient 8-for-11 from the floor, including 2-for-4 from 3-point land. If you dismiss Nunn's long-range shooting, the Heat's bench shot an anemic 3-for-20, including Tyler Herro's 2-for-8.
Kelly Olynyk will be the next man up for the Heat if Adebayo can't answer the bell in Game 2. Olynyk fell out of Erik Spoelstra's rotation when the Heat opted for small-ball lineups in the postseason.
"We've just got to be tougher," said Butler. "We've got to put up more of a fight. I don't think that we did that and then it doesn't help whenever we don't make shots. It's been that way all year long whenever we start to miss a couple of shots, we don't do what we're supposed to on the other end."
Butler led the Heat with 23 points in the loss. If the Heat fall behind early in Game 2, you can expect Butler will pick up the scoring slack if Adebayo and Dragic do not suit up.
But there's one thing Butler cannot do that the Heat need the most: defend and stop Davis. The Heat opted for a 2-3 zone to clog the paint to thwart the Greek Freak. However, Davis doesn't need to get into the paint to inflict damage.
"You have to go through your Plan A, Plan B, Plan C," said Spoelstra. "We love getting to work with this group. It's just looking for solutions and trying to get to a better version of our game against a quality opponent."