The kid is only 20-years old. Tyler Herro, a rookie out of Kentucky, came off the bench to score a career-high 37 points for the Miami Heat in Game 4 of the Eastern Conference Finals. Herro lit up the Boston Celtics and carried the Heat to a 3-1 series lead.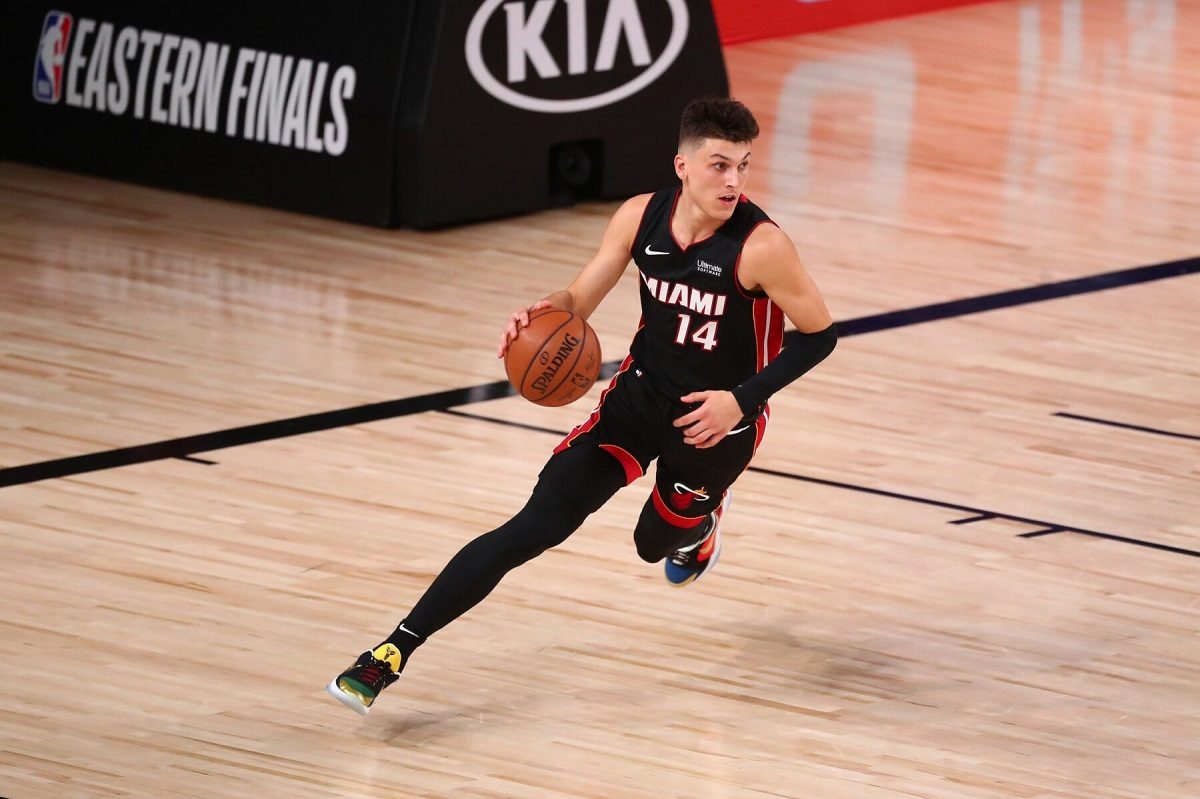 The Celtics are one game away from elimination while the Heat are just one game away from a spot in the NBA Finals.
The Heat's bench outscored the Celtics' reserves 40-18, with Herro accounting for 37 of those points.
"He has a confidence, and has a fearlessness that is uncommon," said Miami Heat head coach Erik Spoelstra.
---
Age: 20
Minutes: 36
Points: 37
FG: 14-21
3-PT FG: 5-10
FT: 4-4
Stats: 6 rebounds, 3 assists
---
Herro averaged 13.5 points per game off the bench this season. He averaged 20.5 ppg in the Boston series. He scored 22 points in a Game 3 loss and followed that up with a 37-point heater.
Herro joins the likes of Magic Johnson and Derrick Rose as the only 20-year old players to score 26 or more points in an NBA postseason game.
After the Game 4 victory, the Heat saw their NBA championship odds improve to +350, according to the Mirage Sports Book in Las Vegas. The LA Lakers are the favorites to win the title at -300.
Best of Tyler Herro in Game 4 🔥

Walking bucket. pic.twitter.com/JP3oaOcTzo

— Hilltop Hoops (@HilltopNBA) September 24, 2020
Time Loves a Herro
Both teams saved their offense for the final frame. Jayson Tatum struggled with zero points in the first half, but unleashed all 28 of his points in the second half.
Herro kept the Heat in the game with timely sharpshooting and uncontested layups. He scored 17 points in the fourth quarter and 22 points in the second half.
"Herro's shot-making tonight was the difference in the game," said Celtics coach Brad Stevens.
Herro picked up the scoring slack for starters Jae Crowder and Duncan Robinson, who combined for six points on 1-for-14 from the floor, including 1-for-11 from 3-point range.
"He has a great competitive humility about him," added Spoelstra. "But he's humble enough to work, to be coachable, to take the mentorship from the veteran players that we have on our team, and he just continues to gain more confidence as we go."
"Once you see a couple [of] shots go down, and when you're getting shots in rhythm, it's just that the game flows," explained Herro about his heater.
Tyler Herro with the deeeeep three 😱 pic.twitter.com/QAlYWejWAU

— ESPN (@espn) September 24, 2020
Band of Brothers: Butler and Herro
Jimmy Butler took a shine to Herro from the first day of training camp. When Butler dished out the trash talk to his new teammates, everyone else remained quiet … except Herro. Despite being a rookie, Herro gave Butler a little trash talk in return. Butler liked the kid's attitude, but he especially loved the fact that Herro could back up his smack talk with a sweet stroke.
"I can tell you over and over again how proud I am of the kid," said Butler. "He cares. He does whatever you ask him to do."
Butler quickly took Herro under his wing. Like a proper big brother, Butler taught Herro everything he knows about life on and off the basketball court.
"He listens, he's learning, and he just wants to win," explained Butler. "Obviously, he's a rookie, but I tell you, whenever he's out there on the floor, the swag that he plays with, the moves that he makes, you'd think he's been in the league for 10-plus years."
"Without Jimmy, I probably wouldn't be doing this as a rookie," said Herro.