After Saturday's college football action, there are still four undefeated teams playing in the Power 5 conferences. But while Georgia and Oklahoma have earned themselves serious national championship consideration, the two others remain on the outside looking in, at least according to sportsbooks.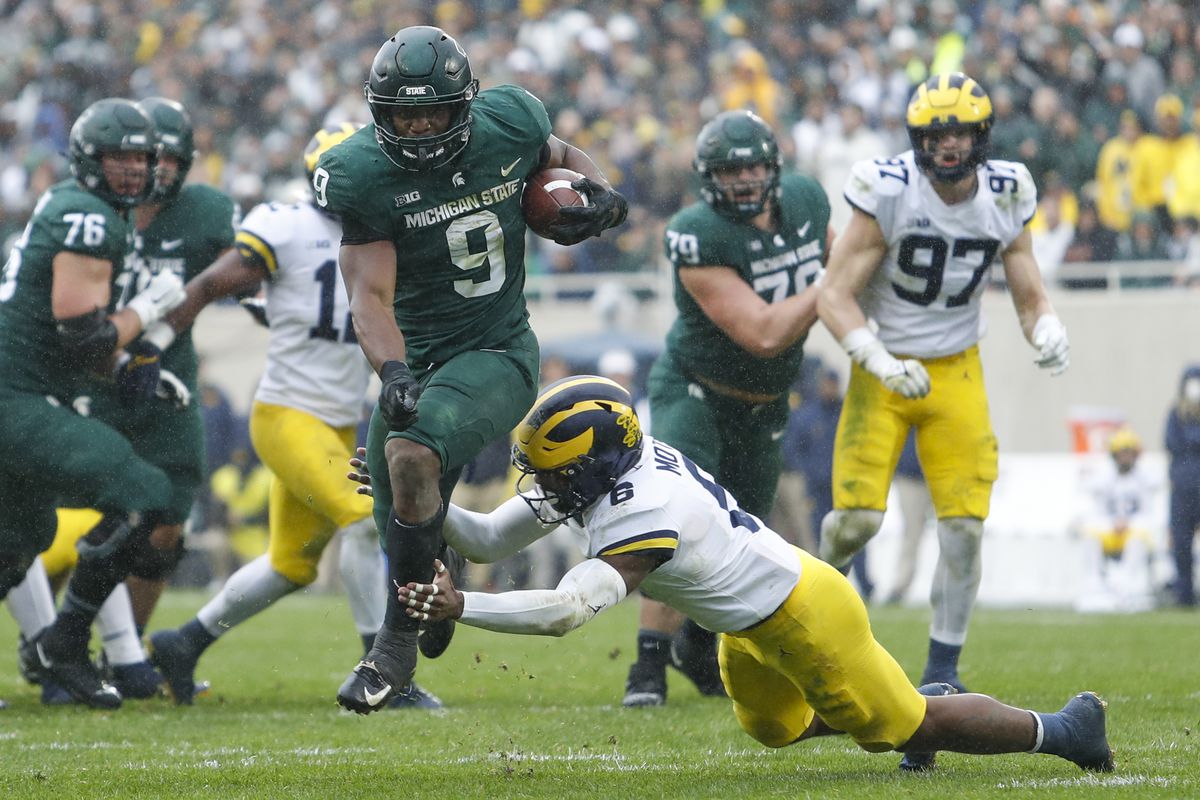 Michigan State (8-0) defeated rival Michigan (7-1) on Saturday to move up to No. 5 in the latest AP Poll.
Spartans, Demon Deacons face long national championship odds
The Spartans overcame a 30-14 deficit in the second half to ultimately win 37-33 in front of their home fans. Kenneth Walker ran for 197 yards and five touchdowns to make his Heisman Trophy case on a national stage, while also shoving Michigan State into the national championship picture.
Still, oddsmakers remain pessimistic about the Big Ten school's chances. Michigan State remains a +8000 longshot at FanDuel Sportsbook, barely ahead of Michigan (+10000) despite Saturday's win.
The Spartans do still have a matchup with No. 6 Ohio State (7-1) later in November, which may explain those odds. The Buckeyes are the +400 third pick to win the national championship despite their earlier loss to Oregon, and bookmakers likely see Michigan State as a heavy underdog in that matchup. Bettors who think the Spartans have a chance in that game might want to grab a ticket on them now while their odds remain this long, especially considering how well Oregon ran the ball against Ohio State in their meeting.
Wake Forest (8-0) is garnering even less respect. The ACC school remained undefeated with a 45-7 win over Duke on Saturday, enough for the Demon Deacons to rise up to No. 10 in the AP Poll. That marks the first ever top 10 appearance for Wake Forest.
Georgia favored over the field to win title
The Demon Deacons could potentially win an ACC championship, and if they remain undefeated in doing so, they'd earn serious consideration for the College Football Playoff. Yet FanDuel still lists Wake Forest as a +15000 pick to win a national championship this year. While Wake Forest doesn't look like a team that could beat Georgia in a championship game, it's worth noting that those odds are identical to Pittsburgh (6-2), another ACC school which just lost to Miami this past weekend.
AP Poll Rankings – Week 9 (Odds via FanDuel Sportsbook)
Record
National Championship Odds
No. 1 Georgia
8-0
-110
No. 2 Cincinnati
8-0
+4000
No. 3 Alabama
7-1
+300
No. 4 Oklahoma
9-0
+2000
No. 5 Michigan State
8-0
+8000
No. 6 Ohio State
7-1
+400
No. 7 Oregon
7-1
+5000
No. 8 Notre Dame
7-1
+20000
No. 9 Michigan
7-1
+10000
No. 10 Wake Forest
8-0
+15000
At the top of the list, the national championship odds remain largely unchanged. No. 1 Georgia (8-0) handled Florida 34-7 on Saturday, and now rates as a -110 favorite over the field to win the title. SEC rival Alabama (7-1) ranks as the +300 second choice, ahead of Ohio State.
Oklahoma (9-0) eased past Texas Tech 52-21 to stay at +2000. Meanwhile, No. 2 Cincinnati (8-0) saw its national championship odds lengthen slightly to +4000 after a 31-12 win against Tulane. Oregon (+5000) and Baylor (+8000) also rate as schools with an outside shot at making a run in the College Football Playoff.
These odds may shift significantly after Tuesday. That's when the College Football Playoff committee will release its first preliminary rankings. All eyes will be on how the committee sees Cincinnati, as well as other undefeated schools like Michigan State and Wake Forest, all of whom will have strong cases for inclusion should they stay perfect through the end of the season.