Ryan Newman walked out of a Daytona beach hospital on Wednesday, two days after a horrifying crash at Monday's Daytona 500. Newman's wife, Krissie, took a picture of Newman walking out of Halifax Medical Center with the couple's two daughters.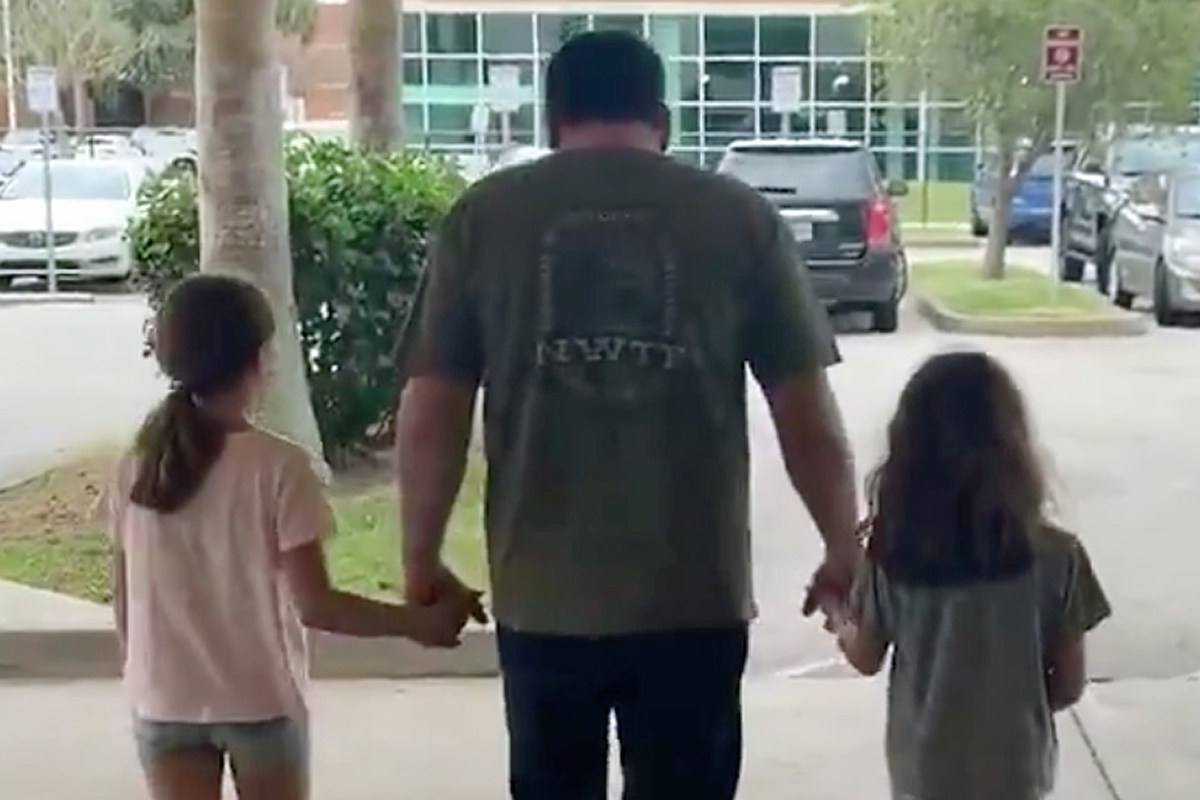 "Best site ever," Krissie Newman wrote under the picture she posted on Twitter.
Newman was hospitalized Monday after tangling with Ryan Blaney on the final lap of the Daytona 500. Eventual winner, Denny Hamlin, pushed Blaney forward into Newman's car, sending it airborne before it landed on its roof and burst in flames.
"We pushed Newman there to the lead and then we got a push from (Hamlin) … I was committed to just pushing (Newman) to the win and having a Ford win it, and got the bumpers hooked up wrong," Blaney said.
The crash was the most significant collision at the Daytona 500 since 2001, when Dale Earnhardt Sr. died at the "Great American Race." Fortunately, Newman responded well to treatment, though the extent of his injuries was not released by the hospital or his bosses at Roush Fenway Racing.
Ross Chastain Takes the Wheel
Roush Fenway Racing did say, however, that Newman will be out of action for the foreseeable future. They named Ross Chastain as his replacement. Chastain is the full-time driver of the No. 10 Kaulig Racing Chevrolet in the Xfinity Series for the 2020 season. He has 72 career starts in the NASCAR Cup Series, with one top-10 finish.
Chastain took to Twitter on Wednesday to thank Roush Fenway Racing for the opportunity.
"No one could ever take the place of Ryan Newman on the track, and I can't wait to have him back. As we continue to pray for a full and speedy recovery, I'll do my best to make him and everyone at Roush Fenway Racing proud," Chastain wrote.
Officials at Roush said Chastain will be in Newman's No. 6 Ford this weekend at the Pennzoil 400 at Las Vegas Motor Speedway.
Hamlin Celebration Defended
Shortly after the Newman crash, Hamlin and his crew were celebrating the victory. They received criticism from those who said it was insensitiv,e considering Newman's serious accident.
But Joe Gibbs, owner of Hamlin's car, defended the euphoria exhibited by Hamlin and others. He told reporters after the race that they had no idea what was going on at the crash site.
"I say to everybody out there, some people may have saw us and said, well, these guys are celebrating when there's a serious issue going on," Gibbs said. "I apologize to everybody, but we really didn't know."
This Week's Odds, Pick
NASCAR comes out west to Las Vegas for this weekend's Pennzoil 400 at Las Vegas Motor Speedway. Kyle Busch and Kevin Harvick are the favorites at +450. We like Martin Truex Jr. to win at 5/1. Truex won this race in 2017, and also won the SouthPoint 400 in Vegas last year.