Denny Hamlin grabbed a much-needed win in the Bluegreen Vacations 500 at ISM Raceway in Phoenix on Sunday, taking not only the checkered flag, but also a spot in the NASCAR Cup Series Championship 4.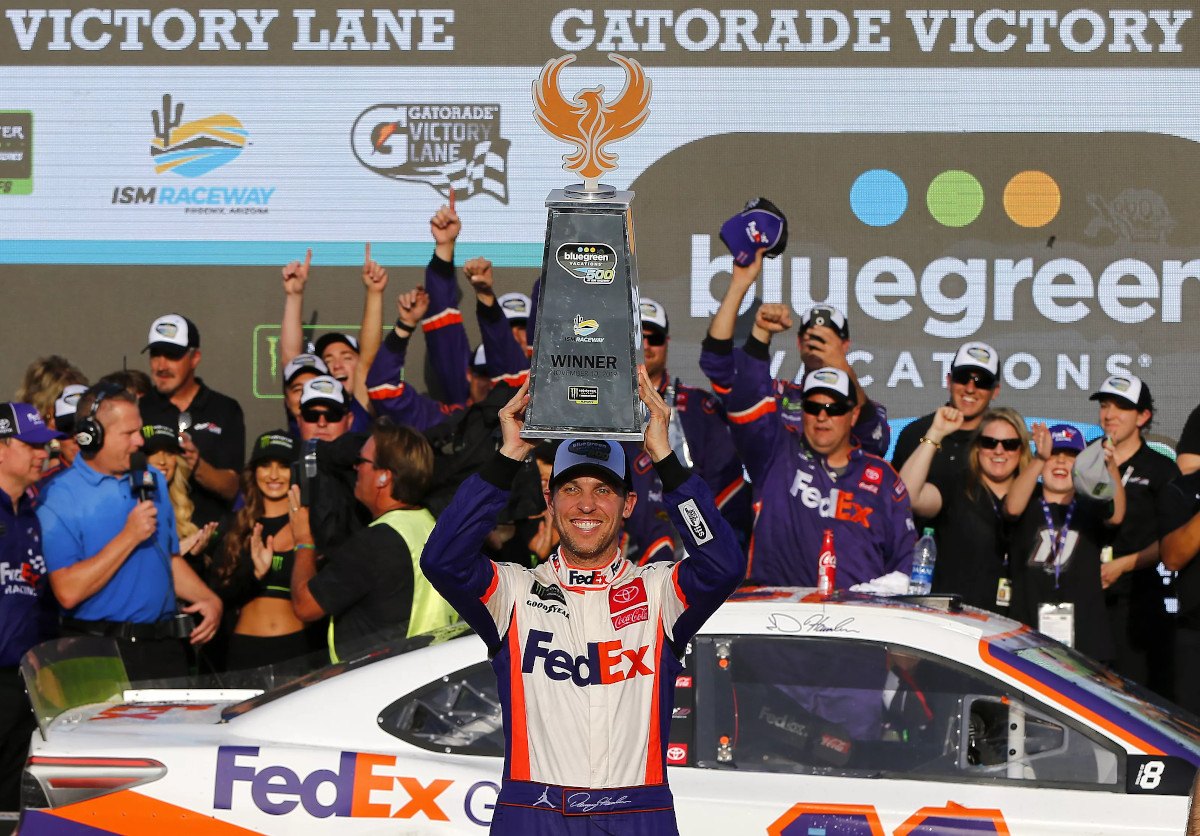 Hamlin led the race for 143 laps and, at one point, had a lead of 12 seconds in a dominating performance that saw him beat out teammate Kyle Busch by just .377 seconds at the finish line.
Hamlin Comes Through in Must-Win Situation
Hamlin now joins fellow race winners Kevin Harvick and Martin Truex Jr. in the final group chasing the 2019 NASCAR championship, along with Busch, who was the sole driver to go through to the final on points.
That was an unlikely option for Hamlin, who was 20 points out of a playoff spot heading into the final race of the playoff's third round. That means it was almost certainly win or go home for the Joe Gibbs Racing driver, who came through by winning his sixth race of the year.
The victory came on the heels of a terrible performance in the previous week, when Hamlin slid off the track early, and was only able to finish in 28th place.
"This race team worked so hard this whole year. They deserve to be here," Hamlin said after the race. "I put them in a bad hole last week. I told them today in the meeting, I said, 'I'm going to give everything I've got to make up for the mistake I made last week.' That's all I got."
Busch Passes Logano for Final Championship 4 Berth
Busch came into Phoenix in a tight race with Joey Logano for the final two spots in the Championship 4. While it was possible for both to get into the playoff, Hamlin's win meant that only one driver would get through on points.
That spot ultimately went to Busch, courtesy of his second-place finish. Meanwhile, Logano finished ninth on Sunday, a result that left him seven points behind Busch, and just off the cut line.
"It stinks. It hurts a little bit, but we'll live," Logano said after the race. "Everything is going to be OK. Life is a lot worse in other ways for some. We're still fortunate to be here and get to do what we love. It's a bummer for sure. It doesn't take anything away from that, but it's just part of the game sometimes."
With Hamlin, Truex, and Busch all in the playoff, Joe Gibbs Racing has three drivers in the Championship 4. Harvick will be representing Stewart-Haas Racing in the championship race at Homestead-Miami Speedway next weekend.
The NASCAR championship will go to the driver out of the final group of four who finishes highest in the season-ending race. Hamlin (2/1) is the favorite, according to Unibet, ahead of Busch (9/4), Harvick (13/5), and Truex (11/4).