In 2014, Carla Esparza defeated Rose Namajunas to claim the first ever UFC Women's Strawweight Championship. Now, eight years later, Namajunas will get the opportunity to run it back in the co-main event at UFC 274 on Saturday night.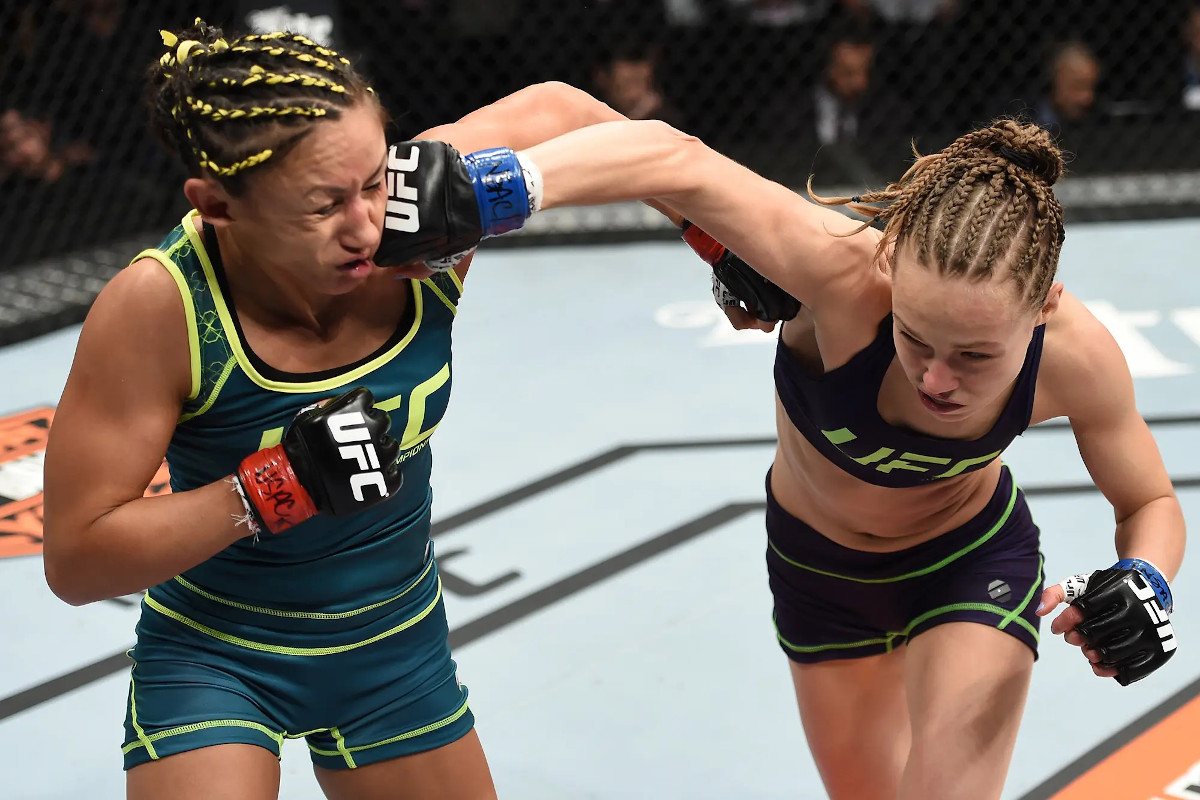 This time, Namajunas comes into the fight as the strawweight champion, not to mention a -210 favorite over Esparza (+175) at DraftKings Sportsbook.
Same women, different careers eight years later
Both women acknowledge that the first fight between them is now ancient history. But they see very different opportunities when it comes to the rematch.
Namajunas (11-4) has established herself as a dominant force in the strawweight division. She has won six of her last seven fights, and most recently took two straight from Zhag Weili to first claim and then retain the title belt.
With two wins over Joanna Jedrzejczyk, a split with Jessica Andrade, and the victories against Weili, Namajunas is beginning to consider how she ranks among the all-time greats in the strawweight division.
"I used to hate the term legacy, but now I have a different perspective on what it really means," Namajunas told reporters. "I'm clearly the best, but it's just a question of if I'm the greatest in the division of all time. I think this is a huge step towards that for me."
Esparza only enjoyed a short run with the strawweight title back in 2014, dropping it to Jedrzejczyk soon thereafter. Further losses in 2018 to Claudia Gadelha and Tatiana Suarez seemingly pushed her out of the ranks of the top contenders. But Esparza instead found ways to improve her game, both mentally and physically.
"I would look at other people, and would look at how good they were or what I was doing wrong," Esparza told The New York Post. "Instead, it's like, 'No. I can do this. I have the skills. I've just gotta put the work in.' Just really changed my mentality, and it helped me a lot."
Esparza climbs back into title picture
Since then, Esparza (18-6) has won five straight to climb back into the title picture. She remembers well her win over a then-inexperienced Namajunas. While she acknowledges both fighters have grown over the past eight years, she's not sure they've entirely changed.
"I think stylistically we're still similar to what we were back in the day, but I think we've both evolved a lot," Esparza told reporters. "She was dangerous back then, and she's dangerous now."
Esparza will find her biggest problems with Namajunas in the stand-up game. While Esparza should find some success with her wrestling early, Namajunas figures to have the bigger gas tank, and certainly has more firepower on her feet. That could make her even more dangerous to Esparza as the fight goes deeper.
There's also the fact that Namajunas is 4-0 in rematches in her career. She sees no reason why she can't run that mark to 5-0 on Saturday.
"It's my ability to learn from my mistakes, be in the present moment and be able to adapt and adjust," Namajunas said of her success in rematches. "I think it's the qualities of a true champion to be able to readjust with everything thrown at you."