Hikaru Nakamura stands two wins away from claiming his third straight Speed Chess Championship title. But he'll face one of his toughest challengers in his semifinal match on Wednesday when he takes on fellow American grandmaster Wesley So.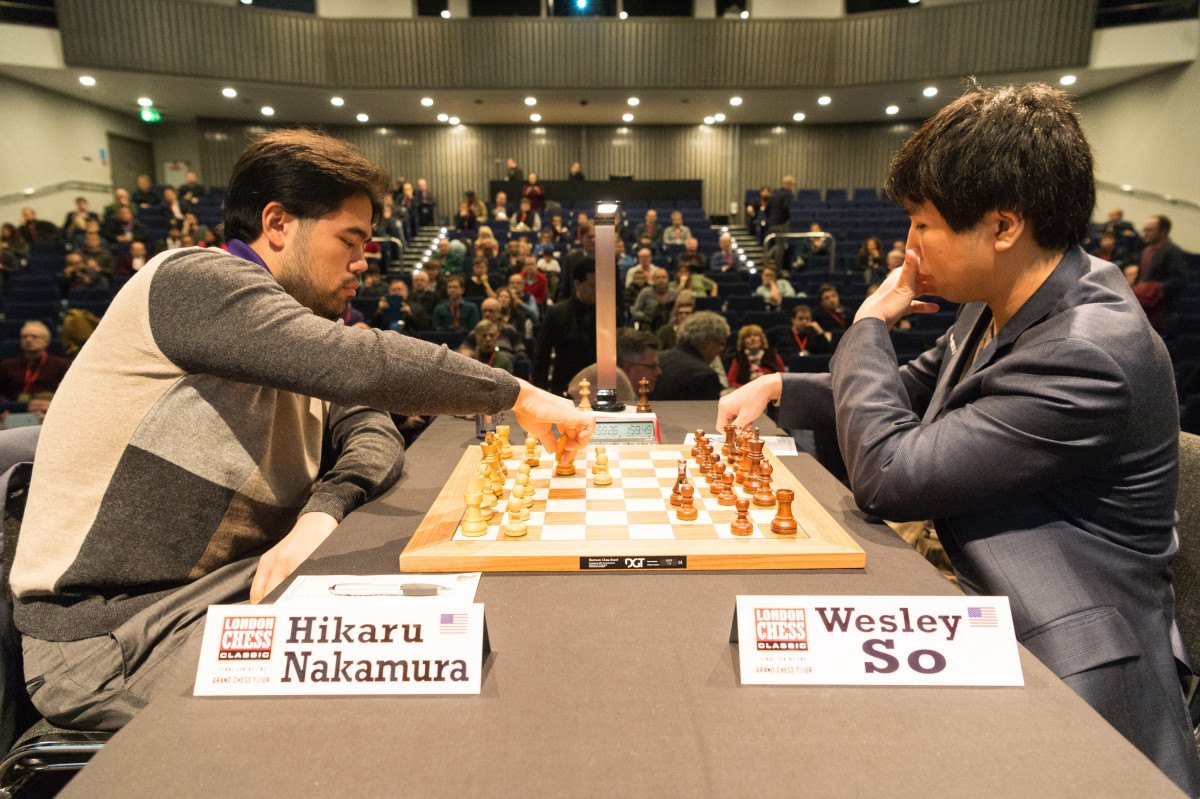 Nakamura and So matched up in the final of the 2018 Speed Chess Championship, with Nakamura taking that contest by a 15.5-12.5 margin.
Nakamura Crushes Fedoseev in Quarterfinals
There's no doubt that So poses a threat to Nakamura. So proved himself to be a formidable speed chess player when he fought Nakamura to a dead draw in both the five-minute and three-minute sections of that 2018 final.
So once again showed his three-minute ability in his quarterfinal matchup against GM Jan-Krzysztof Duda. While Duda held So to a 4-4 draw in the five-minute portion, So took control by winning the three-minute games by an overwhelming 8-1 margin. He would ultimately take the match 16-10.
"Wesley So is the best player in the entire world in the 3|1 time control!"

A bold claim from @GM_Hess, but So's record in this #speedchess format is incredible. 💪 pic.twitter.com/87TzoChpF4

— Chess.com (@chesscom) November 19, 2020
Still, Nakamura comes into the semifinal as a strong favorite. Unibet lists the two-time defending Speed Chess Championship winner as a -335 pick over So (+225).
Nakamura comes into the semifinals on a high note. Some pundits saw danger lurking in his quarterfinal battle with Vladimir Fedoseev, who beat Nakamura in an informal blitz match in the weeks leading up to their quarterfinals encounter.
But Nakamura never gave Fedoseev an opening in the quarters. The American jumped out to an astounding 8-0 lead after the five-minute portion, then poured on the pressure to crush Fedoseev 21.5-5.5 and go through to the final four.
Bullet Chess Could Prove Decisive
Afterward, Nakamura suggested that Fedoseev's success in their earlier public encounter might have woken him up a bit.
"Not to discredit my previous opponents, but for all the previous matches, I didn't actually do any preparation whatsoever whereas for this match, I did quite a bit of preparation," Nakamura said after his win. "Credit to Vladimir, who is a very strong player and who did beat Alireza [Firouzja] in the first round."
Nakamura's biggest edge over So will almost certainly come in the one-minute portion of the match. Nakamura has long dominated the online bullet chess scene, and he won those games 5.5-2.5 over So in their 2018 final.
---
Speed Chess Championship Odds (via Unibet)
Hikaru Nakamura: -335
Wesley So: +225
Magnus Carlsen: -500
Maxime Vachier-Lagrave: +300
---
That gap also showed up in their quarterfinal matches. While Nakamura beat Fedoseev 7.5-2.5 in their one-minute games, So lost his bullet section to Duda by a 5-4 margin. This means that So will likely need a substantial lead heading into the final 30 minutes of Wednesday's match if he wants to eliminate Nakamura.
The winner will advance to Saturday's final, where they will face either World Chess Champion – and 2017 Speed Chess Championship winner – Magnus Carlsen, or French grandmaster Maxime Vachier-Lagrave. Carlsen enters Friday's second semifinal as a -500 favorite over Vachier-Lagrave (+300).