The undefeated Johnny Eblen will get his first shot at a major MMA title on Friday night when he battles middleweight champion Gegard Mousasi in the main event of Bellator 282 at Mohegan Sun in Connecticut.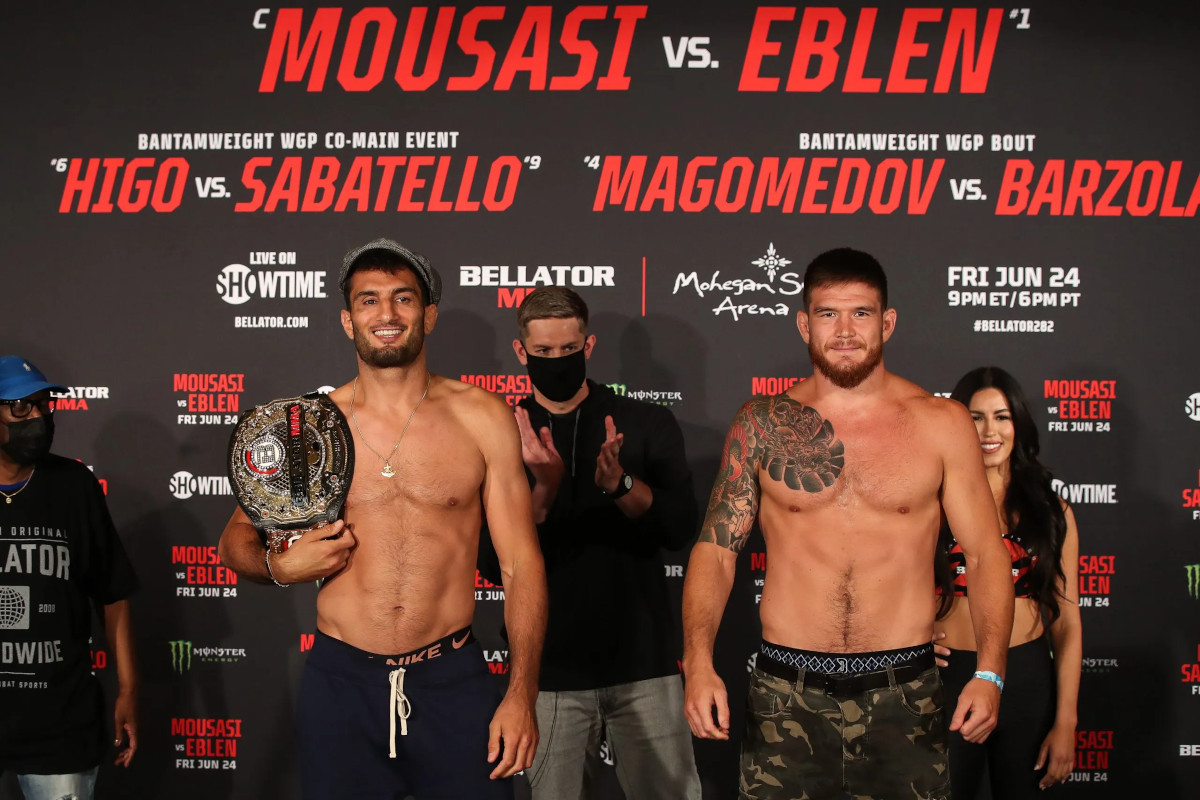 Mousasi comes in as a -225 favorite to retain his title over Eblen (+190), according to DraftKings Sportsbook.
Champ cuts 24 pounds one day before weigh-in
Now 36, Mousasi (49-7-2) is on his second run with the Bellator middleweight title. He won it over Douglas Lima at Bellator 250 in October 2020, and has made two successful defenses: First against John Salter, then by first-round TKO over Austin Vanderford in February at Bellator 275.
While many have openly speculated over potential weight changes or superfights for Mousasi, he says that he's got plenty of competition in the middleweight division to deal with.
"There's always another guy. Fabian [Edwards] is there. [Anatoly] Tokov is there. Yoel Romero is there," Mousasi told MMA Junkie. "You never clean out the division. There's always somebody else. I look at this fight and then afterward, I don't know."
Mousasi won't end talk of a shift in the division at Bellator 282 after he shared information about his dramatic weight cut. The champion told reporters that he had to cut 24 pounds in under a day in order to make weight for his title defense.
"I need to cut weight, and I was too heavy, so I'm going to do that," Mousasi told reporters on a conference call the day before weigh-ins. "I drank a lot of water, so I hope to pee a lot. I got lazy a little bit with the weight cut. I like to eat, and I'm old and I'm tired of cutting weight. So I cheated a little bit, but I will make weight."
Eblen comfortable heading into Bellator 282
Sure enough, Mousasi made weight right at 185 pounds. So did Eblen (11-0), who says he's looking forward to putting his name on the map with a big win on Friday. Eblen told reporters that Friday is just another fight night, even with a belt on the line.
"Higher stakes, same shit," Eblen told MMA Junkie. "It feels like the right step. It feels like nothing has really changed too much. I'm fighting a little later, fighting a few more rounds, and fighting a better guy. That's normal when you move up."
While Eblen comes in as a significant underdog, he says he can pose problems for Mousasi in their bout. While Mousasi easily defeated Vanderford, who was also undefeated going into that bout, Eblen says he's a different kind of fighter.
"I have a lot of tools in my tool belt, and I can't wait to utilize all these tools when I go out there. It's going to be a different fight, stylistically," Eblen said. "Austin's very wrestling heavy – a very explosive guy. I feel like he relies on a lot of explosive maneuvers to take people down. I'm a little bit different."