John Salter has won three straight fights and eight of his nine career bouts in Bellator. That's been enough to elevate Salter into the No. 1 contender position in the company's middleweight rankings, but he admits he'll face a whole new challenge on Friday when he takes on Gegard Mousasi for the Bellator middleweight title.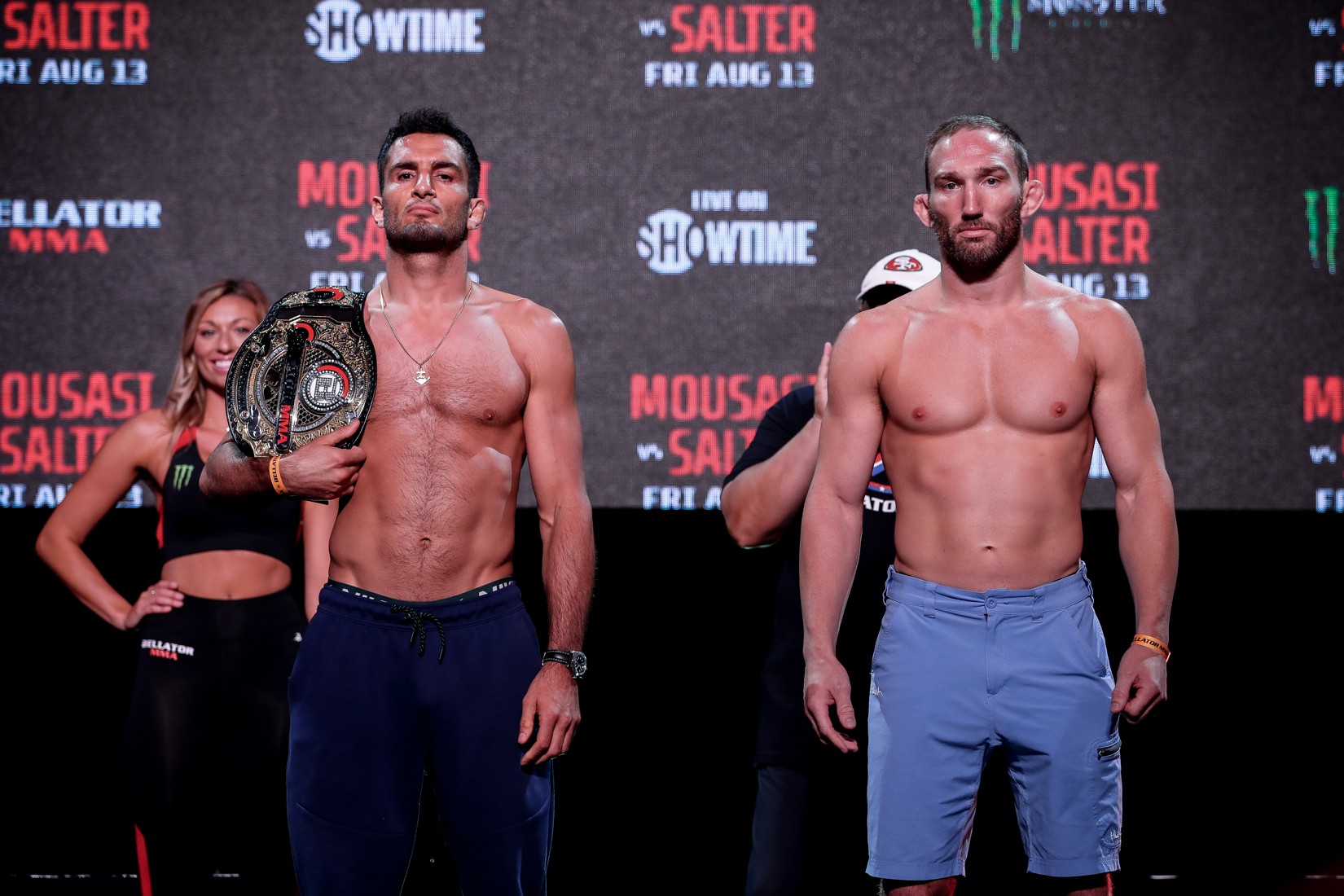 Mousasi will try to make the first defense of his middleweight championship in his second run with the title since joining Bellator in 2017.
Mousasi has eyes on bigger name opponents
Formerly a top UFC contender, Mousasi (47-7-2) defeated Rafael Carvalho to win his first Bellator title. He defended it once before Rafael Lovato took the middleweight belt off of him via a majority decision. Mousasi regained his title last October, beating Douglas Lima to take a vacant championship.
Now, Mousasi is looking to put together a longer run as champion. And while he says he wants to fight some of the biggest names in MMA, he knows Salter is the challenge in front of him.
"[Salter] is the No. 1 contender. I don't know who [Bellator] has in the middleweight division," Mousasi told MMA Junkie. "[Salter] was the only guy I thought I was going to fight. There are no big names yet in Bellator. Yoel Romero is a big name but he's coming off [three] losses and, usually, you fight once and then you fight for the belt."
Salter (18-4) booked his spot in the championship with consecutive wins over Chidi Njokuani, Costello van Stennis, and Andrew Kapel. His only loss in Bellator came to Lovato – the same man who defeated Mousasi – and that was nearly three years ago.
All-around game makes champion clear favorite
Yet for all his accomplishments, Salter says he'll need to raise his game to a whole new level if he wants to take the championship off of Mousasi.
"Everybody obviously has holes, but he really doesn't have anything that he's just not good at," Salter told MMA Junkie Radio. "I think what's most impressive about him is he just really doesn't make mistakes. I've got to not make mistakes and pressure him and keep him on his back foot and keep him worried about what I'm doing rather than opening up his offense."
Oddsmakers see Mousasi as a clear favorite heading into the fight. FanDuel Sportsbook rates Mousasi as a -410 pick to retain his title against Salter (+300). That makes sense, given Mousasi's wins over the likes of Lyoto Machida, Rory MacDonald, Vitor Belfort, and Chris Weidman, among others.
But for Salter, beating Mousasi would give him the kind of win that would boost his stature, and begin to build his own career legacy. "It's the stamp on the career that I need," Salter said. "This will not only solidify myself in the record books as the world champ, but let everybody know that I am at this level and should be fighting guys like this."