Douglas Lima proved he was the class of Bellator's welterweight division when he beat Rory MacDonald in the finals of the promotion's World Grand Prix last October. Now, after a year off, he's ready to take on veteran Gegard Mousasi for the vacant middleweight crown in the main event of Bellator 250 at the Mohegan Sun Arena in Connecticut on Thursday.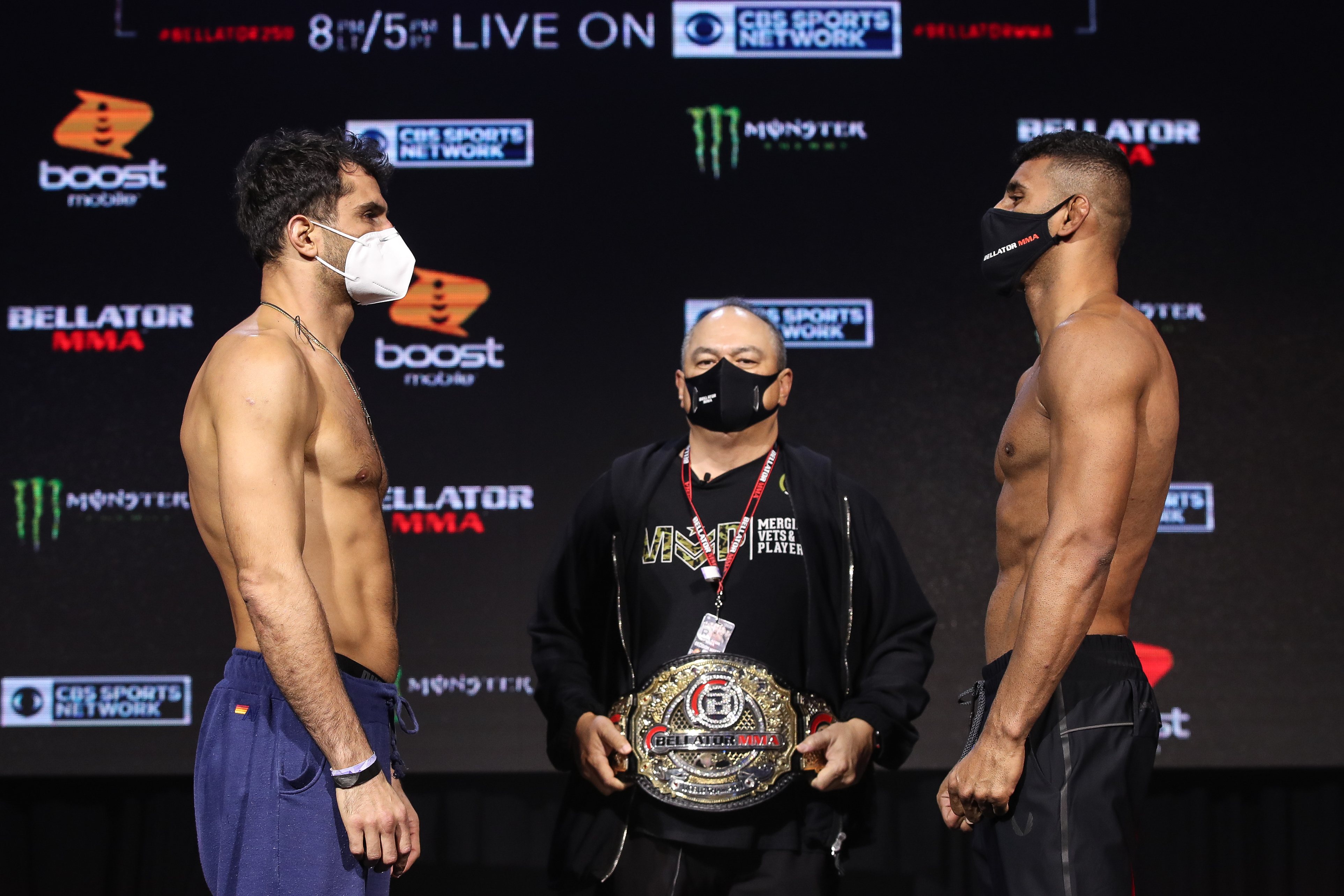 Lima, now the Bellator welterweight champion, comes in as the smaller fighter, while Mousasi has spent his career fighting at middleweight and light heavyweight.
Bellator Superfight Could Produce Double Champ
But Lima (32-7) doesn't see that as an issue. As a large welterweight who has nine knockouts at 170 pounds in Bellator, he thinks his power will still play in the middleweight division.
"I believe in my power," Lima told MMA Junkie. "One thing connects good, that's it. Fight is over. It's not impossible, and I believe in my power, that I can put him away. Just got to respect how durable he is and who he's been there with in the cage."
Mousasi (46-7-2) has been in the cage with just about everyone at middleweight. The Dutch 35-year-old spent years fighting contenders in the UFC before joining Bellator in 2017. He went on to win — and defend the Bellator middleweight title one time — before dropping the belt to Rafael Lovato Jr. last year.
Like Lima, Mousasi hasn't been in the cage in more than a year. He last fought in September 2019, beating Lyoto Machida by split decision. While Mousasi respects Lima, he doesn't believe that getting a win against someone moving up in weight will be what truly puts him back into the limelight.
"At the end of the day, I'm the bigger guy. I'm supposed to win," Mousasi told MMA Fighting. "I don't know how much credit I'll get for the fight. If he wins, he gains a lot. He's the double champ. I don't see it like that, I see him as a big welterweight … It's not like I'm beating Jon Jones and it makes me suddenly the No. 1 guy in the world. But it will be good to get a win over Douglas Lima."
Size Advantage Favors Mousasi
Mousasi has been down this road before. He played a part in one of Bellator's other inter-divisional superfights: his title defense against MacDonald, who was then the welterweight champion. He had no problem on that night, finishing MacDonald in the second round.
---
Bellator 250 Odds – Main Card (via FanDuel Sportsbook)
Gegard Mousasi: -170
Douglas Lima: +138
Henry Corrales: -320
Brandon Girtz: +245
Veta Arteaga: -116
Desiree Yanez: -106
---
FanDuel sees the larger Mousasi as the clear favorite, listing him as a -170 pick over Lima (+138). But Lima isn't stressed out about the size difference as he seeks to become only the third Bellator fighter ever to hold two belts at once.
"I didn't have to suffer so much with a crazy weight cut," Lima said. "I feel like my strength is here 100%. I trained with bigger guys for this camp, did a little more strength and conditioning. I did everything that I could for this camp to get my body healthy, not gaining too much weight."