The #3 Milwaukee Bucks continued their NBA title defense after knocking out the #6 Chicago Bulls in five games in the first round of the Eastern Conference Playoffs. The series win came at a huge cost for the Bucks when they lost starting forward Khris Middleton to an MCL sprain.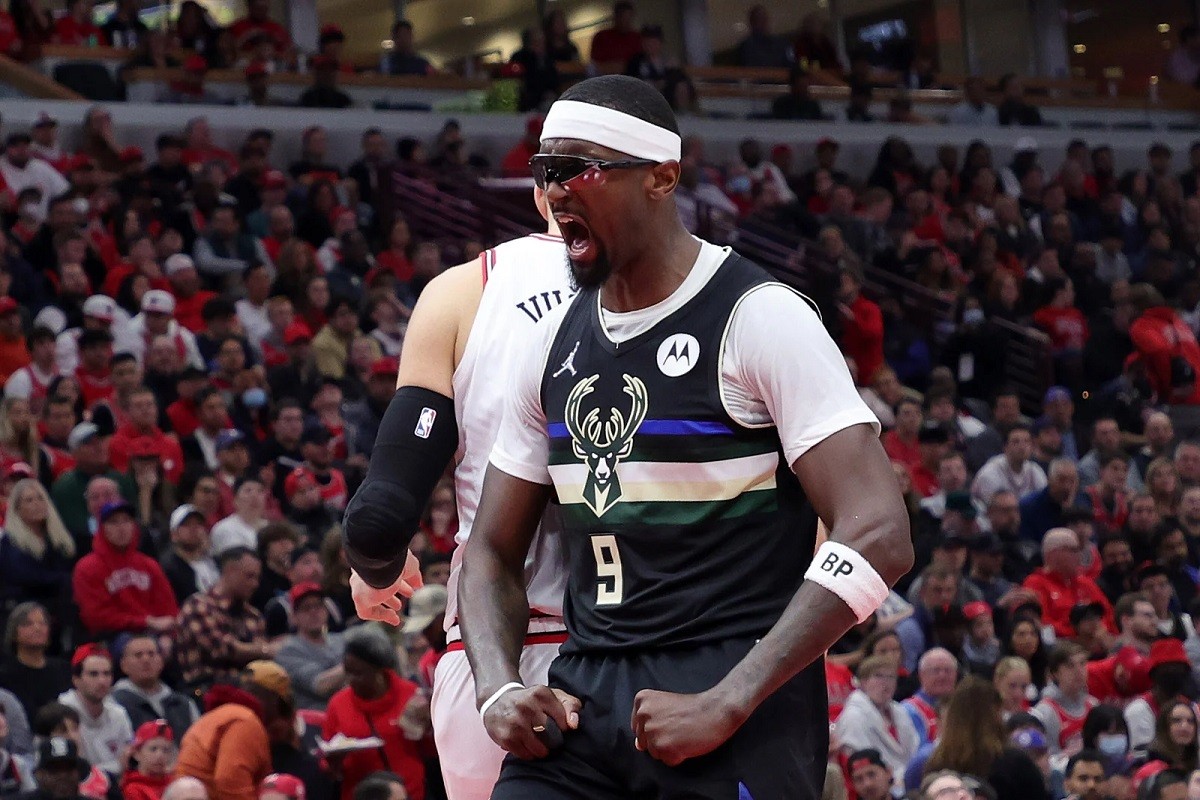 The Bucks advanced to the Eastern Conference semifinals and will face the #2 Boston Celtics in a seven-game series starting with Game 1 on Sunday. It looks like Middleton won't be ready to return before the end of the Bucks/Celtics series.
"We miss Khris," said Bucks head coach Mike Budenholzer. "I don't think anybody underestimates how important and how effective he is for us. While we don't have him, we've got to be our best all up and down the roster."
Oddsmakers at DraftKings pegged the Bucks as underdogs at +175 odds to win their second-round matchup against the Celtics, who swept the #7 Brooklyn Nets in four games. The Celtics are -210 favorites to knock out the Bucks and secure a spot in the Eastern Conference Finals.
The Bucks are +800 odds to win back-to-back NBA championships, according to the most recent update at DraftKings.
Losing Middleton
The Bulls pulled off their sole victory in this series with a 114-110 win in Game 2. It marked the only game in the series in which the Bucks gave up more than 101 points. During a defensive lapse, the Bucks allowed DeMar DeRozan to erupt for 41 points on 16 for 31 shooting, while Nickola Vucevic and Zach LaVine both scored 20-plus points.
Not only did the Bulls even the series at 1-1, the Bucks lost Middleton. MCL sprains can take up to six weeks to heal. Kevin Durant and Anthony Davis suffered similar sprains during the regular season when they had the luxury of taking all the time they needed to return to full form. The Bucks are in a tough spot without their second-best scorer.
Middleton averaged 20.1 points, 5.4 rebounds, and 5.4 assists per game this season. He's also a career 39.23% 3-point shooter and a steady 89% from the charity stripe. He knocked down numerous clutch free throws in last year's playoff run to help secure the first championship in Milwaukee in 50 years.
"After Game 2, the team knew what the deal was," said Giannis Antetokounmpo. "We knew what we had to do. Had to be desperate. We had to go out there and compete at a high level, pay attention to detail as much as possible, help one another defensively. We've got to do it as a team."
After Middleton went down in Game 2, the Bucks didn't flinch and rattled off three wins in a row to knock out the Bulls. Budenholzer opted for a bigger lineup and tapped backup center Bobby Portis to start. Meanwhile, the Bucks were able to make up for Middleton's missing scoring via Grayson Allen.
Bounce back, Portis shines
The Bucks bounced back in Game 3 with a 30-point blowout victory to regain the series lead 2-1. Portis scored 18 points and hauled down 16 rebounds in just 25 minutes of action. Allen picked up the scoring slack with 22 points off the bench.
In Game 4, the Bucks cruised to a 26-point victory and extended their lead to 3-1. Antetokounmpo led all scorers with 32 points, but missed a triple-double with 17 rebounds and seven assists. Allen dropped 27 points off the bench, including a sizzling 6-for-7 from 3-point range. Portis posted another double-double with 14 points and 10 rebounds.
The Bulls were doomed before the opening tip of Game 5 against the Bucks in Milwaukee. LaVine missed the game with COVID, and Alex Caruso sat out due to a concussion. The Bucks took an early lead and never looked back, They locked up the series with a 116-100 victory. Their defense put the clampdown on DeRozan, who shot just 10 times and scored a mere 11 points in the loss. Portis started for a third-straight game and added another double-double with 14 points and 17 rebounds.
"Our defense has tightened up, and we've leaned hard on that these last three games," said Budenholzer. "We've got depth. We've got a good group."
"Give the Bucks credit defensively, they locked in and took away what they needed to take away," said DeRozan.
Check out more coverage of the 2022 NBA Playoffs.