FC Barcelona won their first trophy in two years after beating Athletic Bilbao 4-0 in the final of the Spanish Cup.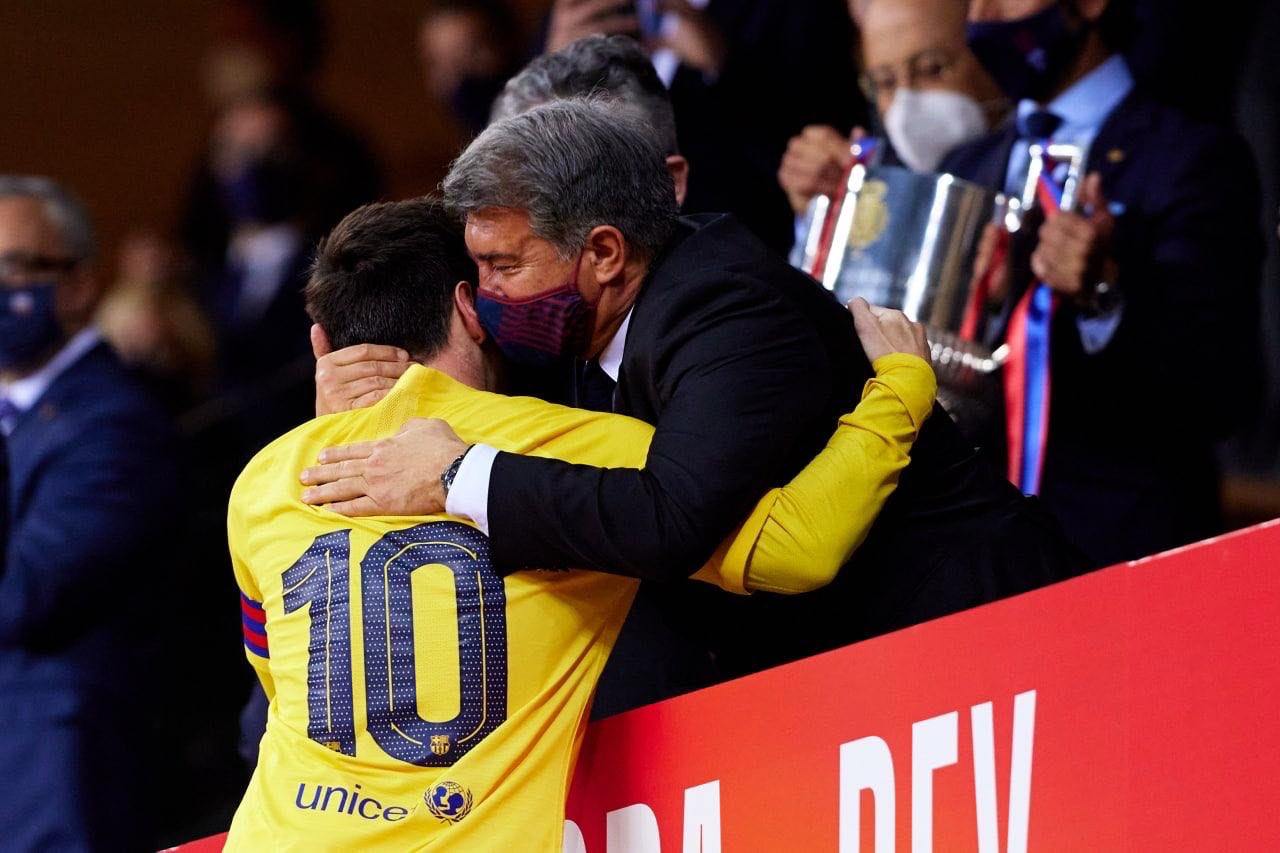 Lionel Messi stole the show thanks to his fantastic performance at "La Cartuja" stadium in Sevilla, where the final was hosted. Barcelona scored all of their goals in the space of just 12 minutes. Antoine Griezmann struck first at the 60-minute mark, with Frenkie de Jong making it 2-0 just three minutes later.
Messi was given the final act, as he punched twice and KO-ed Athletic Bilbao. His first score, which came in the 68th minute, was a classic Messi-style masterpiece. The Argentinian worked his way through the defense after picking up the ball from his own half, passed it twice with Frenkie de Jong, before finishing smoothly past Unai Simon. Messi closed the evening in the 72nd minute with another beautifully worked goal from Barcelona.
Messi: Will he stay or will he go?
Winning the Cup on Saturday evening gave Barcelona its first trophy since 2019. After the game, thrilled by Messi's wonderful performance, the "Barcelona Planet" was hoping for some clarification on the superstar's future. Messi is out of contract at Camp Nou this summer.
Barcelona president Joan Laporta is confident the six-time Ballon d'Or winner is staying.
"Messi is the best player in the world. And he loves Barcelona," Laporta said. "I'm sure he wants to stay and we will do everything we can to keep him here. This is what we want."
🎶 𝘖𝘩, 𝘭𝘦, 𝘭𝘦! 𝘖𝘩, 𝘭𝘢, 𝘭𝘢!
🔊🏆 𝘚𝘦𝘳 𝘥𝘦𝘭 𝘉𝘢𝘳𝘤̧𝘢 𝘦́𝘴, 𝘦𝘭 𝘮𝘪𝘭𝘭𝘰𝘳 𝘲𝘶𝘦 𝘩𝘪 𝘩𝘢… pic.twitter.com/d0o0SPc5Ox

— FC Barcelona (@FCBarcelona) April 18, 2021
A very emotional Messi preferred to talk about the Cup triumph, rather than his future.
"It's special to be the captain of this club. This is where I spent my entire life, it's really special to win the Cup and to be able to lift it," Messi began. "It was a difficult year for us and to be able to celebrate this trophy and now to go for the title in Spain is really important. It's been a different year for us, a year of transition, with a lot of young players. We got going, we've been getting strong."
Once the final concluded, Messi, 33, was as important to his colleagues as the trophy itself. Barcelona's stars queued for a picture with the South-American.
Quand les jeunes du Barça souhaitent immortaliser la victoire avec Messi 😄📸#lequipeFOOT #AthleticBarca pic.twitter.com/quC8BKDmao

— la chaine L'Équipe (@lachainelequipe) April 17, 2021
What's next for Barcelona?
With eight games remaining this season, Barcelona is third in La Liga on 65 points, but only two points separate the Catalan Giants from leaders Atletico Madrid (67). Real Madrid is currently sitting second with 66 points. Barcelona and Real Madrid are both listed at +250 to win the league. Despite being first in the standings, bookmakers aren't encouraged by Atletico's recent run of form. The bookies have Diego Simeone's boys at +350 to lift the trophy.
Regarded as a marginal possibility six months ago, Messi's renewal with Barcelona is looking more probable by the day. The bookies have him listed at -225 to stay with Barca, while a move to Man City is at +300. A transfer to any club in the MLS is at +850.