Jorge Masvidal can take the title of "BMF" after defeating Nate Diaz in the main event of UFC 244 at Madison Square Garden in New York City on Saturday night.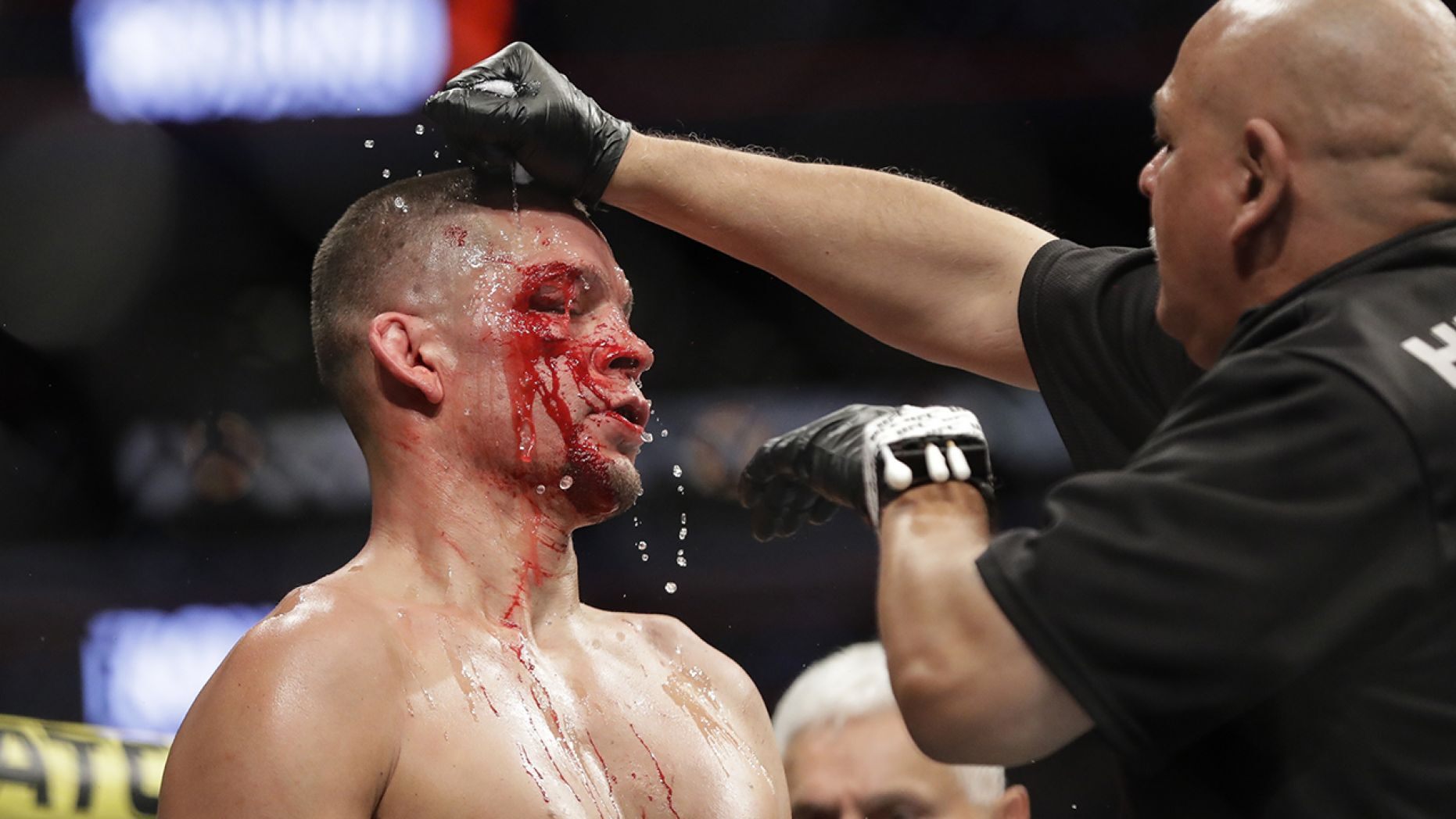 Masvidal dominated the first three rounds of the brutal fight before a ringside doctor stopped the bout before the beginning of the fourth round due to a deep cut above Diaz's right eye, giving Masvidal a victory by TKO.
Doctor Receives Death Threats After Stoppage
The decision was booed by the crowd, which had been enjoying the action-packed fight, and Masvidal (34-13) was happy to offer a rematch to Diaz in the hopes of producing a more satisfying ending.
"I told Nate right now, 'Let's run it right back,'" Masvidal said after the fight. "We're going to run it back, New York. So don't worry about it. It's going to happen again."
Diaz (20-12) said he was surprised by the finish, as he was hoping to stage a trademark comeback in the championship rounds.
"I didn't think they were going to stop it," Diaz said. "I was just about to start it."
There was no doubt that Diaz's cut was severe, and while not everyone was happy with the decision, it wasn't particularly out of the ordinary given the size and location of the gash. Dr. Nitin K. Sethi has since said that he has received death threats over his decision to call an end to the contest.
"I'm a very good neurologist and a very good doctor, and calling me f—ing scum online and calling my office staff and yelling at them, threatening me, I fear for my health and safety," Sethi told MMA Fighting.
In the co-main event, Darren Till overcame visa issues and a late arrival in New York to earn a split-decision victory over Kelvin Gastelum. The judges scored the fight 30-27, 29-28, 27-30 in favor of Till.
The combination of his late arrival and the presence of president Donald Trump at UFC 244 threatened to make it impossible for Till to get cleared in time for the match.
"I don't have my medical yet, but they were shutting down the USADA office for the president, and then they tried to kick me out of the room," Till told Ariel Helwani. "I made sure the doctor came to my room to get my medical because that was just another thing…I just thought, 'Is this fight not meant to happen?'"
Masvidal, Adesanya Issue Challenges
Monday also saw two, top UFC fighters issue very different challenges on Ariel Helwani's MMA Show.
First, UFC middleweight champion Israel Adesanya issued a challenge to light heavyweight titleholder, Jon Jones. Adesanya made it clear that he is only interested in fighting Jones at 185 pounds, at least for now.
"If he wants to fight me right now, comes see me at 185," Adesanya told Helwani. "I'll let him jump the queue, because he's the champ at that weight class."
Meanwhile, Masvidal said he'd like to take on middleweight boxing champion Canelo Alvarez, who won a light heavyweight title fight on Saturday against Sergey Kovalev.
"Is Canelo a better boxer than me…Yeah. He's a better boxer," Masvidal told Helwani. "But can I bring some elements that boxers ain't used to, that are in the legal realm of boxing, and throw Canelo completely off his game? F— yes."