Max Abmas, a week shy of his 20th birthday, led the NCAA in scoring this season for the Oral Roberts Golden Eagles. Abmas also guided #15 Oral Roberts to two upset victories in the opening rounds of March Madness, securing them a spot in the Sweet 16.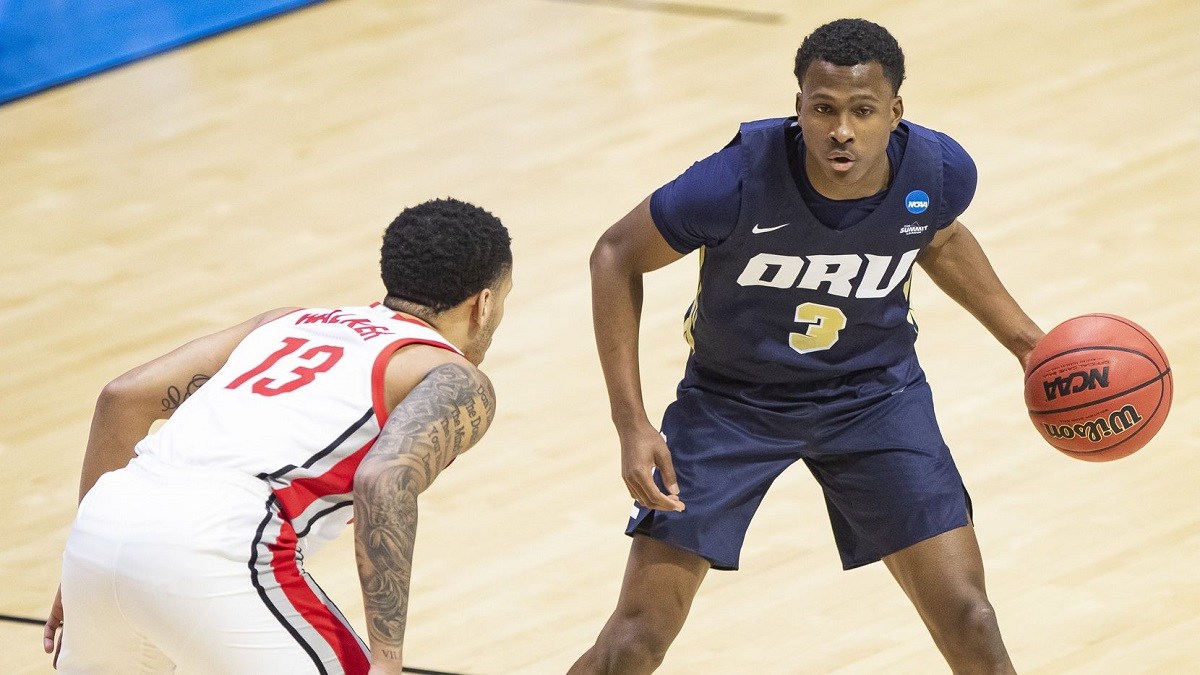 In just two March Madness appearances this season, Abmas averages 27.5 points, including 29 points in an overtime upset over #2 Ohio State.
"We came here to win games," said Abmas. "We go into every game confident just because we know the work we've put in all season."
Abmas averaged 24.5 points per game, putting him at the top in NCAA Division I men's basketball. He also shot 43.1% from 3-point range as one of the premier sharpshooters in the nation.
Abmas, along with junior forward Kevin Obanor, are the NCAA's top scoring duo, averaging 43.5 ppg together. Obanor averages 19 ppg this season.
The best way for an unknown college basketball player from a small team to make a name for themselves is to have a sensational game in March Madness. Abmas has already done that twice. He might be undersized for the NBA at 6-foot-1, but he boosted his future NBA Draft stock by leading Oral Roberts into the Sweet 16.
Who knows if or when Abmas will decide to go pro, but scouts will remember him and Oral Roberts' Cinderella run that included upset victories over #2 Ohio State and #7 Florida.
Abmas' Ride
Abmas, pronounced "Ace-mass", grew up in Texas, where he attended a Jesuit prep school in Dallas. He didn't have major schools knocking down his door to recruit him, especially Big 12 schools, so he accepted a scholarship to play at Oral Roberts in Tulsa, Oklahoma.
As a freshman, Abmas started all 31 games and averaged 14.5 ppg. He also shot 36.6% from 3-point range. He earned the Summit Conference's version of their freshman of the year honor.
In his sophomore season, Abmas scored more than 10 points more per game, averaging 24.5 ppg. He earned Summit Player of the Year honors for his sensational season. It's been an amazing transformation considering he was an erratic scorer as a freshman, and scored in single digits eight times in his first year of college hoops.
In February, Abmas erupted for 42 points against South Dakota State on an efficient 14-for-20 clip. In one of the last regular-season games of the year, Abmas lit up Western Illinois for 41 points on 6-for-12 shooting from downtown.
Abmas shrugged off a slight 3-point shooting slump from the Summit Conference tournament in which he shot 3-for-17 for a paltry 17.6%, which is way below his 43% success rate from beyond the arc. Despite the rough shooting from deep, Oral Roberts won three games in three days to win the Summit title and secure an automatic bid to March Madness.
Abmas and Obanor Cinderella Story
Abmas and Obanor led Oral Roberts to two close upsets in March Madness. The sporting and gambling world never gave the Golden Eagles a chance, but Abmas and Obanor had deep faith in themselves.
"We're just a resilient team, very gritty team," said Obanor said. "We're not just satisfied with the bare minimum. We don't let people put a number behind our school and just let them tell us that we can't do this and that."
"The expectation is that you come in, you're prepared, and that you do the things necessary in order to win a game," said head coach Paul Mills.
Oral Roberts became only the ninth team in March Madness history to knock off a #2 seed. They also became the second #15 seed to win a Round of 32 game. Can Oral Roberts continue to make history with a trip to the Elite 8 and beyond?
At this point, everyone knows that Oral Roberts is a two-man team. Yet, no one has been able to slow them down. Obanor dropped 30 against Ohio State, then added 28 against Florida. Abmas scored 29 against Ohio State, then tallied 26 against Florida.
"It's a team effort," explained Abmas. "It's not just a two-man game."
"They've got two elite scorers on their team, and everybody is able to knock down shots," said Tre Mann from Florida. "When you're playing a team like that, it's hard. It's hard to defend, especially Max Abmas. They're tough."
"Throughout the season, a lot of the attention has been on me and Kevin," said Abmas. "But the other guys in the locker room deserve a lot of credit. Especially with the way we've been playing lately."