Marble Racing has become a huge hit after the coronavirus pandemic shuttered almost nearly every live sporting event in the world. In the latest race on the Marbula One circuit, hosted by Jelle's Marble Runs, Smoggy from Hazers won Race 7 at the Razzway Grand Prix track. The Hazers regained first place in the overall standings.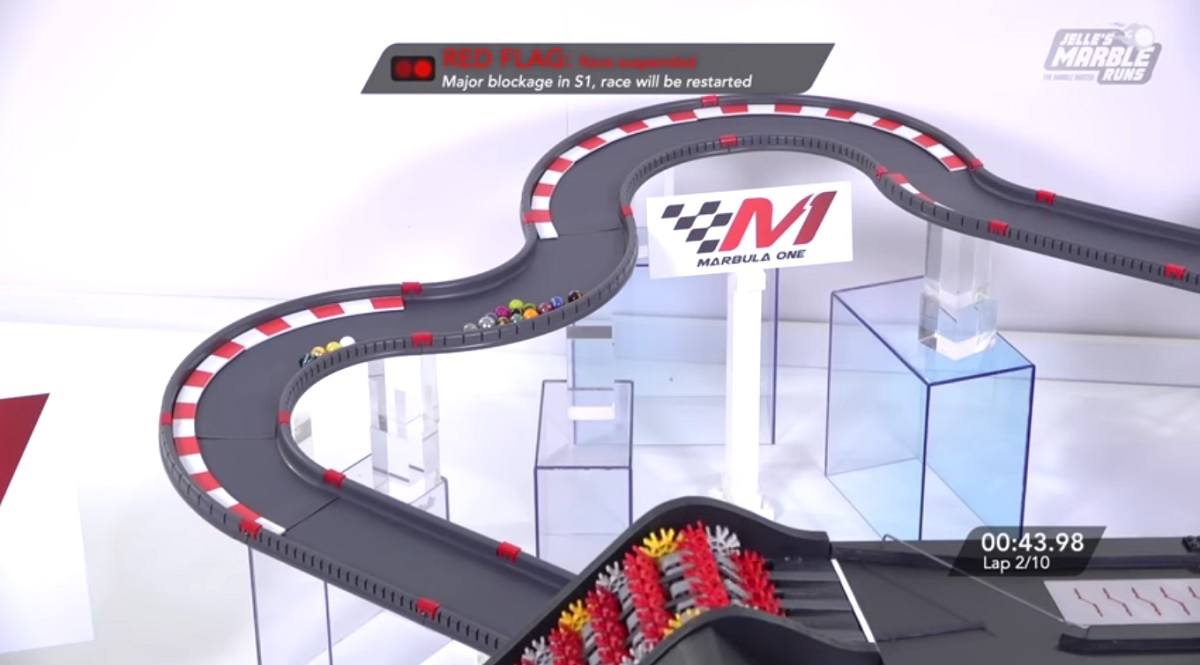 In Marbula One marble racing, there's a different track setup for each race. For Race 7, the track featured 14.38 meters of action including 15 turns.
Race 7 lasted for 10 laps with an average lap time of 33.95 seconds. Orangin posted the fastest lap at 32.25 seconds.
MARBLE RACING – RACE 7 RESULTS – TOP 5
Smoggy (Hazers) 5:31.46
Orangin (O'rangers) +0.62
Mimo (Team Momo) +1.60
Wispy (Midnight Wisps) +2.01
Anarchy (Balls of Chaos) +2.35
The anticipation quickly built up over the past week as numerous publications and social media accounts tipped off the rest of the bored sporting world to the latest fad of marble racing. Hey, if you're not keen on betting on the weather, then you have to make good with limited gambling options.
Race 7 started out with an obstruction. Overall, the seventh race included two red flags and a yellow flag.
Mulligan for Race 7
With the largest live audience to date at 19,700 viewers, Marbula One's Race 7 got off to a horrible start. The marbles were stuck on one of the initial turns in Section 1. The accordion effect caused the marbles to remain in place instead of moving forward down the track.
"Most of the field is stuck," said announcer Greg Woods.
Organizers released a so-called "safety marble" to dislodge the bottleneck. At the time, Smokey held first place with Mimo in second place and Limeline in third.
The safety marble did not work and everyone got stuck when the frontrunners reached the jam. A red flag was issued due to the major blockage.
"A disaster at the Razzway," described Woods.
When the race restarted, Mimo and Smoggy once again fought for the lead. The lead changed hands four times in total.
By lap four, Orangin moved into second place with Mimo in hot pursuit in third. They would jockey for second place while Smoggy opened up a lead that was almost 1.5 seconds.
On lap 6, Smoggy lost speed and Mimo jumped into first, while Orangin slipped to fifth.
On lap 7, Smoggy regained the lead. By lap 9, Oragnin moved into third place, but Mimo still tailed Smoggy by 0.68 seconds. Heading into the final lap, Mimo shaved time off the lead and only trailed by 0.2 seconds as the marbles headed up the conveyor belt for their final lap.
Oragnin moved into second on lap 10, but couldn't catch Smoggy, who won by 0.62 seconds. Orangin settled for second place, while Mimo took third.
Hazers Back in First
If you're new to marble racing, only the top-10 finishers are eligible for points in Marbula One.
The Hazers, with 90 points, moved back into first place by securing their first victory. They also have a second-place finish and two third places.
2020 MARBULA ONE STANDINGS:
Hazers (90 points)
Savage Speeders (76 points)
O'rangers (69 points)
Team Galactic (64 points)
Snowballs (50 points)
Thunderbolts (47 points)
Green Ducks (46 points)
Mellow Yellow (44 points)
Team Primary (42 points)
Balls of Chaos (36 points)
Midnight Wisps (34 points)
Team Momo (31 points)
Rojo Rollers (31 points)
Limers (25 points)
Raspberry Racers (21 points)
Hornets (8 points)
Last week, the Savage Speeders snagged the overall lead. With the Hazers back in the top spot, the Savage Speeders slipped to second place with 76 points.
The O'rangers were tied for fourth place last week with 50 points. They finished in second place in Race 7 to secure 19 points and move into third overall with 69 points.
Tune in next Saturday on YouTube for a live presentation of the Marbula One qualifiers for Race 8. That will be the final race of the eight-race season.
Don't forget to set your calendars for Race 8, which will be streamed live at 12:30 pm PT on Sunday, April 5, 2020, on the Jelle Marble Runs YouTube channel.