Russia's Zabit Magomedsharipov will finally get his chance to fight Calvin Kattar, with the two featherweight contenders meeting up in Moscow on Saturday for the main event of UFC Fight Night 163.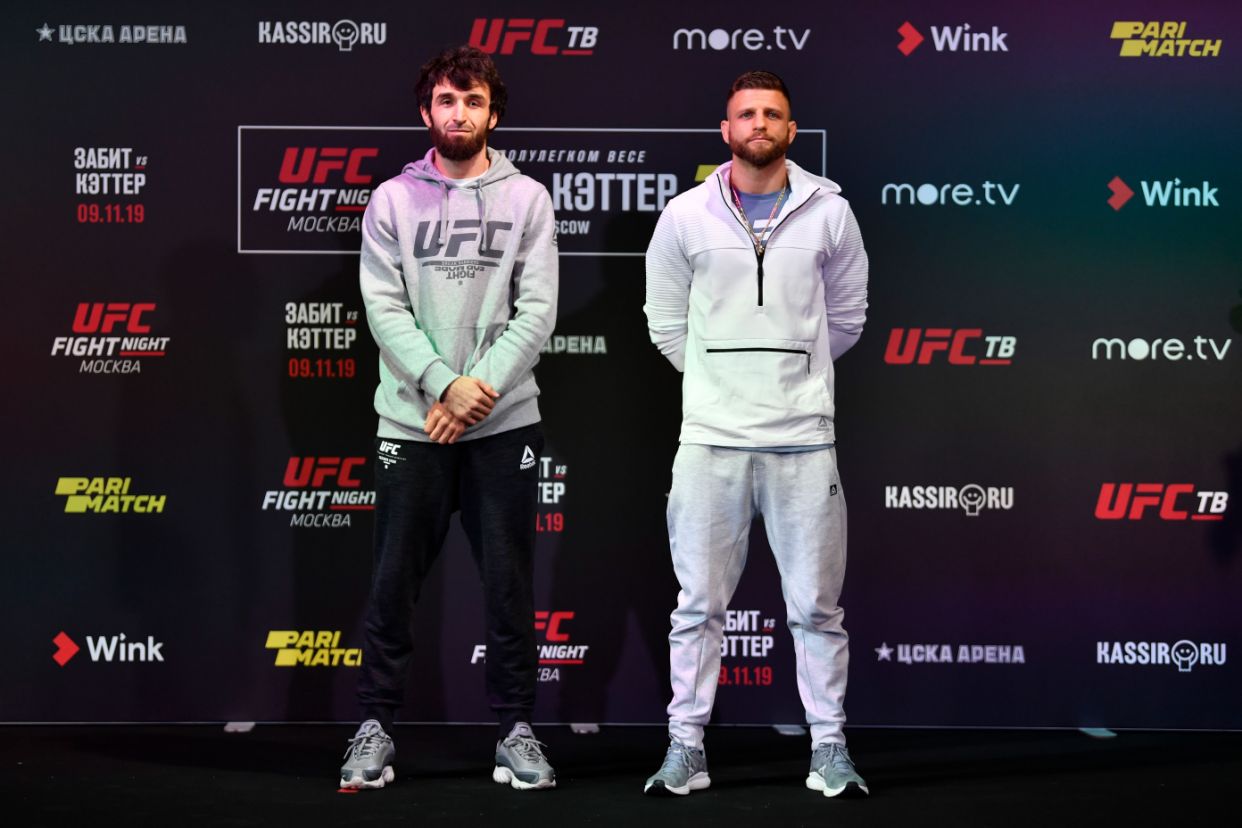 The two men were originally scheduled to fight each other in Boston for UFC on ESPN 6 three weeks ago, but the fight was cancelled after Magomedsharipov had a blood infection that forced him to drop out of the bout.
Kattar Ready for Shot at Magomedsharipov
The cancellation led to the fight being rescheduled for the co-main event on Saturday. After Junior dos Santos was forced out of the main event with an injury, the Magomedsharipov vs. Kattar bout was bumped up to spotlight status.
Given the fact that the fight became a main event on short notice, it is still being scheduled for just three rounds. That hasn't diminished the excitement for Kattar, who is looking forward to finally stepping into the Octagon against the Russian star.
"Good to hear he's ready to go for Moscow," Kattar told MMA Junkie after the first fight was cancelled. "I'm just happy I got the fight that the fans from Boston paid to see. I accounted for 14 suites and a couple hundred tickets. I'll be damned if they don't get the fight that they paid for."
He'll have a tough test in Magomedsharipov (17-1), who suffered his only loss early in his career, and who is a perfect 5-0 since joining the UFC. His last win came in March in a unanimous decision victory over Jeremy Stephens, with three of his UFC wins coming via submission. Magomedsharipov has one of the more well-rounded skill sets in the UFC featherweight division, able to both stand and strike with opponents, and succeed on the mat thanks to strong wrestling abilities.
That combination will set up an interesting clash of styles with Kattar (20-3), who is more or less a boxer with relatively little cross training in the other areas of MMA. Despite that one-dimensional approach, Kattar has found plenty of success during his career, making the most of his style to win four of his first five UFC bouts.
If Kattar can turn this into a boxing match, he may well have the advantage over Magomedsharipov, especially as the fight gets late, and his superior stamina has a chance to become a factor. The fact that the Russian has so many more tools at his disposal will likely be the difference: he can win the fight by successfully getting the action to the ground, or by presenting a varied striking game that incorporates enough kicks to wear down Kattar.
According to FanDuel Sportsbook, Magomedsharipov is a -310 favorite over Kattar (+240).
Hardy Faces Tough Test in Volkov
The new co-main event should also get plenty of attention, as No. 7 heavyweight Alexander Volkov (30-7) takes on former NFL star Greg Hardy (5-1). Hardy is coming off a no contest in Boston, where he lost a win due to the use of an inhaler between rounds.
---
UFC Fight Night 163 Odds
Zabit Magomedsharipov (-310) vs. Calvin Kattar (+240)
Alexander Volkov (-300) vs. Greg Hardy (+230)
Zelim Imadaev (-230) vs. Danny Roberts (+184)
Khadis Ibragimov (-154) vs. Ed Herman (+126)
Ramazan Emeev (-122) vs. Anthony Rocco Martin (+100)
Shamil Gamzatov (-210) vs. Klidson Abreu (+170)
Odds via FanDuel Sportsbook
---
Hardy may taking on more than he can handle in terms of the step up in competition, especially with only three weeks off between fights. Volkov has been installed as a -300 favorite, but those odds may undersell just how monumental an upset this would be for Hardy (+230).