Magnus Carlsen found himself down a game in the blitz tiebreaker against Hikaru Nakamura on Thursday. But the World Champion won on demand, then scored the necessary draw with Black in an Armageddon finale to secure victory in the Magnus Carlsen Chess Tour Final.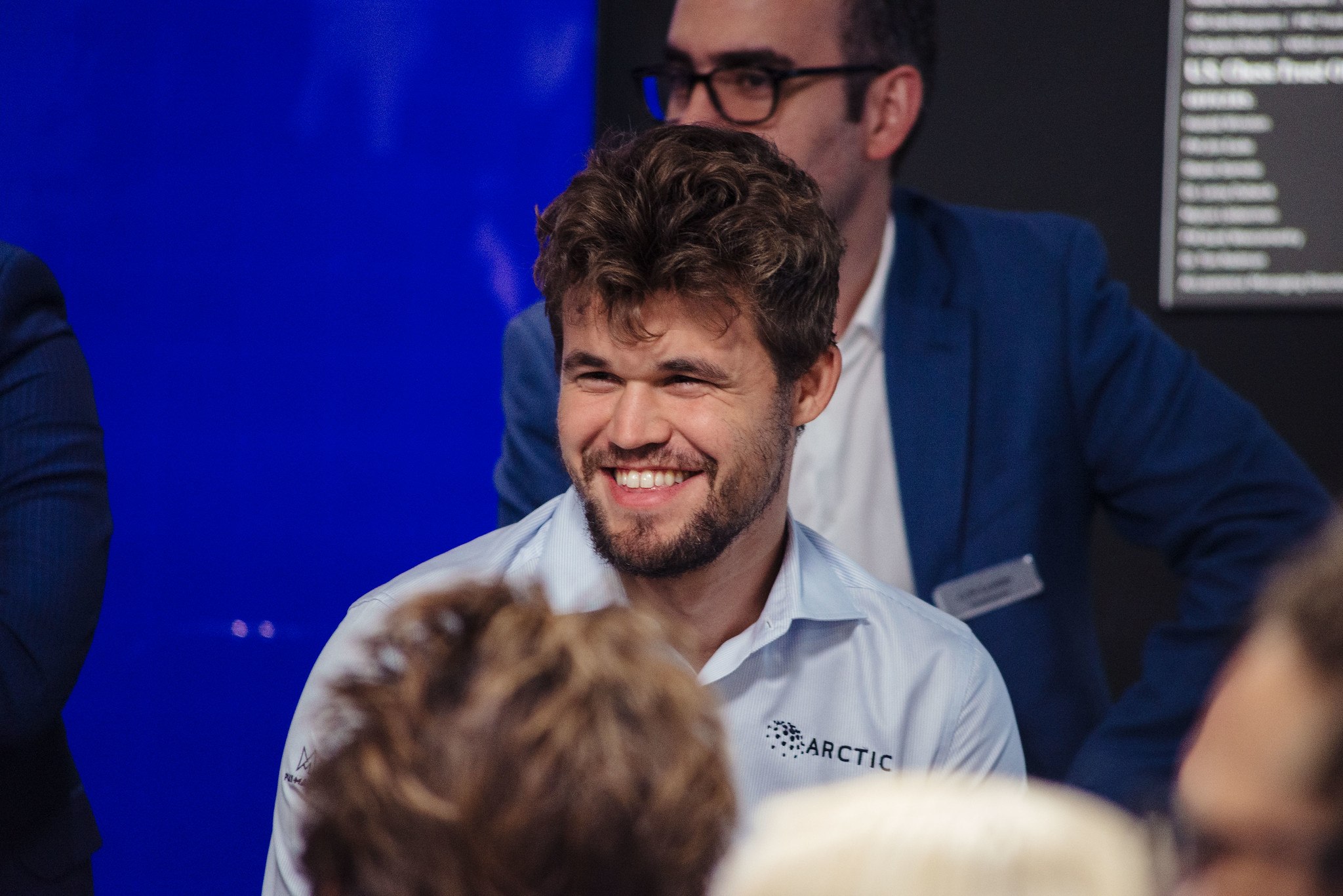 Carlsen took the seventh set to claim a 4-3 overall victory against Nakamura in a match that both players fully deserved to win.
Comebacks Abound in Final Set
Thursday's heroics were the latest in a series of comebacks that defined the Tour Final. Nakamura won the first, third, and fifth sets, each time taking a lead over the World Champion. But Carlsen responded each time, winning the second, fourth, and sixth sets to tee up Thursday's do-or-die final mini-match.
Carlsen was coming off a convincing 3-1 victory in Wednesday's set, perhaps the first time he had thoroughly outplayed his American opponent in the series. That trend looked to continue in Game 1 on Thursday when the Norwegian grandmaster scored a huge win with Black to take a 1-0 lead in the set.
Carlsen was able to gain a slight advantage with White in Game 2, but Nakamura – as he's done throughout the series – proved stubborn in defense, holding a draw to keep the match in touch. The American then unleashed a blistering attack in Game 3, setting up a mating net that forced Carlsen to resign after just 31 moves.
In Game 4, Carlsen failed to achieve much, and the game ended in a draw. With the set tied 2-2, the players headed into a two-game blitz tiebreaker.
Magnus: "This final & also the semi-final was just a struggle… Just no rhythm, no flow, back & forth & nerves & anger & joy & everything at once! It's been unbelievably stressful!" https://t.co/oDMJxIXhIP #c24live #ImpactChess pic.twitter.com/y0T2pPJl02

— chess24.com (@chess24com) August 20, 2020
Nakamura got the best of the first game. Carlsen dropped a pawn in the middlegame, and Nakamura never let the advantage slip, eventually converting a won endgame.
That left Carlsen in a must-win situation in the second and final blitz tiebreaker. He returned to the English Opening that had served him well earlier in the series, setting up a dynamic position, but failing to gain an appreciable advantage. Nakamura then made a number of inaccuracies, and Carlsen found the win he desperately needed.
Carlsen Finds Fortress Draw in Armageddon Game
That sent the series to one final Armageddon tiebreaker. Carlsen chose to play Black, knowing he would only need a draw to win the set. While the action went back and forth throughout the middlegame, Carlsen gave up his queen to establish a fortress and a guaranteed draw against a frustrated Nakamura.
Carlsen earned $140,000 for the win, and the honor of being the first winner of his namesake online chess tour. After the match was over, he gave praise to Nakamura for the incredible seven-day battle the two engaged in.
"He's just very, very resilient and I just found the whole match very difficult and unpleasant to play," Carlsen said. "At some points, I felt that I was outplaying him and then he started turning it around."
While the Finals wraps up the five-event online chess tour, it appears likely that the competition will return next year. In the meantime, other chess events are on the horizon. The second Pogchamps tournament begins on Friday, once again pitting top Twitch streamers against each other.
Carlsen on Nakamura finishing runner-up: "It's extremely harsh on him. He played a great match and he made it extremely difficult for me, so it's rough, obviously!" #ImpactChess

— chess24.com (@chess24com) August 20, 2020
Meanwhile, elite over-the-board chess returns on Oct. 5 with Norway Chess. While organizers reduced the field from 10 players to six, Carlsen is still headlining the event, along with Fabiano Caruana, Levon Aronian, Anish Giri, Alireza Firouzja, and Norwegian grandmaster Aryan Tari. Unibet has posted Carlsen as a -250 favorite to win the double round-robin over Caruana (+450) and Aronian (+700).