There are would-be party crashers to Saturday's Grade 1 Alabama Stakes at Saratoga. There's Crazy Beautiful. There's Clairiere. Solid 3-year-olds with solid, proven resumes.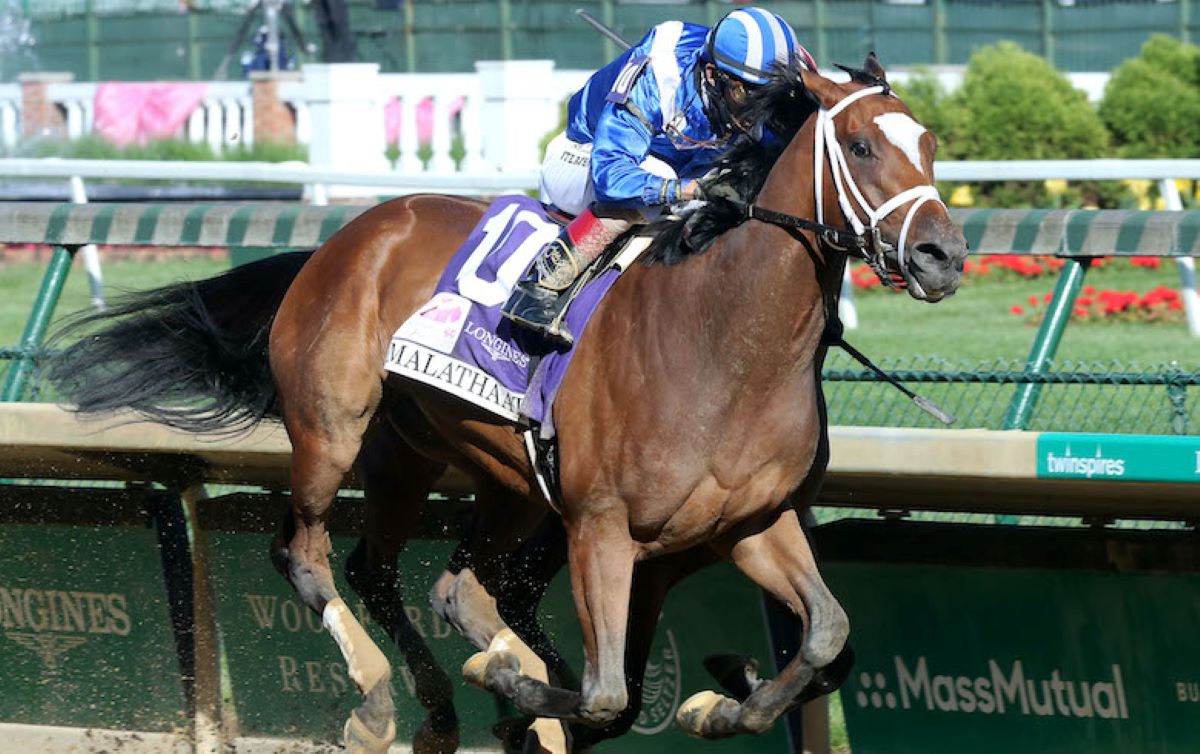 However, the two "C" fillies find themselves relegated to that party-crasher role. That's courtesy of the two "M" fillies – Malathaat and Maracuja – who hold center stage for Saratoga's lone Grade 1 Saturday.
One of Saratoga's oldest races for fillies, the 1 ¼-mile Alabama dates to 1872. It contains a winner's roll replete with standout 3-year-olds dating back to the 19th century with Miss Woodford in 1883. There's Beldame (1904), Gamely (1967), Shuvee (1969), Mom's Command (1985), Go for Wand (1990), Heavenly Prize (1994), Silverbulletday (1999), Royal Delta (2011), Songbird (2016) and last year's champion – Swiss Skydiver.
As you would expect from a race with that winning pedigree, this year's Alabama field is loaded. Six of the seven fillies own a graded-stakes title. Proven fillies like Crazy Beautiful, Clairiere – who has never finished worse than fourth — and dangerous sleeper Army Wife find themselves afterthoughts based on what we saw at Saratoga last month.
Malathaat seeks payback for her lone loss
That was the scintillating stretch duel between Malathaat and Maracuja in the CCA Oaks. If Thoroughbreds understand on any level the concept of revenge and redemption, be assured Malathaat knows that page.
She'd know this based on Maracuja springing the upset at 14/1. Malathaat came into the July 24 CCA Oaks as the 1/5 favorite – certainly reasonable, given her undefeated record and class. The even-money morning-line favorite here, Malathaat came into the CCA Oaks off her victory in the Kentucky Oaks and the Grade 1 Ashland Oaks at Keeneland.
And yet, trainer Rob Atras and jockey Ricardo Santana Jr. dialed in the perfect game plan. Along with Clairiere, they stuck to the $1.05 million daughter of Curlin like Velcro, never letting her get any space or a breather. That produced a head victory and Malathaat's first loss in six races.
Malathaat's Alabama goal: find space and time
"I'm hoping that we get on the outside and stay clear. Those other two fillies (Maracuja and Clairiere) just kept tag-teaming her and she never had a chance to take a breath," Shadwell Stables' General Manager Rick Nichols told the New York Racing Association. "I think the additional distance will be a benefit to her as well. Her pedigree certainly points toward that direction."
As the daughter of Honor Code, so does Maracuja's. The 7/2 second-favorite finished second to Search Results in her first two-turn route in the Grade 2 Gazelle at Aqueduct in April. A distant seventh in the Kentucky Oaks didn't dissuade Atras from sending her out as the 14/1 longshot in the CCA Oaks – a race Malathaat scared down to four competitors.
"When (jockey) Kendrick (Carmouche) got off her the first time she won, he said that he couldn't wait for us to stretch her out in distance," Atras said. "He knew right away. You always hope for the best, bur our goal ws always to target the Coaching Club and the Alabama, so it's nice that things are coming together."
Can Maracuja get pressing help again?
What may hurt Maracuja in this rematch with her sudden rival is the perfect trip she got in the CCA Oaks. Her tag-team act with Clairiere will be hard to repeat in this deeper field.
Speaking of Clairiere (6/1), she finished third in that CCA Oaks. That gave her six in-the-money finishes in seven races. The only miss came in the Kentucky Oaks – and Clairiere still found the bottom rung of the superfecta. This is nothing to dismiss, considering she's run in six Grade 1 or Grade 2s.
But Clairiere still seeks that breakout Grade 1; her signature victory to date is in the Grade 2 Rachel Alexandra. Her pace-pressing style fits for another trifecta finish, but not for winner's circle pictures.
Is this another 'Sweet Home Alabama' for McPeek?
That brings us to the other "C" horse – Crazy Beautiful (6/1). Coming in off victories in the Grade 2 Summertime Oaks at Santa Anita and the Grade 3 Delaware Oaks last month, Crazy Beautiful seeks trainer Kenny McPeek's third Alabama in four years.
She does this in what is a key proving race for her. Crazy Beautiful is 5-for-10, with two seconds. But she ran more than 1 1/16 miles only once in her career. And it didn't go well: a 10th in the 1 1/8-mile Kentucky Oaks. Now, she stretches out 2 ½ furlongs beyond her comfort zone.
The other intriguing choice is Army Wife (6/1). While sophomores like Malathaat, Maracuja, Crazy Beautiful, Search Results, Travel Column and Clairiere grabbed the headlines, Army Wife kept busy on other fronts. She comes in with three victories in her last four starts, winning the Grade 2 Black-Eyed Susan at Pimlico and the Grade 3 Iowa Oaks at Prairie Meadows.
Grade 1 Alabama Stakes/Saratoga
Morning Line (Jockey/Trainer)
Crazy Beautiful, 6/1 (Jose Ortiz/Kenny McPeek)
Will's Secret, 15/1 (Jon Court/Dallas Stewart)
Clairiere, 6/1 (Irad Ortiz Jr./Steve Asmussen)
Maracuja, 7/2 (Ricardo Santana Jr./Rob Atras)
Played Hard 15/1, (Luis Saez/Phil Bauer)
Malathaat, Even (John Velazquez/Todd Pletcher)
Army Wife, 6/1 (Tyler Gaffalione/Mike Maker)
That came after a gritty third – albeit by 6 ½ lengths — in the Gazelle to Search Results and Maracuja. This is Army Wife's first Grade 1 outing, but her speed figures, form and pedigree (a Declaration of War progeny) fit well here.
"She doesn't need to take her racetrack with her. We're just trying to pick the right spots with her and it's worked out well," trainer Mike Maker said.
The pick: Malathaat. Expect a better pace scenario, expect trainer Todd Pletcher completed his tactical homework from the CCA Oaks, and expect the best 3-year-old in this talented field to prevail. That said, expect Army Wife to figure prominently in the mix, even worthy of a win bet at her 6/1 price or better.