If you remember back in May, the Grade 1 Coaching Club American Oaks is the race that Todd Pletcher put on Malathaat's calendar. This was the race Pletcher and owner of the undefeated 3-year-old circled – as they were crossing off any Belmont Stakes plans.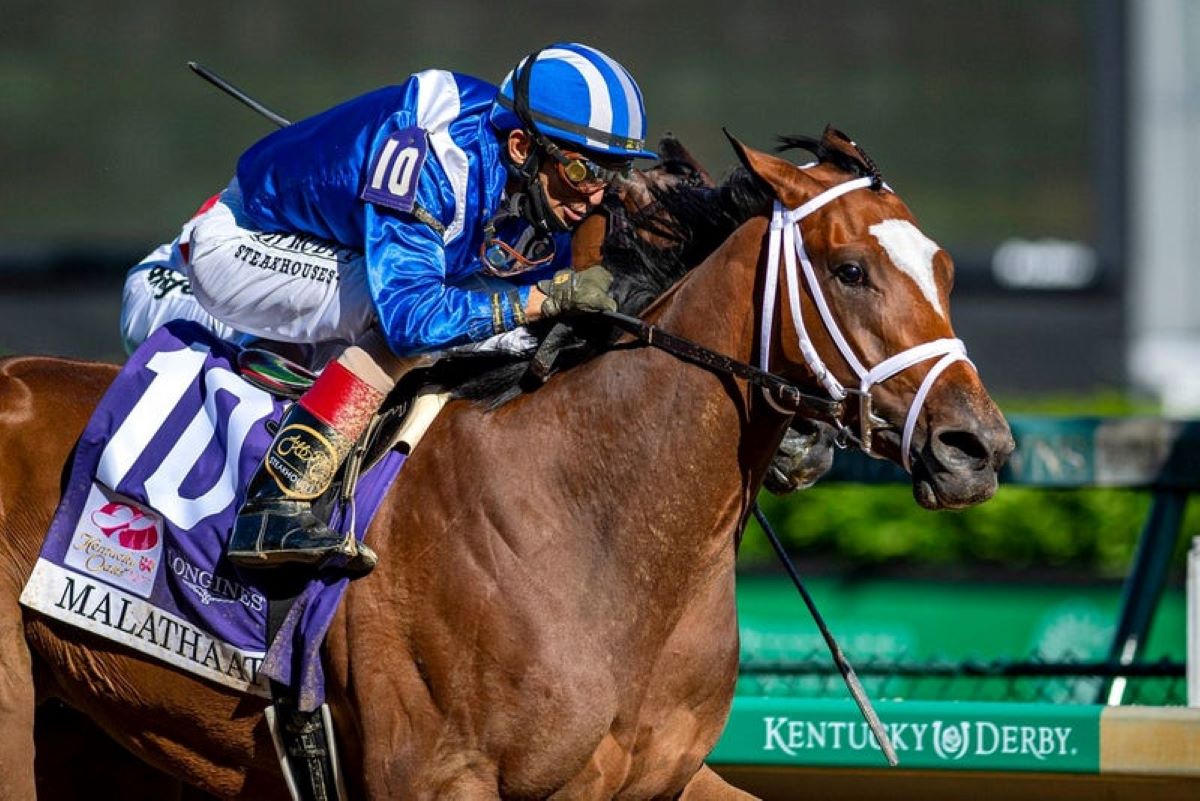 Now, because of Malathaat's considerable presence, other trainers crossed the CCA Oaks off their to-run list. In what is an unusual situation at Saratoga, Saturday's CCA Oaks sends only four fillies out in a Grade 1 race, one that headlines Saturday's slate at the Spa.
The CCA Oaks dates to 1917. But the roots of the race go back 42 years earlier. In 1875, the Coaching Club formed in New York. One of its membership requirements was to navigate a coach and four horses with one group of reins. Today, the goal is to join a winner's roll that includes Dark Mirage, Davona Dale, Open Mind, Ruffian, Wayward Lass, Ashado, Smuggler, Questing, Songbird, Abel Tasman and Monomoy Girl.
Those last three: Songbird (2016), Abel Tasman (2017) and Monomoy Girl (2018) were among 10 fillies parlaying a CCA Oaks victory into Champion 3-Year-Old honors. And 14 fillies pulled off the Kentucky Oaks-CCA Oaks double.
CCA Oaks became Malathaat's destination after Oaks win
Which brings us to Malathaat (2/5). The last time we saw the Curlin filly, she captured the Kentucky Oaks by a neck over Search Results. It was three more lengths back to third-place Will's Secret and fourth-place Clairiere, who returns here as one of Malathaat's three challengers. Search Results, meanwhile, validated Malathaat's track cred, winning the Grade 1 Acorn Stakes next time out.
That gave Malathaat her second Grade 1 victory of 2021, following her head victory over Pass the Champagne in the Ashland Oaks at Keeneland. It kept her undefeated in five races and prompted talk of sending her against the colts in the Belmont Stakes. Instead, Pletcher passed, deciding to train Malathaat from the April 30 Kentucky Oaks to the July 24 CCA Oaks.
"We did miss a little time with her and she was a little bit sore, so we took it easy with her," Shadwell Stable's vice president and general manager Rick Nichols told the New York Racing Association's Ryan Martin. "Todd's had her training real well into the Ashland. I love the way that she fought in the (Kentucky) Oaks. She just has so much class and determination."
Malathaat odds-on here for very good reasons
Malathaat's latest workout was a July 17 four-furlong breeze at Saratoga. She covered the distance in 48.05 seconds, fifth of 139 horses at that distance that day. That was her sixth workout since June 10.
"She's a very gifted filly," Pletcher told Martin. "She's just been perfect so far and she's just a pleasure to train (who) does everything right. When you have one that's undefeated, you just want to keep that intact and hope that everything goes smoothly and that she's able to show her capabilities once more."
Those capabilities run the gamut, since Malathaat won her races with the full arsenal of running styles. She's set the pace, which she can do in this field devoid of early speed, pressed, stalked and closed.
Here are your plucky challengers
As a result, those capabilities scared off all but three others. There's the aforementioned Clairiere (9/5), coming in off a hard-charging third in the Grade 2 Mother Goose at Belmont Park. The closing Curlin filly hasn't won since February's Grade 2 Rachel Alexandra at Fair Grounds.
There's Maracuja (6/1), who finished seventh in the Kentucky Oaks. That, after a second to Search Results in April's Grade 3 Gazelle at Aqueduct. Her off-the-pace running style doesn't fit here. Neither do her pedestrian speed figures.
Grade 1 CCA Oaks/Saratoga
Morning Line (Jockey/Trainer)
Malathaat, 2/5 (John Velazquez/Todd Pletcher)
Maracuja, 6/1 (Ricardo Santana Jr./Rob Atras)
Rockpaperscissors, 15/1 (Luis Saez/Rodolphe Brisset)
Clairiere, 9/5 (Irad Ortiz Jr./Steve Asmussen)
And speaking of not fitting well here, there's 15/1 long shot Rockpaperscissors. She comes in with two victories: a maiden win at Churchill Downs and an allowance at Indiana Grand that was supposed to be on the turf. Winning that race by 9 ¾ lengths loses some of its luster when you consider the competition and the 80 Equibase Speed Figure this Distorted Humor filly clocked.
"She has two very fast works and showed us that she is getting fitter and fitter, but obviously, we know it's a tough task," trainer Rodolphe Brisset said.
The pick: Malathaat. Props to the connections of the rest of this field for taking one for the team here. Even though Malathaat doesn't blow out her competition, even at 2/5, she and Johnny Velazquez have his fifth and Todd Pletcher's eighth CCA Oaks in hand.