Maracuja and Malathaat put on such a show in last Saturday's Grade 1 Coaching Club American Oaks at Saratoga, that you can't wait to see the rematch between the two 3-year-old fillies.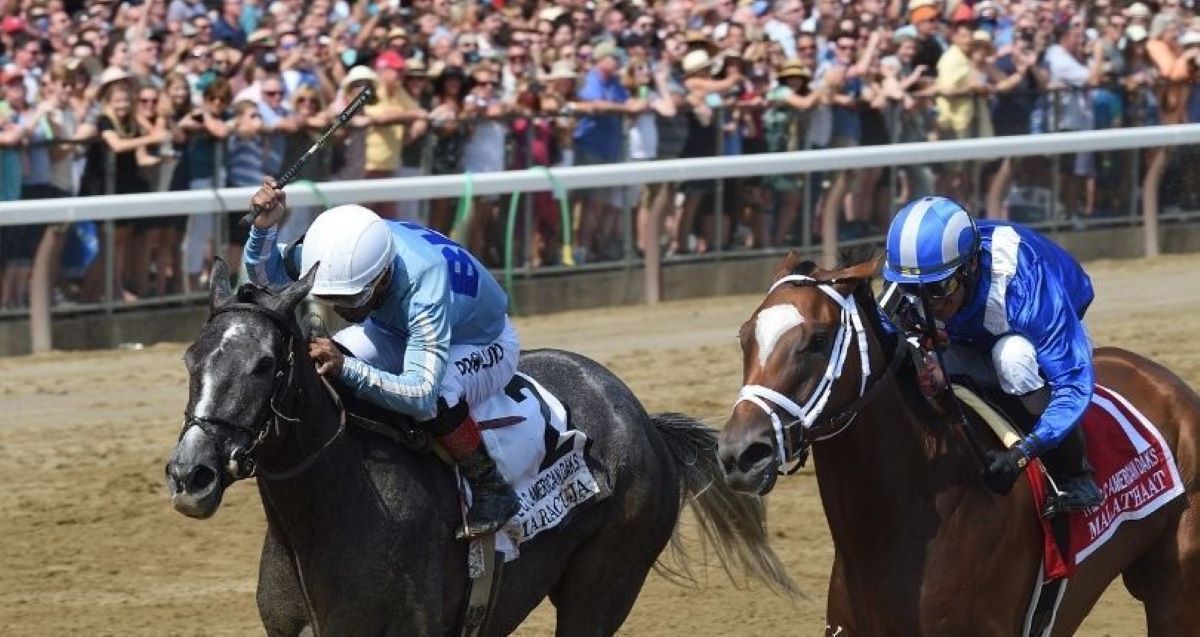 And, it's looking like we will at the Aug. 21 Grade 1 Alabama Stakes at Saratoga. Trainers for both Maracuja and Malathaat indicated that's the likely next stop for both horses.
Every race fan benefits if this happens. Especially if you watched Maracuja's thrilling head victory over previously undefeated Malathaat, who went off as the 1/5 favorite. Maracuja, meanwhile, was the longest shot on the board at 14/1. She paid $31.40 and $6. With four horses, there was no show betting.
That was no matter to the daughter of Honor Code, who overcame perceived pace issues, those lofty odds, and the formidable presence of the Kentucky Oaks winner. Hurdling all those obstacles brought Maracuja her first graded stakes victory and trainer Rob Atras his first Grade 1 score.
Maracuja 'ate everything up' — including her foes
Atras is now immediately looking for another win with a filly who missed the board only once in six career starts. That was her previous race, a seventh in the Kentucky Oaks.
"If she continues to come out of the race good, then I definitely would like to consider that race," Atras told the New York Racing Association about the 1 1/4-mile Alabama. "She ate everything up and cooled out good after the race and she was good this morning. It's always a concern when they put in a big effort like that, but so far, we look good."
Maracuja clocked a career-best 96 Beyer Speed Figure and 107 Equibase Speed Figure for a victory Atras said was a long time coming. Putting aside a maiden special weight victory in February, her previous best race was a second to Search Results in the Grade 3 Gazelle Stakes at Aqueduct. Search Results finished second to Malathaat in the Kentucky Oaks.
A breakout race for Maracuja
"She's just developed and every race, it seems like she's moving forward," Atras said. "Her first couple of races, she was a bit green. After she got her wind, she really just blossomed. She's come a long way in a short time. I was really proud of her and really impressed [with] how she bore down and got up like that in the end. To run against a filly as accomplished as Malathaat, it was incredible, really."
As for Malathaat, who brought two Hall of Famers in trainer Todd Pletcher and jockey John Velazquez, her penchant for close finishes finally caught up to her. Malathaat beat her last three closest pursuers by a neck (Kentucky Oaks), head (Ashland Oaks), and three-quarters of a length (Demoiselle Stakes). The daughter of Curlin hasn't won a race by more than a three-quarters of a length margin since a 7 ¾-length picnic in the Listed Tempted Stakes at Aqueduct last November.
This time, she led at every call after the start, but never settled into the pace Pletcher and Velazquez wanted for her. The Equibase race notes pointed out that Malathaat "set the pace while hounded from the outside by Maracuja for the opening three-sixteenths, then Clairiere from outside the five-eighths pole …"
Being 'hounded' didn't agree with Malathaat
When he watched the race, Pletcher couldn't phrase it better himself. Both Maracuja and Clairiere kept the pressure up throughout. Even with her career-best 96 Beyer, Malathaat didn't have that final finishing kick we've seen in previous races. Pletcher noted that Malathaat had to "fight off the whole field," which can be problematic – even in a four-horse field.
"Hounded is an accurate description," he told the NYRA. "We had a difficult time analyzing the race beforehand and how we thought it might unfold. There wasn't a lot of speed on paper and we were in the 1 post with a target on our backs, so our strategy was to let her run away from the gate and try to establish a position into the first turn, or if someone was to clear us, hopefully move out into the clear … I'm not disappointed with the filly at all. I thought she ran bravely, considering everything that was thrown at her off the layoff."
Malathaat's next layoff won't be nearly as long as her 85-day break between the Kentucky Oaks and last Saturday's CCA Oaks. Pletcher said if all goes well, Malathaat will come back for the Alabama. That means she'll have roughly a third of the time off from her last hiatus – 28 days.