Another day, another milestone for LBJ. LeBron James passed 35,000 points with a free throw for the Los Angeles Lakers in a loss against the Brooklyn Nets last night. LeBron continues to chase the top two scorers in NBA history, Kareem Abdul-Jabbar and Karl "The Mailman" Malone.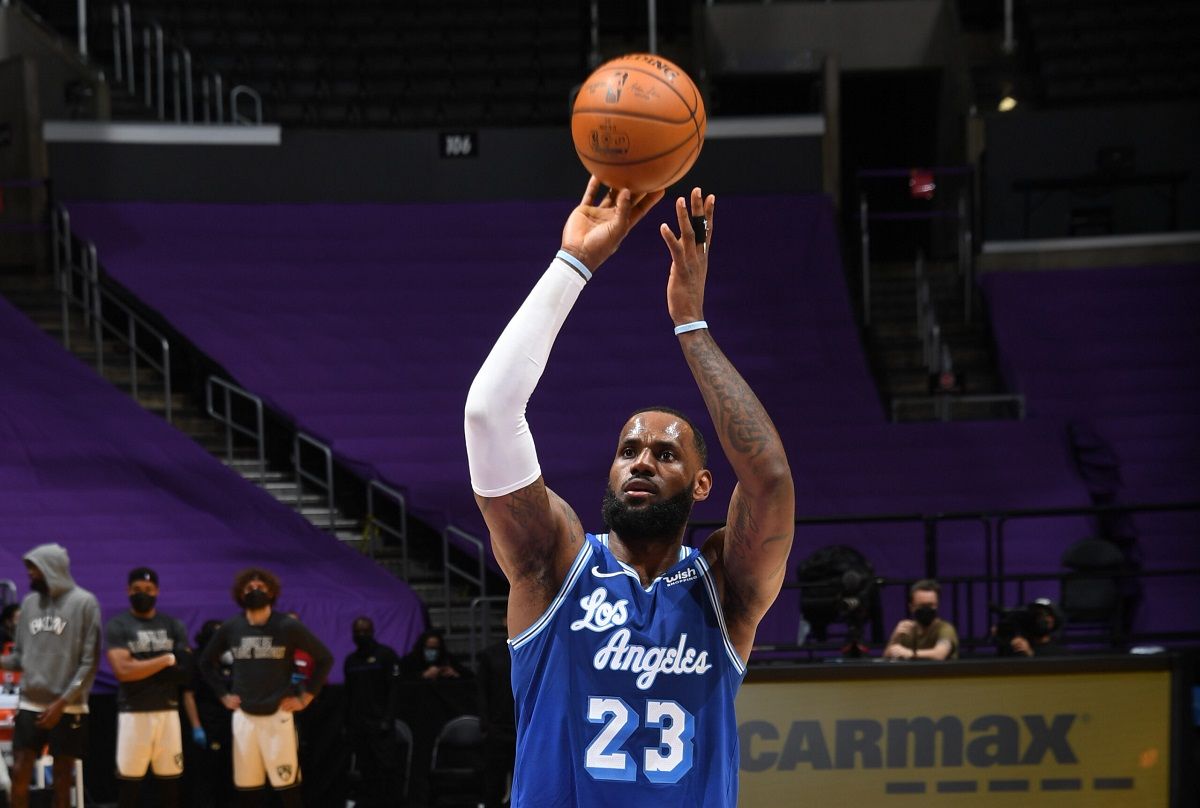 LeBron passed Kobe Bryant last season for third on the NBA all-time scoring list.
"I'm very humbled and very grateful to be part of such a great league and I love to do what," said LeBron. "It's a privilege to do what I love to do and continue to inspire the youth, and for me to be linked with some of the greats to ever play this game."
If LeBron can maintain a 25-point scoring average for the next two seasons, he'll pass Malone in 77 games and should catch Abdul-Jabbar in 135 games.
---
NBA Top 5 Scoring Leaders

| | |
| --- | --- |
| Kareem Abdul-Jabbar | 38,387 |
| Karl Malone | 36,928 |
| LeBron James | 35,017 |
| Kobe Bryant | 33,643 |
| Michael Jordan | 32,292 |
---
LeBron, 36, never went to college and was one of the last superstars to enter the NBA Draft directly from high school. In his 18th season in the NBA, LeBron has never demonstrated any signs of slowing down.
With Anthony Davis now out for four weeks with a calf strain, the Lakers will rely on LeBron more than ever. LeBron is a runaway favorite to win the NBA MVP this season after the Giannis "Greek Freak" Antetokounmpo won the MVP for the past two seasons.
With this free throw, LeBron James becomes the 3rd player in NBA history to reach 35,000 career points, joining Kareem Abdul-Jabbar and Karl Malone!

Watch on TNT pic.twitter.com/UWaz1fnqFn

— NBA (@NBA) February 19, 2021
Can LeBron Reach 40K?
LeBron passed Wilt Chamberlin in 2018. He then passed Michael Jordan in 2019, and he caught Kobe Bryant in 2020. Obviously, Malone is next for LeBron, followed by Abdul-Jabbar.
LeBron is fewer than 5,000 points away from becoming the first player to reach 40,000 points. He said he's inspired by Tom Brady and would like to play into his 40s. If that's the case, a 40-year old LeBron could reach the once unfathomable 40,000 mark.
If he reaches 40K, he'd also be close to securing 10,000 points with the Lakers, which would also be an amazing milestone of its own. LeBron would need 10,602 points in a Lakers uniform to pass Jamaal Wilkes for 10th on the all-time list.
---
LeBron James Career Points
| | | |
| --- | --- | --- |
| Team | Seasons | Points |
| Cleveland Cavs | 11 | 23,119 |
| Miami Heat | 4 | 7,919 |
| LA Lakers | 3 | 3,979 |
---
Kobe Bryant played his entire career with the Lakers and he leads the franchise with 33,643 points. Jerry West, aka Mr. Laker, is second with 25,192 career-points. Abdul-Jabbar scored 24,176 points as a member of the Lakers, and tallied more than 14,000 points with the Milwaukee Bucks. Rounding out the top five for the Lakers are Elgin Baylor with 23,149 points in fourth place, and Magic Johnson's 17,707 for fifth place in franchise history.
With 23,119 points as a member of the Cleveland Cavaliers, LeBron holds the Cavs' all-time scoring record. He has more than twice as many points as his closest competitor, with Zydrunas Ilgauskas tallying 10,616 over his career in Cleveland.
"I've had some pretty good moments, and I'm very thankful for that," added LeBron.