LeBron James achieved another milestone this season when he passed Michael Jordan to become the fourth-best scorer in NBA history.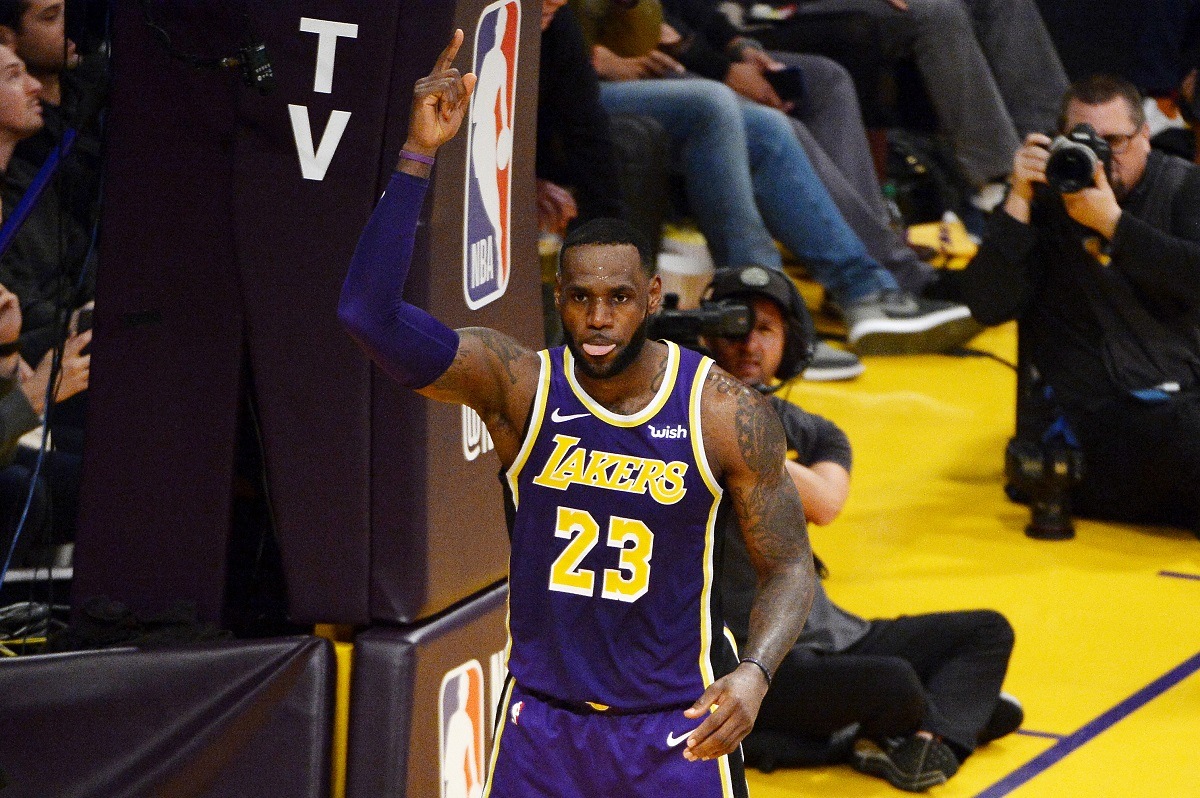 In a game against the Denver Nuggets (43-21) in Los Angeles, James passed Jordan in the second quarter. He finished the game with 31 points but the Lakers (30-35) lost 115-99.
Jordan scored 32,292 points in 15 seasons with the Chicago Bulls and Washington Wizards in a storied career that included two un-retirements.
Jordan played the least amount of games out of the top five at 1,072. LeBron needed 1,190 games to pass Jordan. He also made 1,714 three-points in his career, which was almost three times as many as Jordan made in his career.
"Of all the stuff I've done in my career, this ranks right up there at the top with winning a championship," said LeBron James. "For a kid from Akron, Ohio, that needed inspiration and needed some type of positive influence, MJ was that guy for me. I watched him from afar, wanted to be like MJ, wanted to shoot fadeaways like MJ, wanted to stick my tongue out on dunks like MJ, wanted to wear my sneakers like MJ. I wanted kids to look up to me at some point like MJ and it's just crazy, to be honest. It's beyond crazy."
With 32,311 points, James is in fourth place and trails Kobe Bryant in third place. At the current rate of scoring for James, who averages 27.1 points per game this season and 27.2 ppg over his career, he should catch Bryant next season.
March 6, 2019: EVERY ANGLE… @KingJames moved up to 4th on the NBA's all-time scoring list with this and-1! pic.twitter.com/TBfhAIZ8yI

— NBA (@NBA) March 7, 2019
It's Not Show Friends, It's Show Business
The Los Angeles Lakers have been the big team in town for four decades. Even when the team is bad, there's always a lot a press, mostly negatively about hoe the squad fails to live up to great Lakers quads in the past.
The fans in LA love a good show. Scoring a lot of points is good show business. It's no surprise that the top four players in scoring played for the Lakers at some point in their career.
Kobe Bryant played his entire career with the Lakers. He's next on LeBron's list. Karl Malone is a stretch because he played a swan song season with the purple and gold before he retired in 2004. Depending on how long LeBron plays, he should be able to easily catch Malone for second overall.
Kareem Abdul-Jabbar, the NBA's all-time leading scorer, started his career with the Milwaukee Bucks for six seasons before he returned to Los Angeles, where he played his collegiate ball with John Wooden at UCLA. If LeBron has a Kareem-like career on the back nine of his NBA journey, he could also catch Kareem.
40K Club
LeBron has 7,689 more points to go to reach 40,000 points. If LeBron can play exceptional into his forties like Tom Brady on the Patriots, then there's a chance LeBron could become the NBA's first 40,000 scorer. King James 40K?
If Lebron averages 27 points a game over the next four seasons, he could catch reach 40K by the 2023 season.  In he slips to 25 points per game over the next five seasons, he could pass 40K by 2024.
NBA SCORING LEADERS
1. Kareem Abdul-Jabbar 38,387 (24.6 average)
2. Karl Malone 36,928 (25.0 average)
3. Kobe Bryant 33,643 (25.0 average)
4. LeBron James 32,311 (27.2 average)
5. Michael Jordan 32,292 (30.1 average)
It's been a disastrous season for LeBron James. He expected a long season, but did not expect it would be this bad. LeBron sprained his groin on Christmas and missed more time than he hoped. The Lakers fell out of the playoff hunt in the Western Conference with the surging Sacramento Kings making a run.
The Long Run
The Lakers started the season on a bad foot and things got worse and worse. They were involved in a brawl with the Houston Rockets to ruin LeBron's first home game in Los Angeles. After a slow start, Magic Johnson had to promise everyone that he would not fire Luke Walton during the season. At this point, everyone assumes Walton is a dead man walking and will be relieved of his duties the day after the season ends.
The Lakers were caught up in the Anthony Davis trade drama. The Pelicans were toying with the Lakers and had no intentions of trading their disgruntled All-Star to Hollywood to play the role of LeBron's sidekick. Even after the trade deadline ended and the Pelicans did not trade Davis anywhere, the potential trade sent all involved parties into a tailspin. The Lakers essentially gave up and quit on LeBron during an ugly loss. The Boston Celtics have gone full-blown emo and stuck in their own funk in the wake of the Davis trade rumors.
After a dismal season, Magic Johnson looks forward to the offseason. LeBron hopes he can persuade a top free agent (Klay Thompson, Kawhi Leonard, Kevin Durant, or Kyrie Irving) to help him bring an NBA title back to the Lakers.