With a free throw late in the fourth quarter, LeBron James of the Los Angeles Lakers scored the 31,420th point of his career. In doing so, James passed Wilt Chamberlin to become the NBA's fifth all-time leading scorer.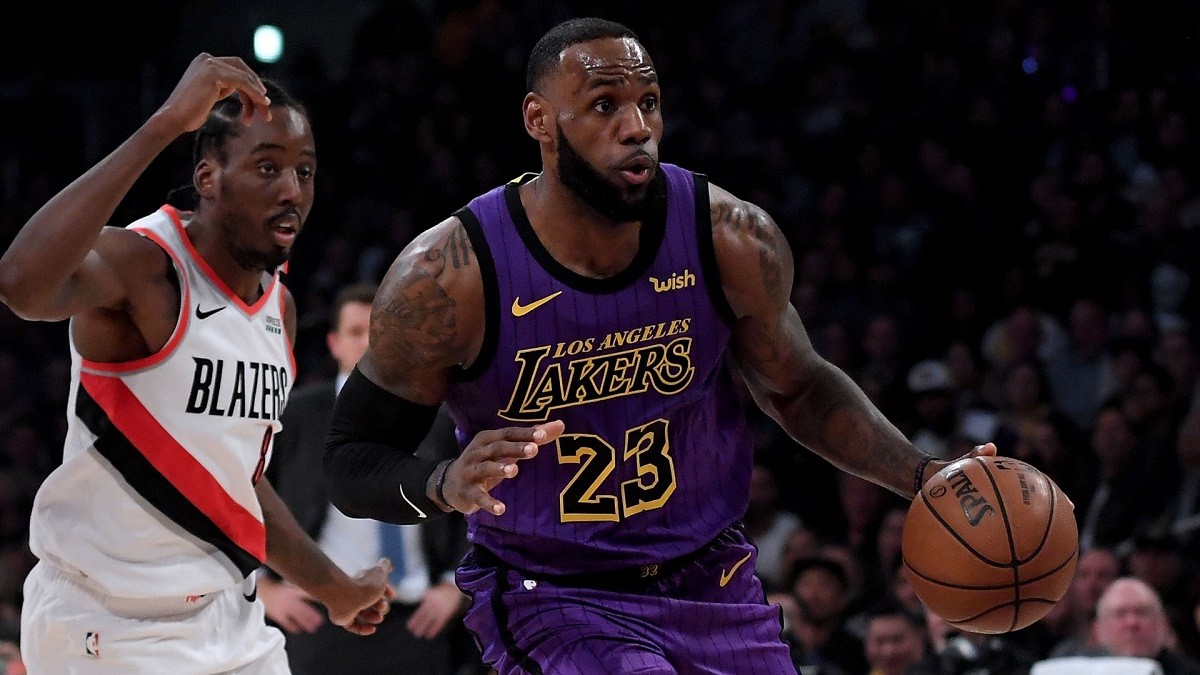 LeBron finished the night with 44 points and the Lakers defeated the surging Portland Trailblazers 126-117. After a sluggish 0-3 start of the season that included an ugly brawl with the Rockets, the Lakers won 8 out of their last 11 games including four in a row to improve to 8-6.
? @KingJames walking off with 3??1??,4??2??5??points and the 5th spot on the @NBA all-time scoring list! pic.twitter.com/FzXtV4R9lp

— Los Angeles Lakers (@Lakers) November 15, 2018
LBJ Catches the Wilt the Stilt
LeBron passed Wilt Chamberlin, a true legend who once scored 100 points in a game and claimed to have slept with 20,000 women. LeBron is a happily married man, but he finally passed Chamberlin on the all-time scoring list.
"Wilt (Chamberlain) is of the greatest Lakers ever to play the game. One hundred point scorer," said James after his record-breaking night. "One of the greatest scorers, rebounders to ever play this game. Multi-sport, dimensional type of athlete. People had never seen something like that in that era. So just dominant. In all walks of life. Not only just basketball, but period."
Coming into the Blazers game on Wednesday evening, LeBron trailed Chamberlin by 39 points. His season average is 27.7 points per game, so the math suggested he would surpass Chamberlin the next game. LeBron missed a triple double by one assist. The Lakers big dog was on fire all night and poured in 44 points, adding 10 rebounds and 9 assists.
Passing Dirk
Earlier this season, LeBron passed Dallas Mavericks center Dirk Nowitzki and moved into the Top 5 for all-time scorers. The German-born Nowitzki is currently seventh overall and top all-time for foreign-born pros.
The 40-year old Nowitzki returned to the Mavericks as a mentor to their young team that includes lottery pick Luka Doncic. Nowitzki has not played any games this season while recovering from ankle surgery, but hopes he could return to action at the start of December. The German is only 232 points away from catching Chamberlin.
NBA CAREER SCORING LEADERS

Kareem Abdul-Jabbar 38,387
Karl Malone 36,928
Kobe Bryant 33,643
Michael Jordan 32,292
LeBron James 31,425 **
Wilt Chamberlin 31,419
Dirk Nowitzki 31,187 **
Shaquille O'Neal 28,596
Moses Malone 27,409
Elvin Hayes 27,313

** Denotes active player
Jordan On Deck
The GOAT is next. Michael Jordan is fourth all-time in scoring with 32,292. Jordan could have locked up third all-time if he didn't skip the 1993-94 season to play minor league baseball. Late in his career, Kobe passed Jordan to move into third all-time. And now Jordan's spot in fourth is in jeopardy.
James only needs 867 more points to catch the legendary Air Jordan. He should catch Jordan in 32 more games, or sometime around mid-season if he continues to score his average of 27 points per game.
Kobe Bryant's third-place record looks safe… for now. If LeBron continues his current output of 27 points per game, it will take LeBron at least 82 games, or a full season, to pass Bryant's 33,643. Kobe should expect his record to topple shortly before Thanksgiving of next season.
LBJ > Jabbar
Nowitzki thinks LeBron could easily catch Kareem Abdul-Jabbar. "If he stays healthy," Nowitzki said, "And the way he's looking and moving, he has a chance at Kareem. His numbers have been unbelievable. He doesn't seem to slow down."
"It's surreal, it's surreal sometimes," teammate Brandon Ingram said. "You don't really think about it sometimes until it actually happens, and you notice you're playing with the greatest player in the world."