Kyle Busch won at Homestead-Miami Speedway on Sunday to capture the Monster Energy NASCAR Cup Series championship for the second time in his career.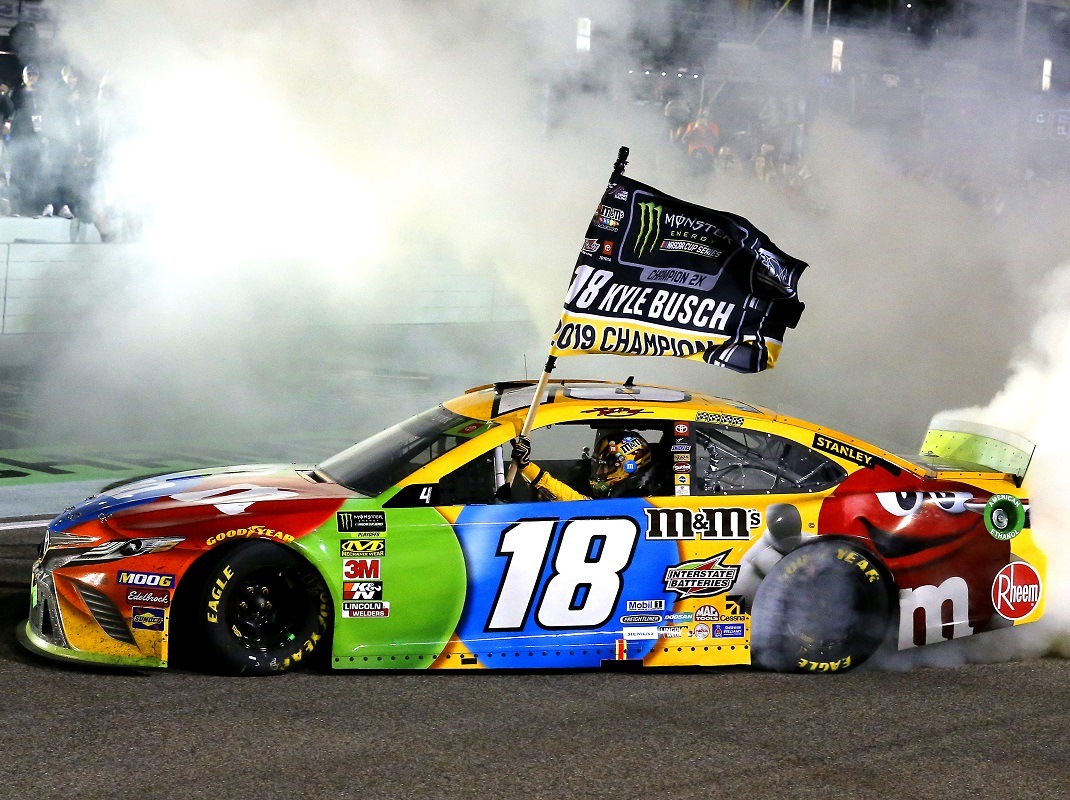 Busch outraced Martin Truex Jr., Kevin Harvick, and Denny Hamlin at the Ford EcoBoost 400 to claim the championship, which he first won in 2015.
Busch Breaks Winless Streak to Earn Title
The victory was the first in 21 races for Busch, and made him only the second active driver — alongside Jimmie Johnson — with two or more NASCAR Cup Series titles. Johnson, a seven-time champion, is tied with Richard Petty and Dale Earnhardt for the most titles, and remains the only driver to win the championship for five years in a row.
"We have a great race team and a great owner," Busch said after the race. "Everybody always says you never give up, and we're no different. Sometimes we may not be the best, sometimes we may not have the right track position. Today we had a really good car and I could race around and move around."
As expected, the four championship contenders dominated Sunday's race. Other than a single lap led by Ricky Stenhouse Jr., one of the four playoff drivers was in the lead for the entire race, starting with Hamlin, who began the contest in pole position.
Mistakes Cost Truex, Hamlin
Unforced errors kept other championship contenders out of the winner's circle on Sunday. After taking an early lead, Truex was done in by a mistake from his pit crew, which put new tires on the wrong side of his car during a stop.
"One mistake probably cost us the championship," said Truex, who would finish in second place, more than 4.5 seconds behind Busch. "I've never had that happen. I don't even know what to say. It doesn't drive good with the left front on the right front, though. I can tell you that."
Meanwhile, Hamlin found himself taking risks to try to win the race. That strategy came back to bite him when a piece of aerodynamic tape on the front of his car caused overheating in his engine, forcing him to pit to remove the material. Hamlin would finish in 10th place.
"I don't feel I could have done a better job. I didn't leave anything out there," Hamlin told reporters. "I was thinking we got a chance, and it just didn't work out. We got a little aggressive there, and it cost us."
There was no singular moment that eliminated Harvick from contention. Instead, his car just didn't seem to have the speed over the long term to keep up with Busch and Truex, and would ultimately finish in fourth place.
"We had a really good car for those first 15 to 20 laps on the restarts and had a lot of speed," Harvick said afterwards. "We just never got to try to race for it there."
The four contenders were considered virtual co-favorites to win the NASCAR Cup Series title heading into the final race of the year. While a driver doesn't necessarily have to win the final race to earn the series championship – they simply must finish ahead of the other Championship 4 drivers – all series champions have clinched the title with a final-race win since the current format was put into place in 2014.