Kyle Busch led the final 21 laps at Pocono Raceway on his way to winning the Pocono 400 on Sunday, his fourth win on the NASCAR Cup Series this year.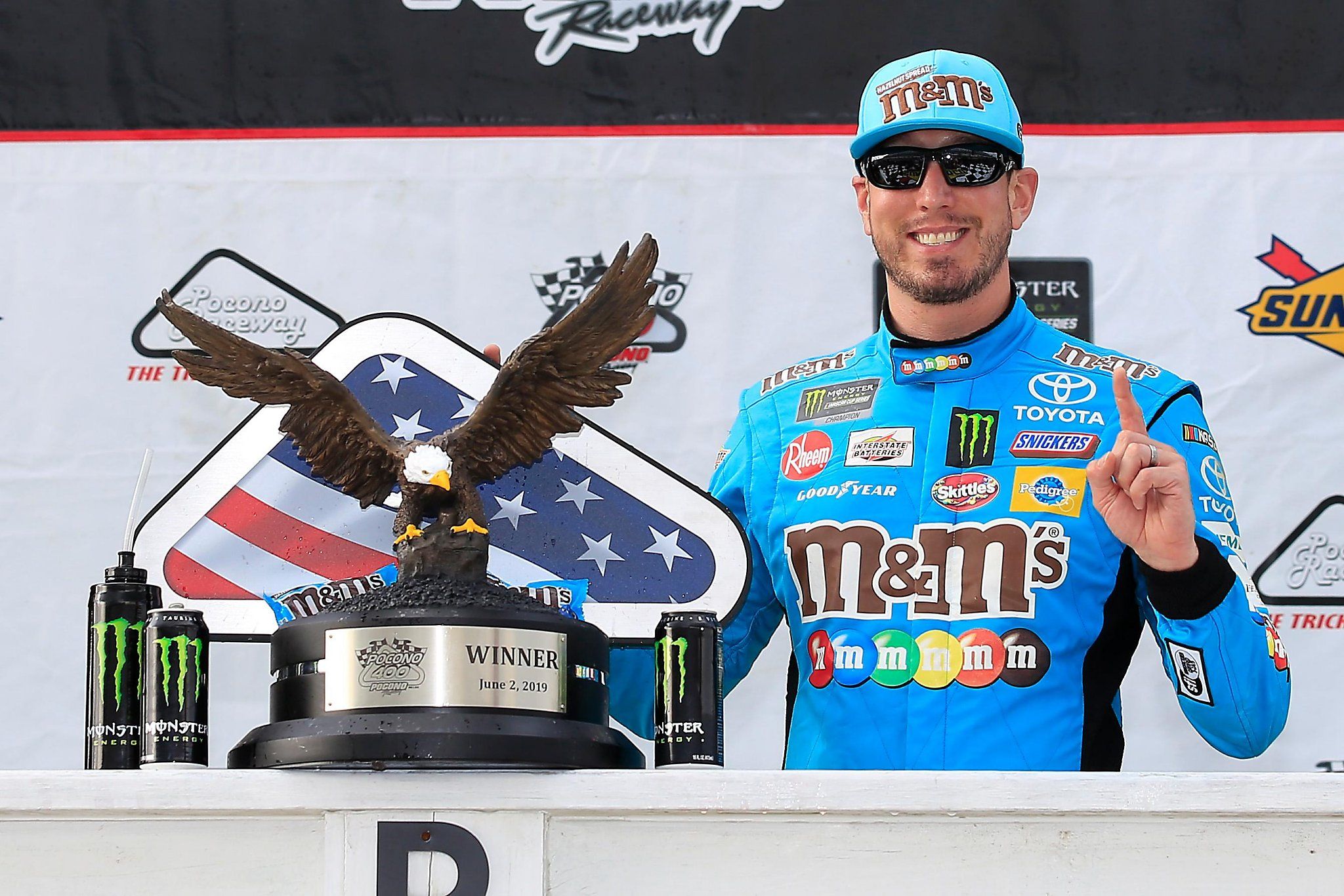 Busch led 79 of the race's 160 laps to win his second straight race at Pocono.
Busch Ties Wallace in Career Wins
The win was the 55th of Busch's career, tying Rusty Wallace for second on the NASCAR Cup Series career wins list. Dale Earnhardt holds the record with 76 race wins.
Busch enjoyed what appeared to be the best car throughout the race. When he would occasionally find himself out of the lead, he had little trouble passing by his opponents. One of the clearest examples came following a restart on Lap 73, when Clint Bowyer passed Busch to take the lead and could only hold it for a couple laps.
"I passed one guy on the outside of Turn 3, and that was the only guy I needed to pass, I guess," Busch said after the race. "Overall, my guys on pit road were awesome and picked up some spots there. [Crew chief] Adam Stevens and some of his race calls got us up closer to the front. Cool to get a win at Pocono again."
Busch easily outpaced the competition down the stretch, finishing more than two seconds ahead of Brad Keselowski.
"We didn't have speed enough to pass guys, but we could run with them," Keselowski said after the race. "We wanted a little bit more to be able to pass everybody, but you had to be so much faster that you just try to execute the best you can and hope things fall the right way. They fell decent, just not good enough to win today."
Erik Jones finished in third place, while Chase Elliott and Bowyer rounded out the top five.
Problems Take Truex, Harvick Out of Contention
Many of the biggest names in the field – outside of Busch – suffered problems that kept them from challenging for the top positions.
Martin Truex Jr. pulled into pit road with nine laps remaining in the second stage looking for a tire change, only to see his engine give out, ending his race early.
"We just lost an engine there – dropped a cylinder down the backstretch and figured I might as well pit," Truex said after his day had come to an end. "I thought maybe it was a possibility we were out of gas, but it started smoking out of the pipes and shut off. Tough day."
Kevin Harvick looked to be in competition for much of the race, but he had to serve a pass-through penalty after one of his tires rolled away from his team's pit stall during a stop on Lap 123. Harvick later had to deal with a steering box issue, and would finish in 22nd place.
The win kept Busch in first place in the driver standings, just ahead of Joey Logano. Busch is the 5/2 favorite to win the NASCAR Cup Series championship for 2019 according to SportPesa, ahead of Truex (6/1) and Harvick (6/1).