UFC lightweight champion Khabib Nurmagomedov told his followers on Instagram on Monday that his father is in critical condition due to COVID-19 and complications related to a prior heart surgery.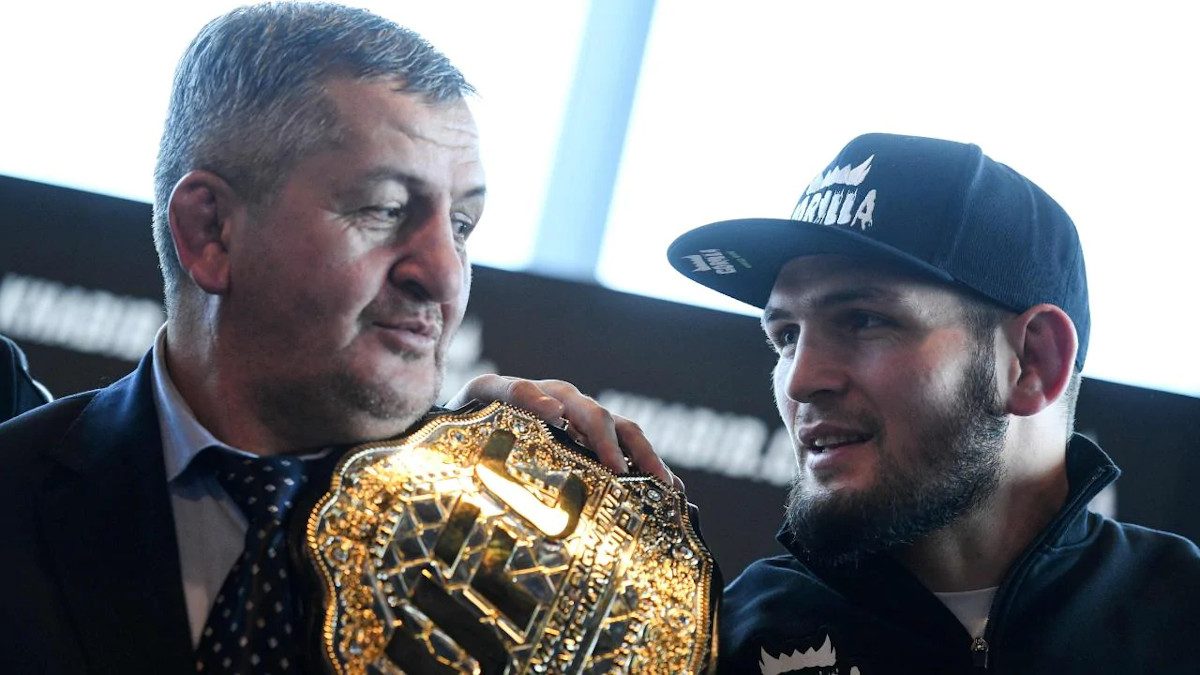 Nurmagomedov also said that he has had many family members and friends who have been sick with the coronavirus in Dagestan, Russia.
COVID-19, Heart Surgery Lead to 'Very Difficult Situation'
The undefeated champion shared the information about his father, Abdulmanap Nurmagomedov, in response to rumors he had seen on the internet.
"My father, right now, is located in a hospital," Nurmagomedov said in Russian, according to a translation by ESPN. "He is in critical condition as a result of this virus. It impacted his heart because last year he had a surgery there, and right now, they did another surgery. He is in a very difficult situation, very difficult. We are asking Allah that he returns him to us."
Nurmagomedov (28-0) intended to defend his lightweight title on April 18 at UFC 249 against Tony Ferguson. He became stuck in Russia due to travel restrictions during the coronavirus pandemic, and thus, couldn't return to the United States for the rescheduled event on May 9. Ferguson instead fought and lost to Justin Gaethje in a battle for the interim lightweight title.
Nurmagomedov went on to say that he's seen many people impacted by COVID-19 in his personal life.
"In my personal case, I've had more than 20 people sick from my family," Nurmagomedov said. "More than 20 people were lying in the ICUs. And many of them are no longer among us. Many acquaintances have died, many parents of relatives. Everybody is having a hard time dealing with it."
Father Groomed Nurmagomedov for MMA Success
Abdulmanap Nurmagomedov played an integral role in molding his son into one of the most dominant MMA fighters in the world. Abdulmanap introduced Khabib to wrestling at an early age, a common pastime among children in Dagestan. In his teenage years, Khabib took up judo and sambo under his father's tutelage.
UFC president Dana White is among the prominent MMA figures who have posted well wishes for Nurmagomedov's father in recent days. That list also includes Tony Ferguson, who appeared to bury the hatchet with Nurmagomedov after the two failed to meet for a scheduled fight for the fifth time.
"Respect" @TeamKhabib You Still Owe Me 20 Pushups 💯 Glad Your Pops Is Doing Better 🌱 I'll See You Soon Kid, Keep Training For The Real Finale. -Champ 💪🕶 -CSO- 🇺🇸🏆🇲🇽 pic.twitter.com/xKBA9jiWA2

— Tony Ferguson (@TonyFergusonXT) May 16, 2020
"Glad your pops is doing better," Ferguson wrote on Twitter. "I'll see you soon kid, keep training for the real finale."
White has said that he will try to schedule a fight between Gaethje and Nurmagomedov for the lightweight title in September. For now, Nurmagomedov is observing Ramadan, and included a message for fellow Muslims in his Instagram chat.
"Our learned Islamic scholars are telling us, 'Stay home and do the holiday prayer," Nurmagomedov said. "Don't have guests. Don't go yourselves as guests. It is a very difficult situation."