At Homestead-Miami Speedway, it's Joe Gibbs Racing versus Kevin Harvick for the NASCAR Monster Energy Cup Championship on Sunday. Harvick will battle JGR teammates Kyle Busch, Martin Truex Jr., and Denny Hamlin.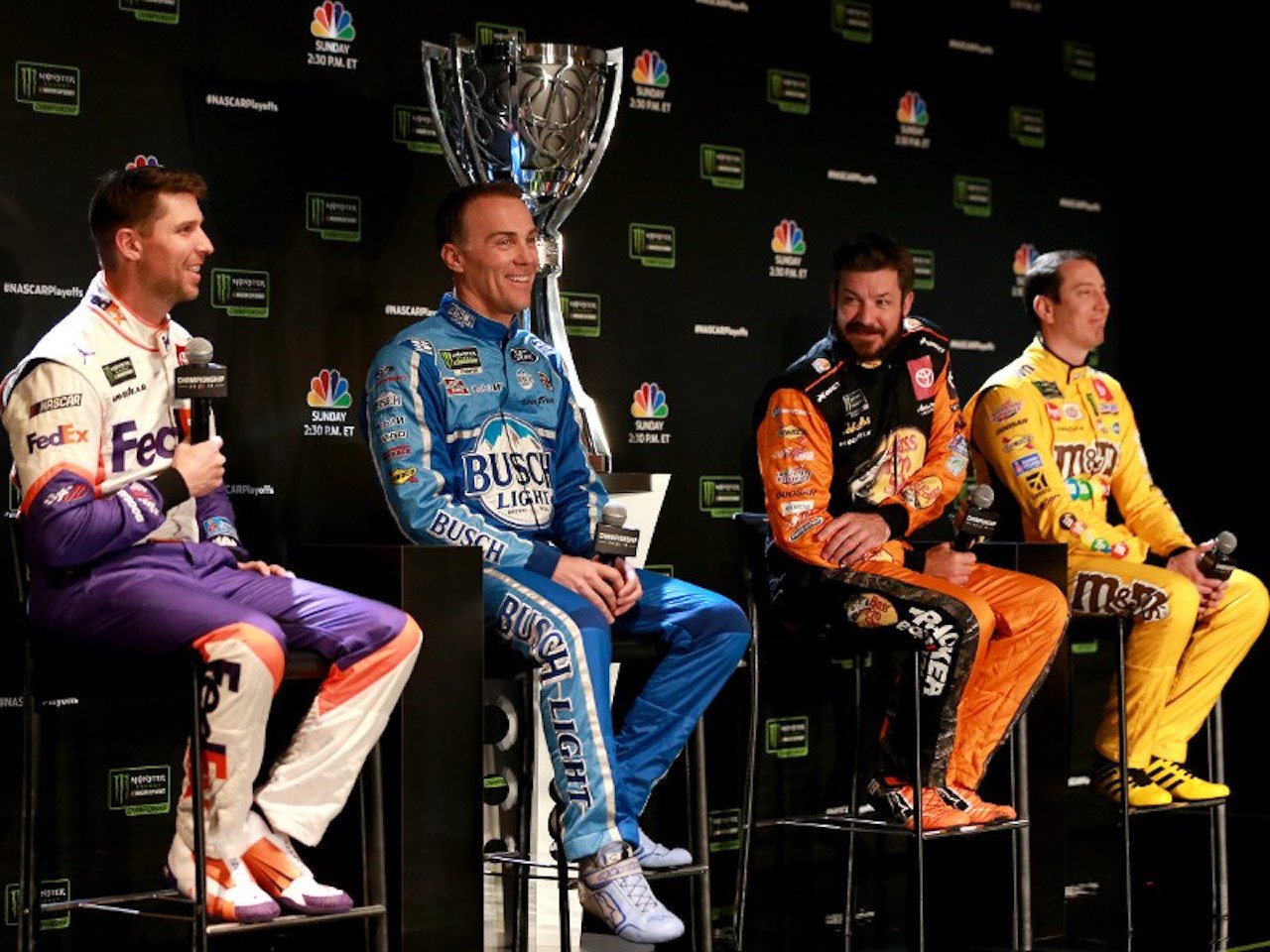 Truex and Busch are the favorites to win the Ford EcoBoost 400 at Homestead-Miami at 11/4. Hamlin and Harvick are next at 3/1.
Harvick finished third at the championship race last year, while Truex was second. Joey Logano captured the Cup with the victory.
Capturing his second Cup Championship will require Harvick to have the same success he's had at tracks with this 550 HP package. He's won three of the last six races using this package, the last coming at Texas two weeks ago.
"I think it's been a very interesting year for us," Harvick said at Thursday's media day at Homestead-Miami. "I think as you look at our year, it's been a challenge in order to get where we are today, just to battle through the beginning of the year and get the ship turned around and in the right direction and really figure out exactly where we needed to be, what we needed to be doing. (They're) just totally different concepts than the things we've done in the past and just those new concepts and mindsets, the way you race, the way you call a race, all those things that come together."
Three-Headed Monster Looking to Win a Homestead-Miami
Joe Gibbs Racing has dominated the 35 Cup races this season. Erik Jones had a victory, Busch four, Hamlin six, and Truex seven.
So can one of the three drivers win at Homestead-Miami? Truex certainly believes he can. He told reporters that winning the Cup in 2017 gave him the confidence to win another.
"I still have a hard time believing I've already got one, let alone here we are a really, really good chance at a second," Truex said. "I can't even imagine the names on the list I'd be on with a second. It blows my mind. I think a second championship would be indescribable right now for me."
Busch has been in a bit of a slump — his last victory came in June at Pocono. Still, he told reporters that he has to forget he is in an 0-21 slump.
"Yeah, thanks for the reminder," said Busch, who won the Cup in 2015. "Fight as hard as we can, do the best job we can, exactly what we did Sunday (at Phoenix) – we just weren't good enough. This week, we'll just have to make sure that we are. Somehow, someway, if it works out, it was meant to be with our M&M'S Camry. If it doesn't, then it's not. Hopefully, the sun will come up for another day."
Hamlin Looking for Maiden Cup Victory
Hamlin is the only driver of the four that doesn't have a Cup Championship. He told reporters he is hoping to change that at Homestead-Miami on Sunday.
"I know that this team will be ready for Sunday at Homestead," Hamlin said. "We have had a lot of success there in the past, and I know our FedEx team is up for another challenge. We just need to stay focused and continue to work like we've done all season long and good things will happen."