Kevin Harvick secured his position in the final round of the NASCAR Cup Series playoff on Sunday after winning the AAA Texas 500 at Texas Motor Speedway.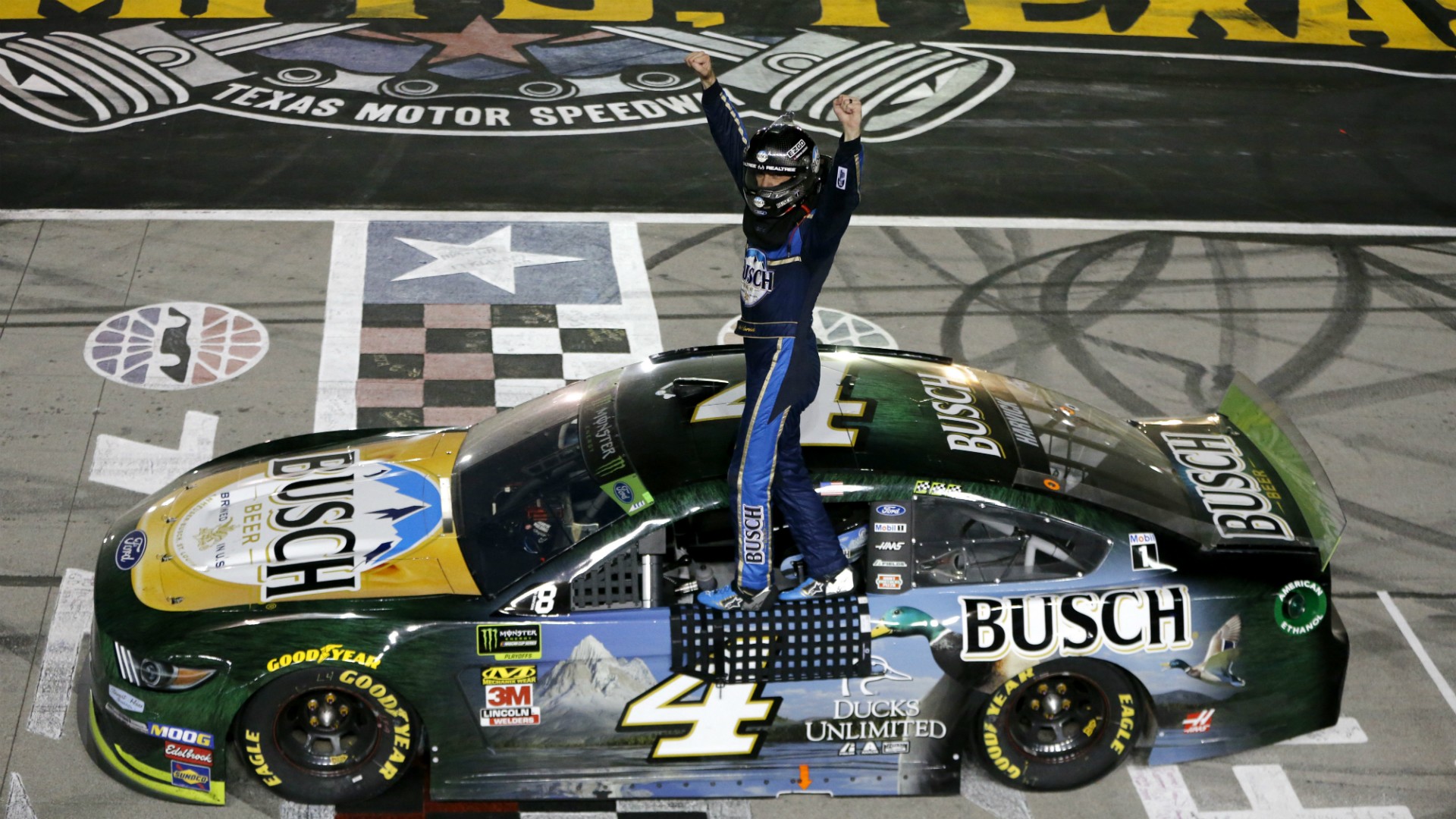 This is the third straight time that Harvick has won the playoff race in Texas, and gives him the opportunity to go after his second NASCAR title at Homestead-Miami Speedway in two weeks.
Harvick Leads SHR Sweep
Harvick raced from the pole and led for 119 laps on the way to finishing nearly 1.6 seconds ahead of Aric Almirola.
"Texas has always been so great to us, and what a race track the last few years," Harvick said, via NASCAR.com. "It's just been a lot of work put into this race. We knew this was a good race track for us."
Steward-Haas Racing enjoyed a 1-2-3 sweep of the podium, with Daniel Suarez following Harvick and Almirola at the top of the standings.
"That was a very solid night, and I'm very happy with the performance and speed that we brought from the shop," Suarez said after the race. "We did a good job. We had good execution and a good clean day."
With the win, Harvick joins Martin Truex, Jr. in securing a guaranteed spot in the Championship 4. Harvick's performance notwithstanding, not all of the eight remaining playoff drivers found success on Sunday.
Six Drivers Fighting for Two Playoff Spots
Denny Hamlin, who has been racing with a torn labrum in his left shoulder, limped to a 28th place finish after sliding off the track and damaging his car on the 81st lap.
"Just lost control. That's all there is to it," Hamlin told reporters. "Did the best we could, and we'll go to Phoenix and try to win…there's no doubt in my mind that we can go there and win."
Chase Elliott is in even bigger trouble after finishing in 32nd place. Already at the bottom of the playoff standings, he is now 78 points off the playoff bubble, meaning only a win next week in Phoenix will get him through to the championship round.
Elliott found himself in trouble on Sunday after slamming hard into a wall on just the ninth lap. That left his car in need of serious repairs just to get back on the course, where he eventually finished 22 laps behind the leaders.
"I made a mistake, got loose and crashed," he said afterwards. "I really hate that happened."
With one race left to go before the NASCAR finale, the final two spots in the Championship 4 are still very much up for grabs. Kyle Busch and Joey Logano have a healthy points lead in third and fourth positions, but Hamlin, Ryan Blaney, and Kyle Larson could theoretically pass one or both of them without a victory next week if Bush or Logano have a terrible race.
Of course, any of the remaining drivers can earn a direct spot to join Harvick and Truex in the final should they win in Phoenix. Should the winner next weekend be one of the six playoff drivers without a victory in this round, that will leave just one spot for a driver to go through on points, something that might not be determined until the official race standings are verified next weekend.