Martin Truex Jr. decided that he wasn't going to let Kyle Busch and Denny Hamlin have all the fun. He became the third Joe Gibbs Racing driver to win this season, extending the team's stranglehold on NASCAR Cup Series events. Gibbs' crew has won six of the nine Cup races in 2019.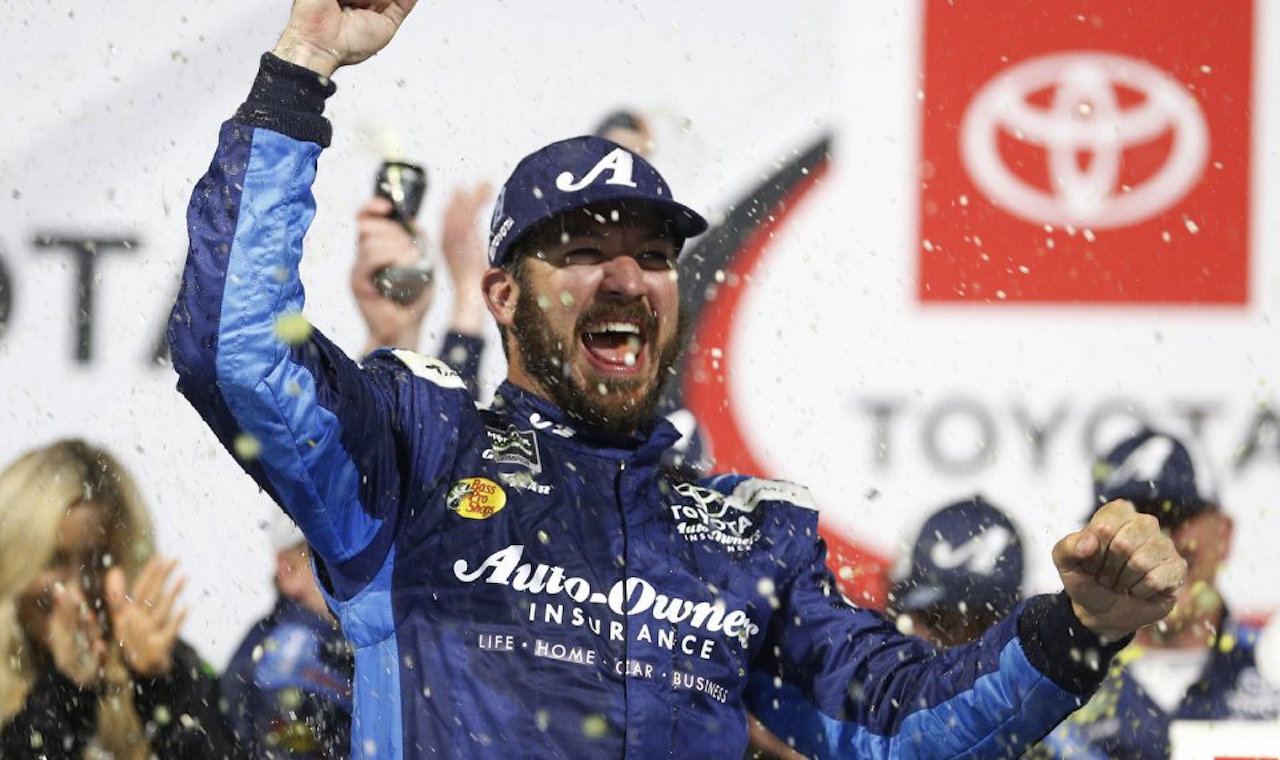 Martin Truex Jr. won his first race of the season at Richmond on Saturday night. (Image:AP)Busch has been the dominant force for the team, capturing three races, including Phoenix and Fontana. Hamlin won the Daytona 500, then six weeks later took the race at Texas Motor Speedway.
Truex's victory was on the most unlikely course for him. He been a bit snake bit at Richmond. In five prior starts to Saturday night, Truex had led 675 of 900 laps, but had some unusual happenings that prevented him from getting to the winner's circle, including a penalty and a botched pit stop.
"It seems like we've had a lot of issues here for a reason," Truex said. "Things just not working out the way we needed them to. We had one year we led the whole thing until coming to the white flag and somebody scraped the wall and there's a caution and then we got beat out of the pits and completely destroyed on the ensuing green-white-checker. I mean, it's just things like you can't believe that have happened to us here."
The odds for Truex were attractive at 7/1. Busch was the 2/1 favorite, with Truex, Brad Keselowski, Joey Logano and Kevin Harvick next.
The victory was his first since last year, though he had finished twice in two races this season.
"Being so close to winning a couple times this year already, any time you can win, it's special," Truex said. "These things are so difficult. I know everybody knows it's hard, but I just don't know if people understand the level of difficulty in this series and what it takes to win.
More Penalties at Richmond
The qualifying for eight drivers were negated before Saturday's race because of failed inspections. Denny Hamlin, Chase Elliott, Matt Tifft, Jimmie Johnson, Aric Almirola, Erik Jones, Daniel Suarez and Joey Gase, all started from the back of the pack. Hamlin, Elliott, and Tifft failed twice.
In addition to starting the race in the rear, the trio's pit stall selections were disallowed and one engineer from each crew was suspended for the race. The other five drivers kept the engineer, but lost pit stall selections.
Johnson Runs Different Type of Race
Several Cup drivers enter different types of NASCAR races, but Johnson decided to use his feet rather than an engine on Monday. The 43-year-old ran in his first Boston Marathon.
Johnson, who has competed in triathlons, is working his way up to entering an ironman event someday. At the marathon, he ran a respectable 3:09.07 and finished 641st in his age group.
He tweeted that it, "was the most challenging thing I've ever done." He also told NASCAR.com he was a little disappointed in his performance.
"I wanted to race it, so I went out with a heart rate and time in mind. I came up a little short, but still to do that well, still to be that low in the threes, I'm really happy with it."