The struggling Kansas Jayhawks (10-5) are stuck in a rut amidst a three-game losing streak. The Jayhawks recently tumbled out of the top 10 and slipped to #15 overall, according to the latest ranking in the AP Top 25 college basketball poll.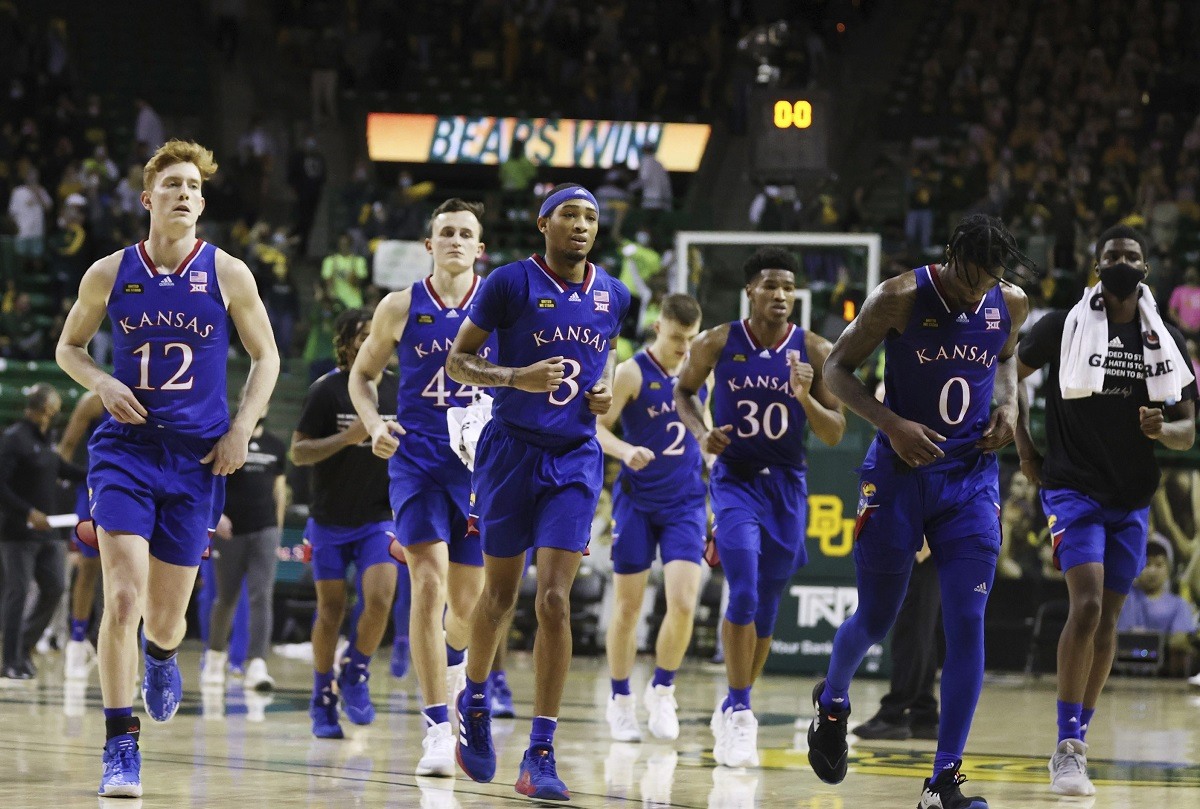 The three-game skid is the worst for Kansas since 2013. Kansas hasn't lost four games in a row since the 1989-90 season during Roy Williams' first season with the Jayhawks.
Kansas earned a #6 preseason ranking. They got as high as #3 during Week 5 of the college hoops season.
After losing their season-opener to Gonzaga, Kansas won eight in a row, including impressive wins over four ranked teams: Kentucky, Creighton, Texas Tech, and West Virginia. Since the start of the new year, Kansas went 2-4 in January.
The Big 12 is flexing its muscle this season with two teams in the top 5, including undefeated #2 Baylor and #5 Texas (11-2). Toss in #10 Texas Tech and #11 West Virginia with Kansas, and that's five teams from the Big 12 in the top 15.
Meet the Jayhawks
Senior guard Marcus Garrett is the Jayhawks' emotional leader. He averages 10.0 points, 4.9 rebounds, and 3.7 assists per game. He's coming off a 21 point and 12 rebound game against Oklahoma.
Ochai Agbaji, a 6-foot-5 junior guard, leads Kansas in scoring with 14.5 points and 4.3 rebounds per game.
Jalen Wilson, a 6-foot-8 freshman forward, is Kansas' second-best scorer, averaging 13.1 points and 7.1 rebounds per game. Wilson led Kansas in scoring in four games this season.
Big man David McCormack started in 13 games as a freshman, and 18 games as a sophomore alongside 7-foot center Udoka Azubuike. Now that Azubuike has moved on to the NBA, McCormack is the starting center. The 6-foot-10 junior started all 15 games this season, averaging a career-high 11.5 points and 5.6 rebounds per game.
Christian Braun, a 6-foot-6 shooting guard, averages 10.0 points and shoots 39% from 3-point land. The streaky Braun is either feast or famine. He scored just two points against Oklahoma on 0-for-5 shooting, yet against Baylor, he scored 17 points on 5-for-6 from 3-point range. He knocked down six treys for 22 points in a win against West Virginia, and torched St. Joe's for 30 points and five treys.
Kansas: Losing Streak Now at 3
Kansas lost to #8 Texas in their first game of 2021. The Longhorns whipped Kansas' butt 84-59. The Jayhawks responded to a 25-point loss with a 29-point road blowout of their own when they shellacked TCU 93-64. They edged out Oklahoma 63-49 and improved to 10-2 on the season before the wheels fell off the bus.
Their current losing streak began at home with a five-point loss against Oklahoma State, 75-70. Kansas fell behind early and trailed by 11 at halftime. At one point, Oklahoma State led by 19 points before Kansas went on a heater to get within three points. The Jayhawks' rally fell short when they went cold from 3-point range with a 5-for-21 barrage.
"I'm disappointed," said Kansas coach Bill Self said. "We didn't deserve to win, but certainly, we put ourselves in position that we could have won, and I thought our guys did compete and tried really hard for a stretch of the game, especially late."
A home game on Jan. 16 was canceled due to COVID-19 protocols, but then Kansas hit the road where their losing streak continued.
Kansas headed down to Waco, Texas, to battle undefeated Baylor, ranked #2 in the country. Jared Butler destroyed Kansas' perimeter defense with 30 points on 7-for-9 from 3-point range. The Jayhawks couldn't stop Butler and the Bears, and lost 77-69.
The losing skid reached three games when the Jayhawks lost a third-straight road game at Oklahoma 75-68.
"We've got to come together," said Self. "Something has to change. The season is definitely not going how we expected it, but something has to change."
On Deck: TCU and Tennessee
With TCU (9-5) set for Thursday, Kansas hopes they can bounce back with a resounding win and get back on track before two tough road games at #18 Tennessee and #11 West Virginia.
The last week of February includes three of their toughest games of the season, with matchups against #10 Texas Tech, #5 Texas, and #2 Baylor. The rematch against Texas on Feb. 22 will give the Jayhawks a chance to avenge their worst loss of the season.
The over point total went 5-1-1 in Kansas' last seven games. Overall, Kansas is 6-8 ATS this season. They covered the six-point spread in their blowout against TCU in the first week of January.
The Kansas Jayhawks actually backdoored the +8.5 point spread in their 77-69 loss to Baylor thanks to a meaningless 3-pointer. Then again, when you're betting on basketball, there's no such thing as a meaningless bucket. Senior guard Chris Teahan, who logged eight minutes all season, entered the game during garbage time with the Jayhawks down 77-66. He knocked down a 3-pointer to help (or sink) bettors.
BANKED IN THREE FOR THE COVER 💰 💰 💰

KANSAS +8.5 ✅ pic.twitter.com/oidcWk6jEv

— The Action Network (@ActionNetworkHQ) January 19, 2021