With 2.3 seconds remaining in the second quarter of the LA Lakers and Milwaukee Bucks game, Kentavious Caldwell-Pope drained a 33-foot 3-pointer for the Lakers as time expired to put them up 63-57 at halftime. The consensus over/under total for the first half was 117 at Las Vegas sportsbooks. The buzzer-beater by KCP put the points total at 120, which saved over bettors and provided a dirty bad beat for under bettors who were hoping to push.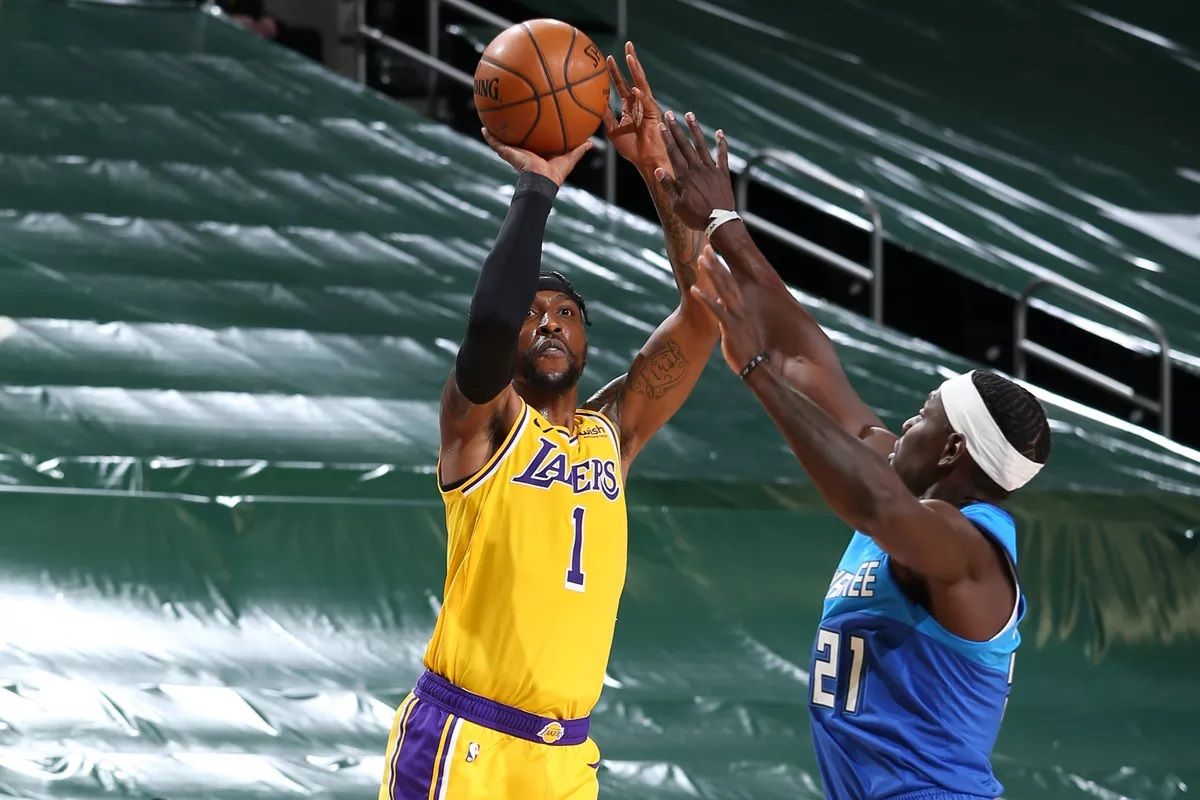 When you have action on a basketball game, there's no such thing as a meaningless bucket. Those half-court heaves just before halftime might seem innocuous to you, but they have the utmost gravity for sports bettors, especially first-half bettors.
The Lakers led the Bucks 60-57 with seconds remaining in the second quarter. Both teams were preparing to head into the locker room for halftime, but the Lakers stole a scoring chance with 2.3 seconds remaining thanks to Caldwell-Pope. He caught an inbounds pass at midcourt, just underneath the Bucks' deer head logo, dribbled once, then took a running jump shot from well beyond the 3-point arc before time expired. The ball swished and caught nothing but net. The Lakers headed into the locker room with a 63-57 lead.
First half total was 117…

— br_betting (@br_betting) January 22, 2021
Sharpshooting KCP with 7 Treys
The Lakers were the first team to reach 10 wins this season. They currently have the best record in the NBA at 12-4. The Lakers improved to 8-0 on the road, which is important because they have six more away games remaining on a grueling, two-week road trip to the Midwest, East Coast, and Southeast before returning home to sunny Southern California.
Despite an undefeated record on the road, the Lakers were +1.5 underdogs coming into last night against the Greek Freak and the Bucks (9-6). The points total was 229 over/under. The Lakers won outright 113-106 and the under hit.
LeBron James led the Lakers with 34 points, eight assists, and six rebounds. Caldwell-Pope finished with 23 points on 7-for-10 shooting from 3-point land. KCP only took 10 shots against the Bucks, and all 10 were treys, including the buzzer-beater at the end of the second quarter.
"Seven treys?" said a shocked teammate Alex Caruso. "Seven? He makes it look so easy!"
Greek Freak added 25 points and 12 rebounds in a losing cause. The Lakers' bench, led by Montrezl Harrell's 12 points, outgunned the Bucks' second squad 29-16.
The Lakers improved to 5-1 against the spread in their last six games. The under hit in 10 out of the last 14 games for the Lakers.