After losing the first game of the season to Duke, the Kansas Jayhawks (9-1) won nine games in a row, and moved into the #1 ranking in the AP Top 25 Poll after Louisville lost their first game of the season toTexas Tech. Kansas is led by their power duo, big man Udoka Azubuike and playmaker Devon Dotson.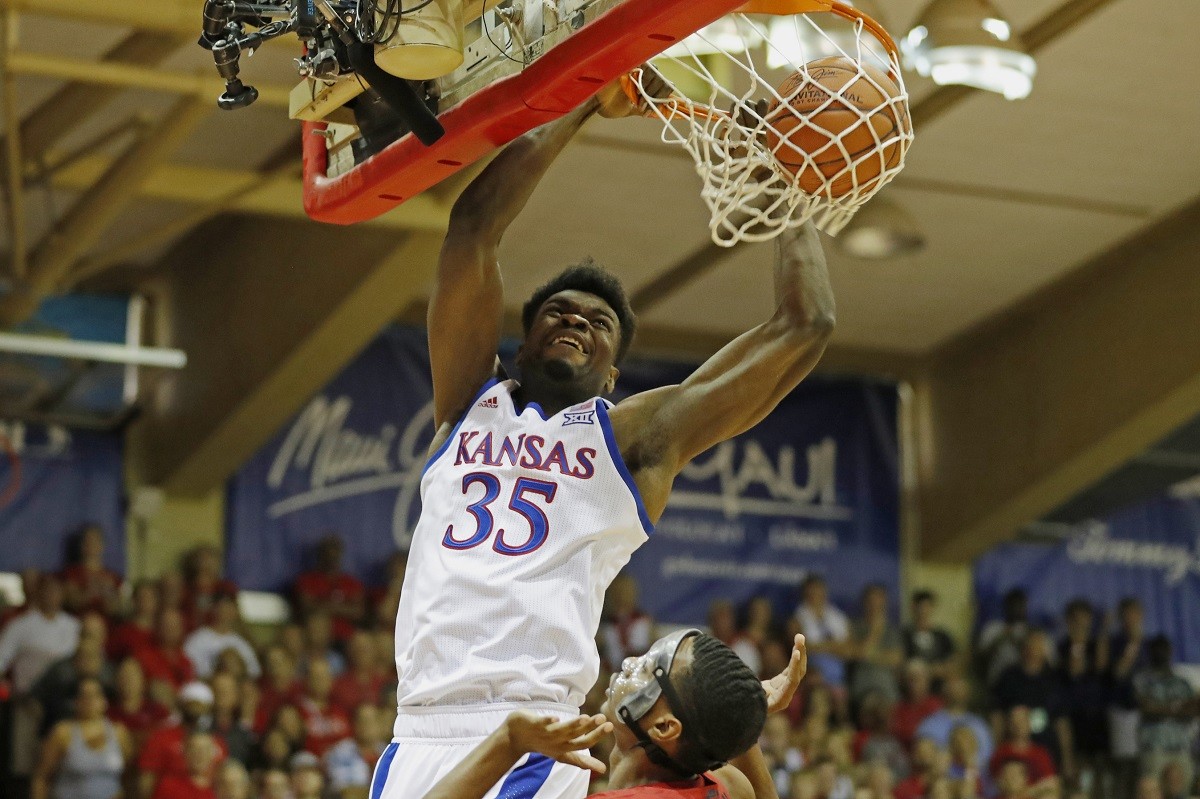 The #1 ranking has been passed around like a hot potato through the first seven weeks of the college basketball season. No one can retain the #1 rank for more than two weeks. Michigan State started out as the preseason favorite, but lost to Kentucky at the Champions Classic in New York City to tip-off the season.
Kentucky held the #1 spot for a week before they were upset by Evansville. Duke held onto the top spot for two weeks before the #1 Blue Devils were upset at home by the Stephen F. Austin Lumberjacks in their largest upset in 15 years. Louisville took over the top ranking for two weeks, but they fell victim to the #1 curse when they were picked off by Texas Tech.
Kansas earned a #3 ranking in the preseason poll. They dropped the opening game of the season when #4 Duke edged out the Jayhawks 68-66 in the Champions Classic at MSG. Since then, Kansas won nine straight games. They were ranked #2 last week behind previously unbeaten Louisville.
Men's Basketball AP Top 10
1. Kansas (9-1)
2. Gonzaga (11-1)
3. Louisville (10-1)
4. Duke (9-1)
5. Ohio State (9-1)
6. Kentucky (8-1)
7. Maryland (10-1)
8. Oregon (8-2)
9. Virginia (8-1)
10.Baylor (8-1)
Michigan (8-3) tumbled out of the top 10, and dropped from #5 to #14 after two losses. Juwan Howard guided Michigan to a 7-0 start with back-to-back wins against #6 North Carolina and #8 Gonzaga in the Battle 4 Atlantis. After those upsets, unranked Michigan rocketed into the top 5. Since then, they went 1-3 with losses against #1 Louisville, Illinois, and #10 Oregon.
Baylor took over Michigan's spot in the top 10. They moved from #11 to #10. Meanwhile, Oregon improved to #8 after knocking off Michigan in a 71-70 thriller.
Devon Dotson, the Soaring Jayhawk
Kansas is 1-1 against ranked teams. They lost to Duke to start the season, but picked off #20 Colorado by 14 points (72-58) last week. The undefeated Buffs came into Kansas with a 7-0 record, but Kansas smoked them from the opening tip.
"KU beat us tonight, I mean very soundly," said Colorado coach Todd Boyle. "People are going to see that score, but it really wasn't even as close as the score indicated."
Ochai Agbaji led all scorers with 20 points against the Buffs. Agbaji averages only 11.4 points per game, but the streaky sophomore shooting guard scored 20-plus in back-to-back games, including the Colorado matchup.
Devon Dotson, a 6-foot-2 sophomore guard, leads Kansas with 19.6 points and 4.8 assists per game. He torched Dayton for 31 points in the Maui Inivtational. The consistent Dotson score fewer than 17 points only once this season, and he still scored 13 that night.
Azubuike Rarely Misses
Udoka Azubuike, a 7-foot-0 center from Nigeria, missed the second half of last season with a hand injury. He's back in the lineup for his senior season, and leads Kansas in rebounding with 8.1 boards per game. Azubuike is also second in scoring with 14.2 points per game, while hitting an insanely efficient 83.1 percent of his shots. That is not a typo. Azubuike shot 77 percent from the floor his sophomore season, and 70 percent last season with Kansas.
"He's unbelievable," said head coach Bill Self. "He has not missed a shot for us in over a week."
This season, Azubuike has three perfect shooting games under his belt. He's had four games in which he missed only one shot. He missed only 13 baskets all season. He has not missed a shot since the Colorado game. He's 11-for-11 over his last two games.
Azubuike scored 29 points against Dayton while shooting 12-of-15 from the floor.
On Deck: Nova and Stanford
Kansas finishes off 2019 with a pair of road games. The Jayhawks head to Philadelphia to take on #18 Villanova (8-2) this weekend.
If Kansas shuts down Saddiq Bey (16.3 ppg), Nova's 6-foot-8 sophomore forward, then they shouldn't have much of a problem passing their first test with the #1 ranking.
Kansas ends the calendar year with a Pac-12 matchup against Stanford (9-1), which is no slouch. Stanford is 7-0 at home this year, and is led by German-born swingman, Oscar Da Silva (17.4 ppg).