The unranked Evansville Purple Aces (2-0), coached by former Kentucky basketball star Walter McCarty, delivered a shocking upset to the #1 Kentucky Wildcats, 67-64, at Rupp Arena in Lexington. Kentucky (2-1) came into the game as a 25-point favorite.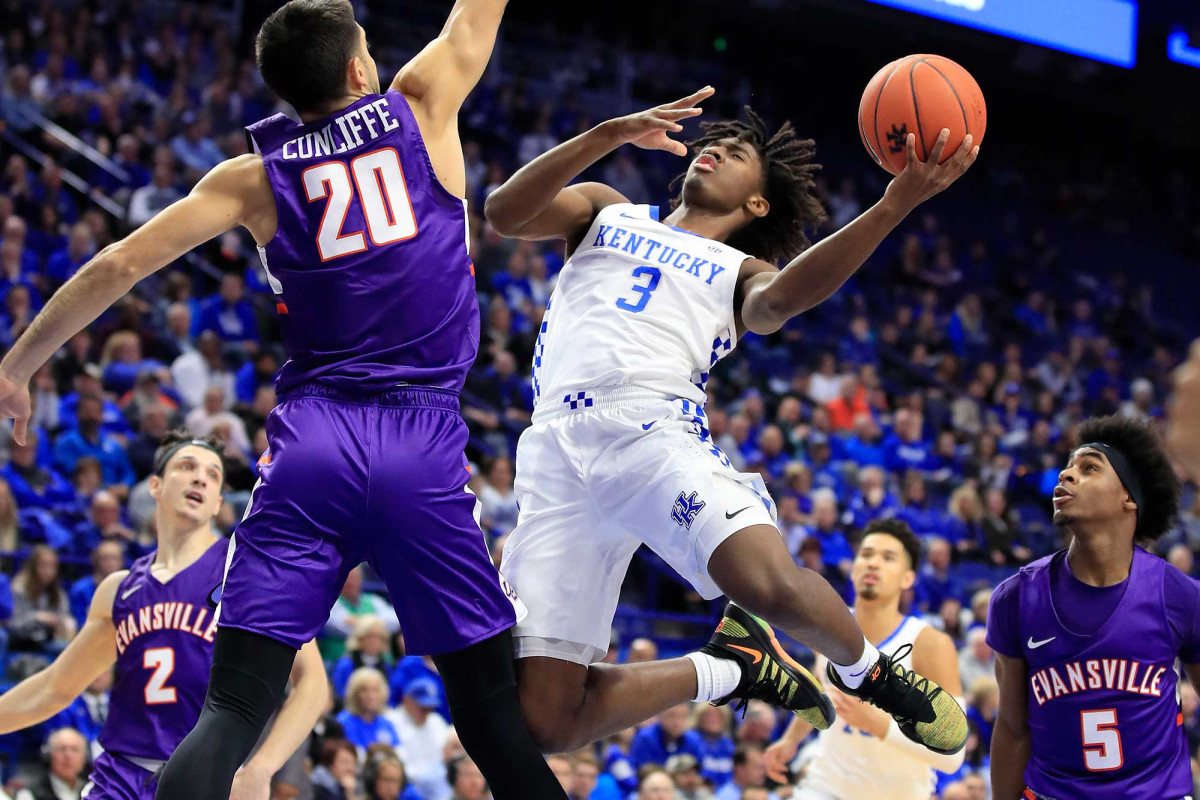 For a second week in a row, a #1 ranked team lost. Last week at Madison Square Garden in New York City, Kentucky picked off #1 Michigan State.
When the latest poll came out, Kentucky went from #2 to #1 and became the new number one team in the nation fresh off their season-opening victory.
Per @ESPNStatsInfo, Kentucky's loss to Evansville (+25) is tied for the third-biggest college basketball upset in the last 15 seasons.

Biggest was Gardner Webb (+26) over UK in 2007.

— Ben Fawkes (@BFawkesESPN) November 13, 2019
In 39 previous contests, Kentucky never lost at home to a non-conference opponent when they were ranked #1 in the country. Kentucky saw their winning streak end at the hands of an unexpected Evansville upset.
Purple Aces Strike Big
Kentucky came into the game anywhere from a 24-point to 25-point favorite depending on the sports book. The closing line did not matter because Evansville beat the spread and won outright.
Sam Cunliffe, a junior guard, scored 17 points off the bench. Cunliffe knocked down a pair of free throws with six seconds remaining to seal the upset for Evansville in front of a stunned Kentucky crowd at historic Rupp Arena.
"We just believed and trusted each other and made plays for each other," said Evansville head coach Walter McCarty. "Guys came out and gave their all. They've got a good basketball team. Kentucky's going to be a really good team, going to be around at the end of it. We played a heck of a game tonight."
KJ Riley, a senior guard from the Bronx, New York, led the Evansville Purple Aces with 18 Points.
Sophomore guard Immanuel Quickley led Kentucky with 16 points and 9 rebounds. Freshman guard Tyrese Maxey scored 15 points off the bench for Kentucky.
Ex-Wildcat Beats Old Squad
Evansville, coached by local product Walter McCarthy, won March Madness with Kentucky in 1996. McCarty played on a Kentucky championship team coached by Rick Pitino that also included future NBA players Antoine Walker, Derek Anderson, Tony Delk, Ron Mercer and Nazr Mohammed.
The 6-foot-11 McCarty bounced around the NBA for a decade as a journeyman backup center. The New York Knicks drafted McCarty with the 19th overall pick in the 1996 NBA Draft. He also played for the Boston Celtics, Phoenix Suns, and LA Clippers.
After a short stint as an assistant coach under Pitino at Louisville, McCarty coached in the NBA with the Indiana Pacers and Boston Celtics.
Evansville hired McCarty last season for his first head coaching job. He struggled with a 11-21 record including a 5-13 clip in the Missouri Valley Conference.