Kamaru Usman physically dominated Jorge Masvidal over five rounds to win a unanimous decision in the main event of UFC 251 this weekend to retain his UFC welterweight championship.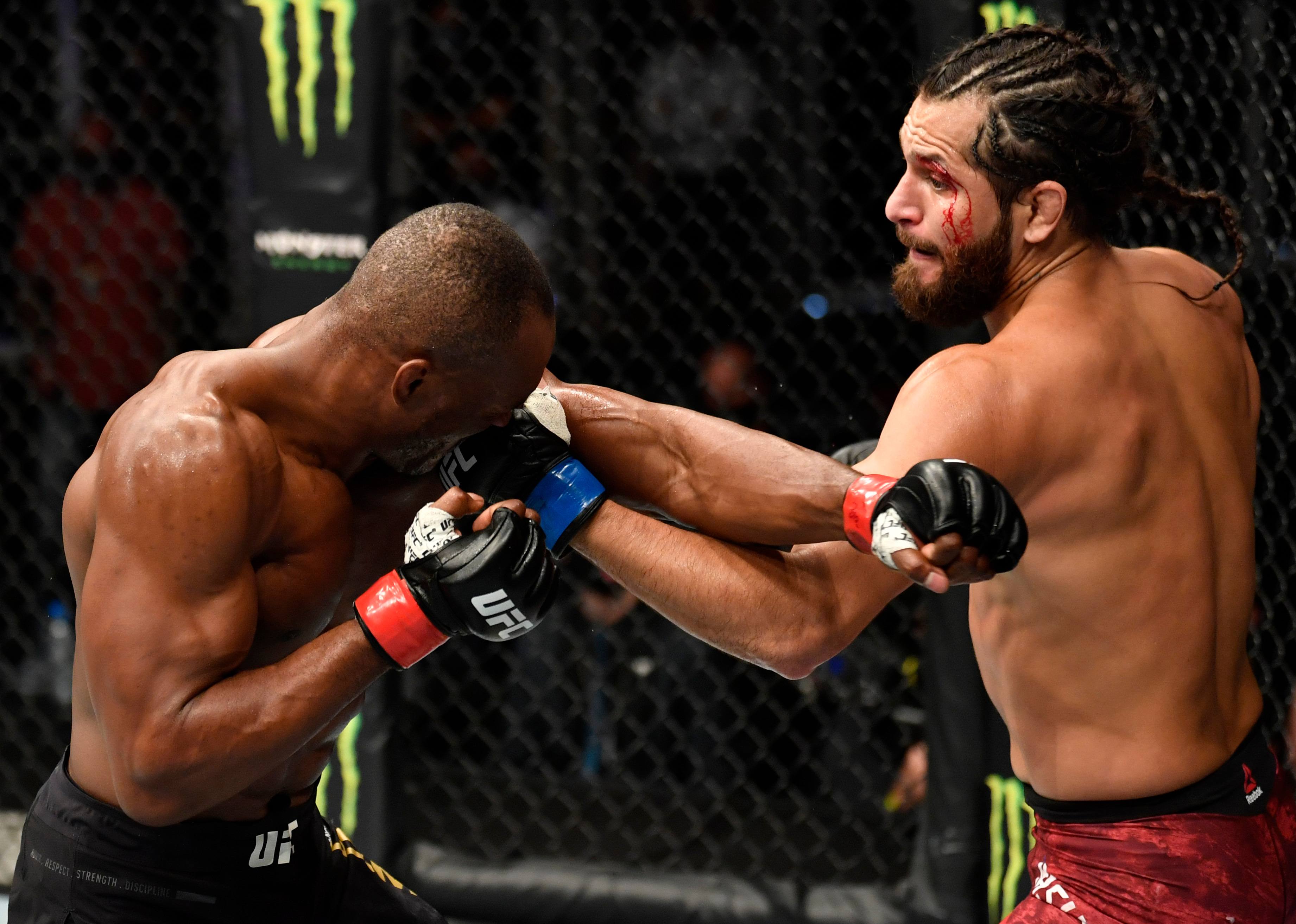 Usman (17-1) earned a 50-45, 50-45, 49-46 decision, with one judge awarding the first round to Masvidal.
Usman Takes Over After Fast Start for Masvidal
Masvidal (35-14) came out strong in that opening frame. He used kicks to keep Usman at distance and to do damage to the body and legs, sometimes exploding for flurries of strikes that pushed the champion backward.
But the challenger's pace quickly slowed beginning in the second round. Instead, it was Usman who consistently forced Masvidal up against the cage where he landed short blows with his knees, hands, and shoulders in the clinch. Usman became more dominant as the fight went on, scoring five takedowns in total.
Masvidal took the fight on late notice and cut more than 20 pounds of weight in the past week to take part in the bout.
"There were some areas where I felt, with a better training camp, I could definitely surpass him," Masvidal said afterward. "I think I showed a lot of my wrestling on six days' notice, that I'm not too easy to take down and to hold down on the ground. I made a lot of mistakes. I tried to fight in spots, because I felt that my gas tank wasn't the greatest."
Volkanovski Retains Title Via Controversial Split Decision
Alexander Volkanovski held on to his featherweight title in a rematch against Max Holloway by the narrowest margin possible, winning a 48-47, 47-48, 48-47 split decision over the former champion.
The decision sparked controversy, with UFC president Dana White referencing it in the press conference after UFC 251.
"I'm sure [Holloway] is devastated," White told reporters. "Did anybody here score it for Volkanovski? Anybody? Nobody in the media? I don't know. We'll have to figure it out. Looks like we've got to tighten up our refs and judges here on Fight Island."
Media members generally favored Holloway on their scorecards, though it was very close. According to data collected by MMADecisions.com, two-thirds of media members scored the fight for Holloway, with each of the 27 cards collected scoring the fight 48-47 one way or the other.
After the fight, Bellator featherweight and lightweight champion Patricio Freire called out White and Volkanovski, asking for an unlikely cross-promotional title shot.
Let's make MMA better. @BellatorMMA vs @ufc. Me vs @alexvolkanovski. I heard you're a betting man @danawhite, let's bet. Let's go @ScottCoker

— Patricio Freire (@PatricioPitbull) July 12, 2020
ESPN rates Freire as the No. 4 featherweight in all of MMA.
Late Stoppage in Yan vs. Aldo Draws Criticism
Petr Yan defeated Jose Aldo by fifth-round TKO at UFC 251 to win the vacant UFC bantamweight title. While the two traded hard combinations throughout the first three rounds, the tide slowly turned in Yan's favor. By the fourth round, the Russian was in complete control.
In the fifth round, Yan pushed Aldo up against the cage where Aldo turtled, offering little active defense for the last couple minutes before referee Leon Roberts stopped the fight.
"Horrible, horrible stoppage by the referee," White said in his post-event press conference. "It should've been stopped way sooner, you know."