Justin Gaethje earned a first-round win by TKO against Donald Cerrone on Saturday night in the main event of UFC Fight Night 158 in Vancouver.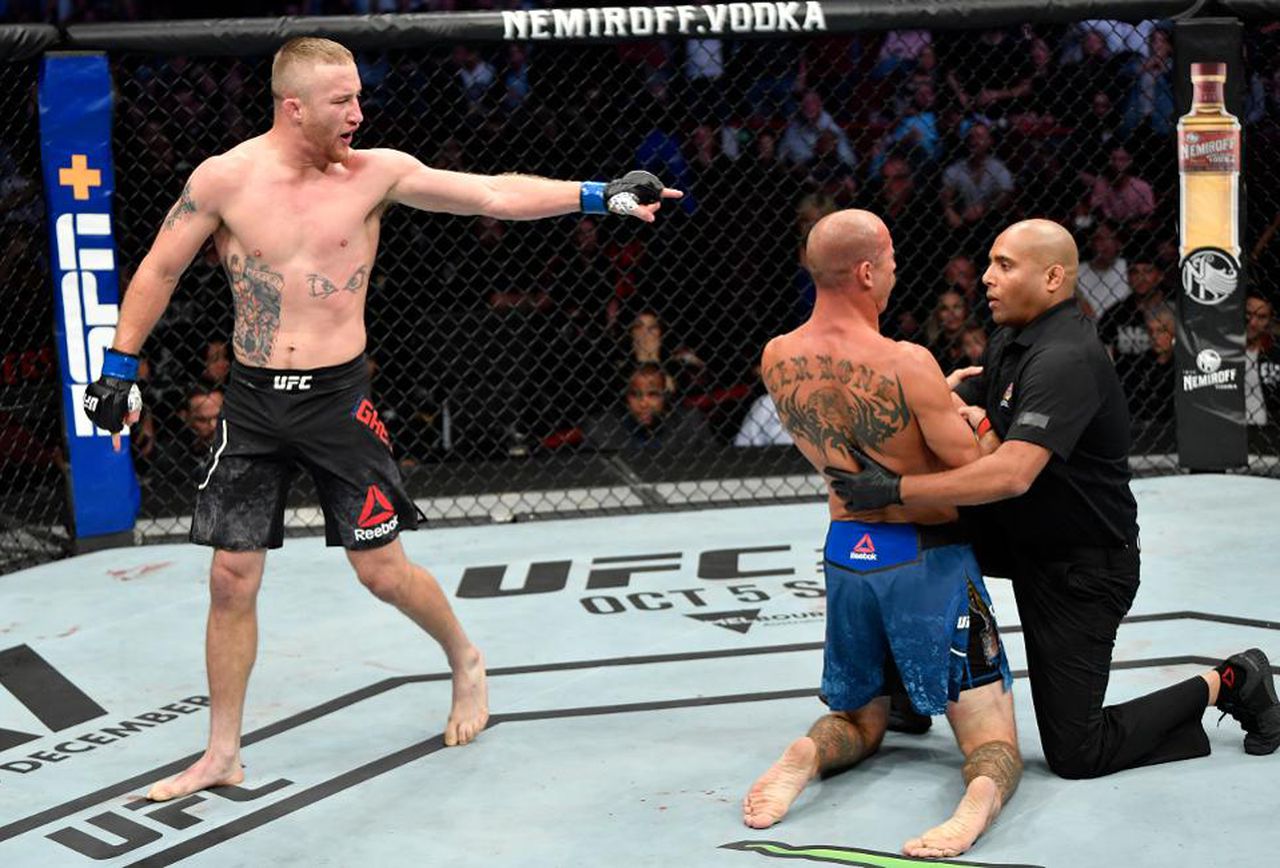 Gaethje (21-2) won when referee Jerin Valel stepped in to stop the fight at the 4:18 mark in the first round of a fight that few thought had any chance of going the distance.
Gaethje Wanted Fight Stopped Sooner
While the bout wasn't an all-out slugfest, Gaethje and Cerrone lived up to their reputations as action fighters. The end came quickly as Gaethje landed a counter right to Cerrone's chin, dropping him to the floor.
Valel could have potentially stopped the fight at any point after that, but Gaethje landed several more punches before the referee stepped in. In fact, Gaethje – who is friends with Cerrone – even briefly paused at one moment, expecting Valel to call things off a couple shots before he finally ended the bout.
"The ref in the back said if you fall to your face, it's over. I thought he fell like that two times," Gaethje said afterwards. "That was my friend. I didn't want to do that to him, I'll be honest with you."
Cerrone (36-13) actually felt the fight could have gone on, though his protests were fairly minimal given that the fight would likely have been stopped imminently, even by the most lenient of officials.
"This kid is a stud, man," Cerrone said after the fight. "It's very hard to fight a friend. What a cool dude. What a cool sport."
Future Options Include Title Shot, McGregor
After the victory, Gaethje was asked who he would like to fight next. Given that he was already ranked as the No. 5 contender in the lightweight division, and Cerrone – who he had just beaten – was No. 4, only two obvious options remained: a lucrative meeting with Conor McGregor (21-4), or a future title shot.
Gaethje suggested that he'd prefer the latter.
"The Irishman is retired," Gaethje said, referring to McGregor. "I want a real fighter. I want the winner of Tony and Khabib."
That statement alluded to a hypothetical – and all but certain – lightweight title fight between current champion Khabib Nurmagomedov (28-0) and No. 1 contender Tony Ferguson (25-3). The fight is so highly anticipated that bookmakers are already offering odds on the matchup, with Nurmagomedov being installed as a -205 favorite over Ferguson (+166).
If McGregor does want to come back to UFC again, he may have another willing opponent in No. 2 contender Dustin Poirier (25-6), who lost to Nurmagomedov at UFC 242.
"If we're respecting the rankings here, he's No. 3 and everyone else is pretty booked up," Poirier said on Ariel Helwani's MMA Show. "It makes sense. We both lost to the same guy in a world title fight."
Poirier and McGregor fought once before at UFC 178 in September 2014, with McGregor winning that fight by first-round knockout.