New Chicago Bulls head coach Jim Boylen has implemented draconian measures since taking over the team a week ago, leading players to go as far as contacting the National Basketball Players Association (NBPA) to complain about the tactics being employed by their new leader.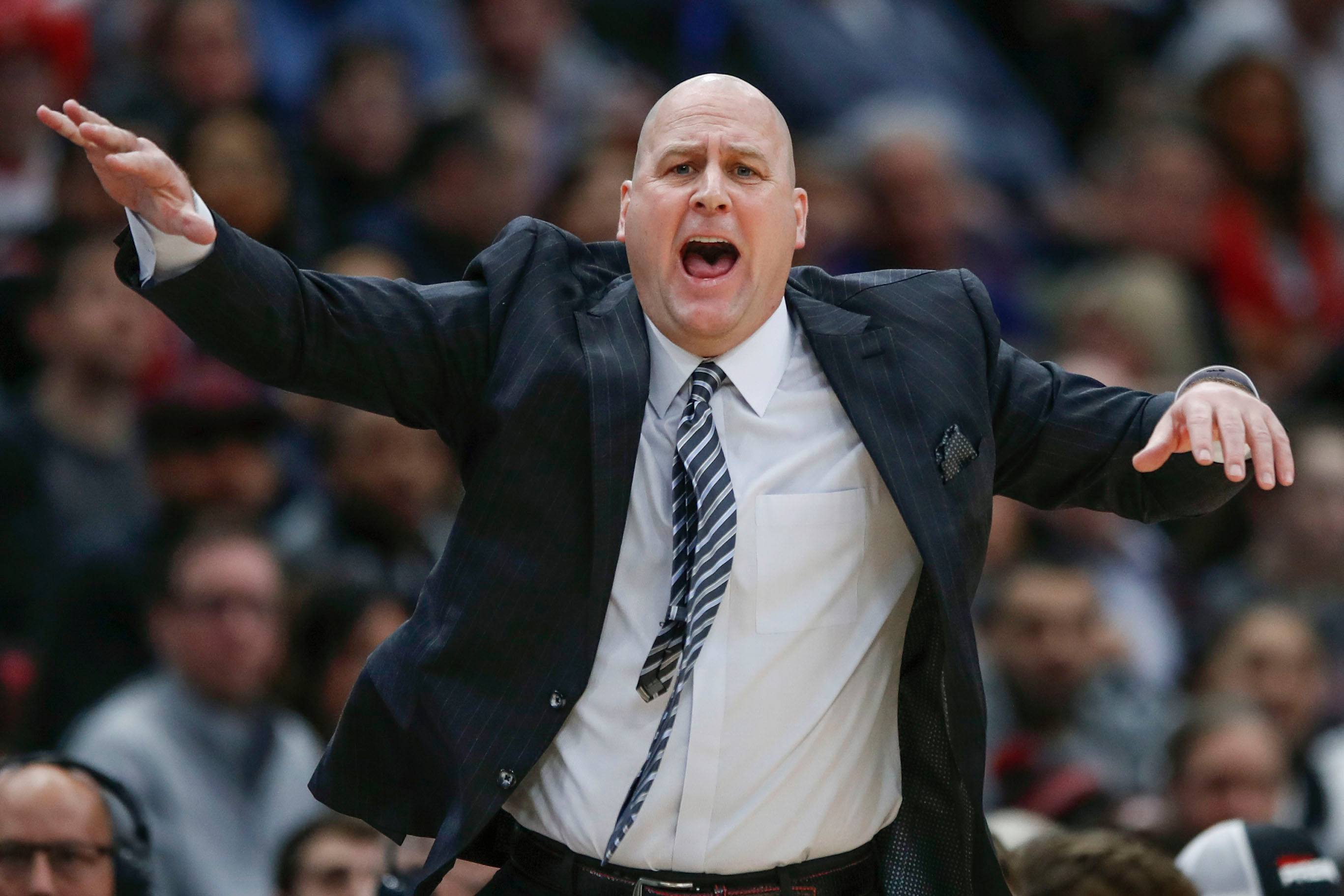 According to sources cited by Yahoo Sports, much of the displeasure stems from the length and style of practices Boylen is holding, some of which fly in the face of what are considered NBA norms.
Players Revolt Against Planned Sunday Practice
The Bulls played back-to-back games on Friday and Saturday, first defeating the Oklahoma City Thunder before suffering a 56-point loss to the Boston Celtics. Boylen then stunned his players by announcing he would hold a practice on Sunday, something rarely if ever done after back-to-back games by NBA teams.
According to a report by The Athletic, the decision nearly led to a revolt from the Chicago roster. Bulls players considered boycotting the practice entirely, with veterans attempting to talk their coach out of holding the session. When that failed, only concerns by Robin Lopez and Lauri Markkanen that a boycott would be unprofessional stopped the team from simply not showing up for the practice.
Instead, the players showed up on Sunday, but held a players-only meeting to discuss their issues with Boylen. They then held a second meeting, this time involving the coaching staff along with the team. Ultimately, other than a few players doing some light on-court work, the practice never took place.
"It was something that we needed to do, and I am happy with the results," Bulls guard Zach LaVine told reporters. "I think we needed to get a lot of stuff off our chest and be transparent. I think moving forward that will help us."
Boylen seemed to dispute the idea that players initiated the meeting, saying that the coaching staff felt that a discussion with the team was necessary as well. Regardless, both sides seemed to say that the meeting was productive.
"We're still learning about each other," Boylen told reporters. "They're still learning how I want it. There's been a little shock and awe here in the last seven days. And there's an adjustment to that."
Organization Backs Boylen's Tactics
But while Sunday's practice may have been a tipping point, players have been growing frustrated ever since Boylen took over from former coach Fred Hoiberg last Monday. In his first week, Boylen held three 2.5-hour practice sessions that featured heavy conditioning work.
Players were also annoyed that he substituted all five players on the court twice during Saturday's game against the Celtics. While the first dramatic shift came with Chicago down 17-0, the second occurred in the opening minutes of the second half, with no obvious trigger for the substitutions.
While the measures taken by Boylen may be unusual in the NBA, he has the backing of Chicago's ownership, at least for the time being.
"They believe in me to do this and they believe in the way that I think it should be done," Boylen said. "It's very freeing to know I can coach this team with passion and emotion and directness."
Having lost nine of 10 games and sitting with a 6-22 record on the season, even calling the Bulls a longshot to contend this season might be generous. William Hill is currently offering 500/1 odds on Chicago to win the NBA championship this year.