WBC middleweight champion Jermall Charlo will defend his title on Saturday at the Barclays Center in Brooklyn, when he takes on junior middleweight title contender Dennis Hogan.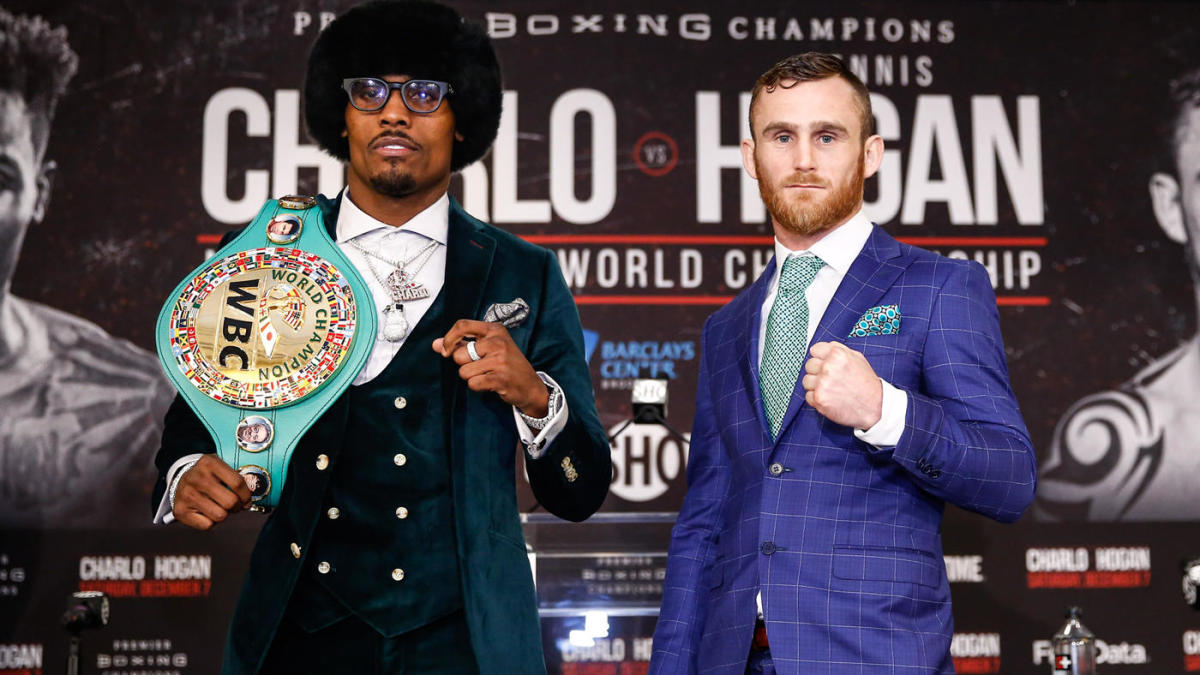 Charlo (29-0, 21 KOs) isn't the best-known name in the middleweight division – Gennady Golovkin, Canelo Alvarez, and Daniel Jacobs are all more familiar to boxing fans – but he is rated No. 3 in the division by BoxRec, and is the No. 4 contender according to The Ring.
Charlo Looking for Knockout Win
The 29-year-old Texan is confident going into the fight, and says that he plans to go for a spectacular knockout finish from the opening bell.
"You hear fighters say that they're not going for the knockout, but I am," Charlo told reporters. "If I hit Hogan with something flush, he's going to sleep. I'm in shape. I'm strong. I'm going for the knockout if its there. If he thinks he can bully me, then I'll show him he made a big mistake."
Hogan (28-2-1, 7 KOs) is coming off a controversial majority decision loss to WBO super welterweight champion Jaime Munguia. The 34-year-old Irishman has never been known for his power, and now faces a daunting task as he moves up in weight to take on Charlo. Hogan, however, believes that putting on some extra weight will likely give him more power than he has flashed so far in his career.
"I've gained power because of the extra carbohydrates that I've been able to have in camp," Hogan said at a pre-fight press conference. "I have more back muscle, leg muscle, and I can feel the power. It's an extra 10 to 15 percent snap on my punches."
Hogan made the decision to accept a fight with Charlo after he was unable to get a rematch with Munguia, and wasn't in line to fight another top contender at the 154-pound weight limit.
Smaller Hogan is Huge Underdog
That decision didn't earn him an easier fight. Not only is he boxing at a new weight, but Hogan is fighting another world class opponent on the heels of Munguia. Still, Hogan says that his team has put together a game plan that will give him a chance to shock the champion.
"My coach is brilliant at spotting weaknesses in opponents," Hogan said. "Charlo doesn't have many weaknesses, but there are things that I can capitalize on with the right game plan. Even Muhammad Ali had these areas, so everybody has them, and it's about capitalizing on them."
Finding weaknesses is one thing, but turning that into a win is another, and many are skeptical of Hogan's ability to do that. FanDuel Sportsbook has Charlo as an overwhelming -2000 favorite to beat Hogan (+870).
Heading into the fight, Charlo's confidence appears to be in line with those odds.
"I know everything about Hogan," Charlo said. "I know he's been in Florida thinking that he's getting ready for me. He has no idea. He's a small slugger who's got to worry about his weight, but I'm going to sit right there and fight with Hogan. I'm not going anywhere. My mind is sharper than his also, but if he wants to make it a brawl, I'm ready."