The H. Allen Jerkens Memorial draws its name from the legendary New York trainer who earned a well-deserved reputation for springing massive upsets. Among Jerkens' victims were the distinguished likes of Kelso, Buckpasser, Cougar II, and Forego.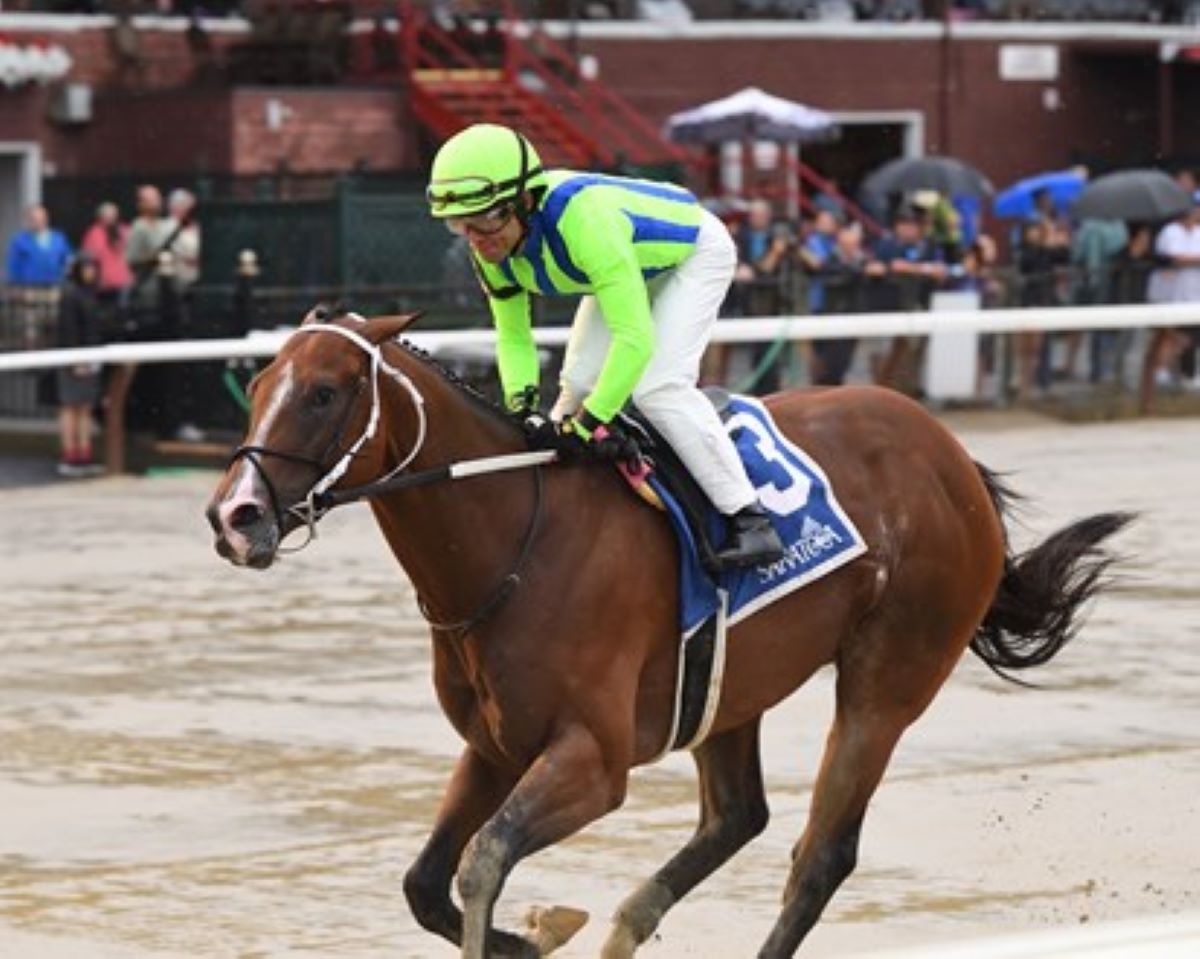 Then, there was Secretariat. Two Jerkens also-rans defeated the 20th century's greatest Thoroughbred: Onion in the 1973 Whitney and Prove Out, seven weeks later in the Woodward. Those were Secretariat's last two losses.
We bring this up because this year's Jerkens features three strong contenders possessing the ability to win – or possessing the ability to get beat.
The $500,000 Jerkens is one of six Grade 1s on Saratoga's Saturday slate. The seven-furlong sprint for 3-year-olds may be named after an upset-minded Hall of Fame trainer, but it's also a kingmaking race of sorts. Five sprinters came out of the Jerkens winner's circle to become eventual Eclipse Awards as Champion Male Sprinter. The last two of those were Runhappy (2015) and Drefong (2016).
Here's your new, improved Jackie's Warrior
The likeliest candidate to fall in line there is Jackie's Warrior, your even-money, morning-line favorite. Putting Jackie's Warrior back at the Spa and sending him around one turn brings a history of success. He's 3-for-3 at Saratoga, winning the Grade 2 Saratoga Special and the Grade 1 Hopeful last year.
That came when the Maclean's Music progeny was the Kentucky Derby favorite. After well-chronicled problems tackling two turns, Jackie's Warrior became one of the best one-turn sprinters in the country. He's 2-for-3 in his new role, winning the Pat Day Mile on Derby Day and dissecting the Grade 2 Amsterdam in the Saratoga slop by 7 ¼ lengths in his last outing.
That gave Jackie's Warrior not only his third Saratoga victory, but a career-best 102 Beyer Speed Figure. It also avenged his lone one-turn loss: a neck setback to Drain the Clock in the Grade 1 Woody Stephens at Belmont Park. A tenacious runner down the stretch, Jackie's Warrior is at the top of his game. Anything resembling that Amsterdam performance probably puts him out of reach of every other horse in the field.
Save one: Life Is Good (8/5), but only if you add an asterisk here.
The Jerkens wild card is a mystery here
Life Is Good has both innate and tactical speed. We saw that aplenty this winter when he was dominating the Santa Anita Park Derby trail under Bob Baffert's tutelage. Life Is Good's last performance was an eight-length destruction of the San Felipe in March, one complete with a 107 Beyer. But that was in the winter and before an ankle chip during a routine March workout put him on the shelf for the last five-plus months.
Now, Life Is Good returns under new conditioner Todd Pletcher, who decided to run him here instead of in a lower-level race. As he seeks his fourth Jerkens title, Pletcher understands what awaits. "It's a tall order going into a seven-furlong Grade 1 off a layoff," Pletcher told the New York Racing Association. "The horse has trained extremely well, has been impressive in all his breezes, and we like what we've been seeing from him."
Following Sea another router-turned-sprinter
Pletcher also sends out Following Sea (5/1). If you're looking for an upset candidate, here's your possible choice. Following Sea opened eyes with a 6 ½-length romp in a June Belmont Park allowance that came in at an electric 1:15.28. But you probably remember him for his distant third – elevated to second – finish in the Grade 1 Haskell in mid-July.
Pletcher cuts the son of Runhappy back to one turn, where his early speed should play a bigger factor.
The final candidate to watch is Jackie's Warrior's newest rival, Drain the Clock (6/1). Here, you get the only horse to beat Jackie's Warrior over one turn at that price because of recency bias. Drain the Clock is 4-for-6 and hasn't missed the exacta yet this year. His inside speed from the rail will serve him well, at least at the outset.
---
Grade 1 H. Allen Jerkens Memorial/Saratoga
Morning Line (Jockey/Trainer)
Drain the Clock, 6/1 (Irad Ortiz Jr./Saffie Joseph Jr.)
Jackie's Warrior, Even (Joel Rosario/Steve Asmussen)
Newbomb, 30/1 (Jose Ortiz/Kelly Breen)
Following Sea, 5/1 (John Velazquez/Todd Pletcher)
Judge and Jury, 15/1 (Luis Saez/Danny Gargan)
Life Is Good, 8/5 (Mike Smith/Todd Pletcher)
---
But, the image of him futilely trying to catch a receding Jackie's Warrior in the Amsterdam is indelible. More indelible than the image of Drain the Clock sticking his neck in front to win the Woody Stephens.
"Obviously, last time, he was well-beaten fair and square by Jackie's Warrior," trainer Saffie Joseph Jr. said about the Maclean's Music colt. "We feel on his best day, he's just as good as others in the field. But we have a new challenge in Life Is Good. It should be quite a race, and hopefully, he shows up and runs his race."
The pick: Jackie's Warrior. His speed and tenaciousness over one turn make him a presence you can't ignore. Your best betting hope is that Life Is Good takes enough money off name recognition as a former Derby favorite to give Jackie's Warrior an odds lift. It's a big ask, especially coming against a Spa favorite. Should you favor a Jerkens-esque upset, Following Sea and Drain the Clock await.