The inherent danger of riding horses combined with a controversial rule change to create a frightening finish to Saturday's Haskell Stakes at Monmouth Park.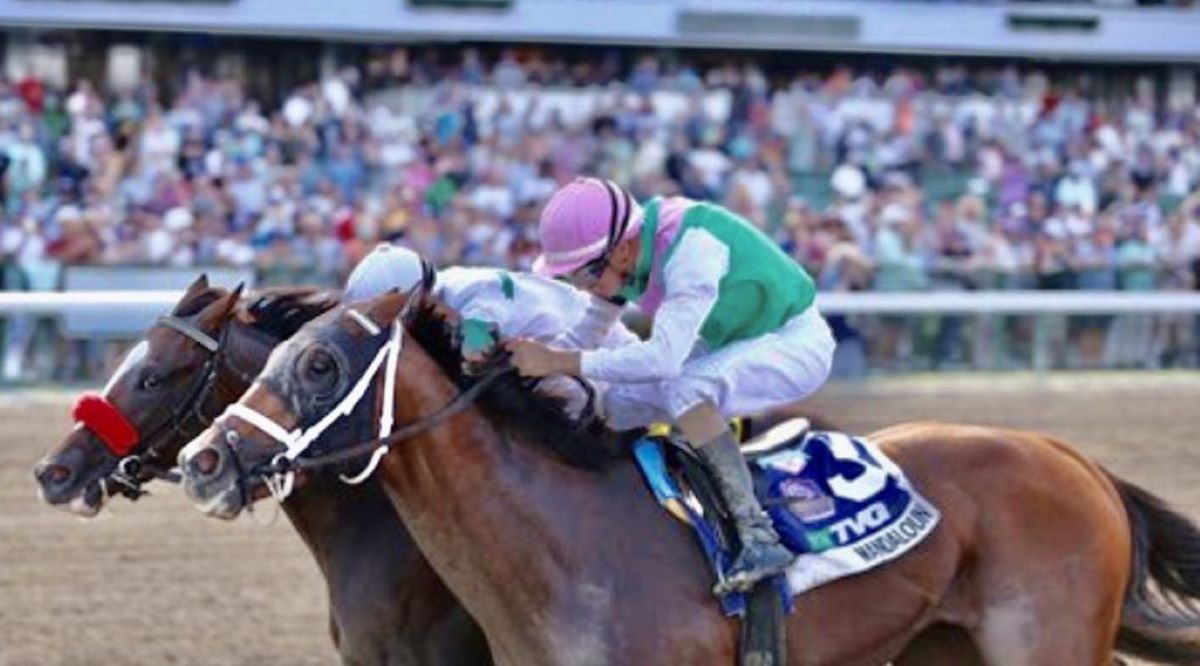 Hot Rod Charlie crossed the finish line first, nipping Mandaloun by a nose. That apparently gave him his long-sought first Grade 1 victory. However, the 4/5 favorite was summarily disqualified for drifting into Midnight Bourbon's path in mid-stretch. That created a potentially tragic situation when the two horses clipped heels. Midnight Bourbon stumbled, spilling jockey Paco Lopez.
Lopez remained motionless for several minutes while Midnight Bourbon, seemingly unscathed, trotted away. Medical personnel took Lopez off the track on a stretcher. Monmouth medical director Dr. Angelo Chinnici said that Lopez suffered a soft tissue injury to his right knee and ankle. He didn't go to the hospital, but sat out the rest of the card.
"My horse kicked me in the knee. I felt pain in my tendon there, and I couldn't move my leg for about 10 minutes, but I am fine now I can bend my knee again," Lopez told Monmouth Park. "I think I would have won that race, I had my horse in the right position to win. I was fighting back, but my horse had a lot of run left, so I think I could have won that race."
As for Midnight Bourbon, initial reports revealed he was fine. An outrider corralled him off the gallop-out on Monmouth's backside.
Mandaloun backs into his first Grade 1 victory
The upshot of all this: Mandaloun, the 3/1 second-favorite, was elevated to his first Grade 1 victory via Hot Rod Charlie's disqualification. The falling dominoes lifted 7/2 Following Sea, who finished 18 ¼ lengths behind Mandaloun, to second and elevated 56/1 Antigravity to third. He finished 22 ¾ lengths behind Mandaloun.
Those were the on-track Haskell happenings. Off the track, the reverberations about what happened went beyond the finish and back to how the scenario transpired. Last year, the New Jersey Racing Commission instituted a rule allowing jockeys to use their crop only for safety reasons. This chased away several jockeys — most notably 13-time Monmouth riding champion Joe Bravo — and led Jockey's Guild president Terry Meyocks into a broadside against the commission.
"I blame the New Jersey Racing Commission for rules they put into effect without any communication with anybody," Meyocks told Horse Racing Nation after Saturday's Haskell. "They forced it. It's unfortunate, and they should be held accountable for it."
The Haskell happenings could have been worse
Flavien Prat, aboard Hot Rod Charlie, told Blood-Horse he could have avoided the collision had he been able to hit Hot Rod Charlie once left-handed. That would have steered the colt out of Midnight Bourbon's path.
This nearly catastrophic incident in America's highest-profile race this weekend came less than a week after jockey Eduardo Gutierrez Sosa died from injuries sustained in a Quarter Horse accident at a small track in Oregon. Sosa was riding Godfather Advice in the Crooked River Roundup when the horse hit the inside rail, throwing the jockey against the rail and head-first into the infield. The 29-year-old Sosa may have hit his head on the rail before he hit the ground.