After losing Game 1 against Ja Morant the #8 Memphis Grizzlies, the top-ranked #1 Utah Jazz won the next three games to take a 3-1 series lead heading into Game 5.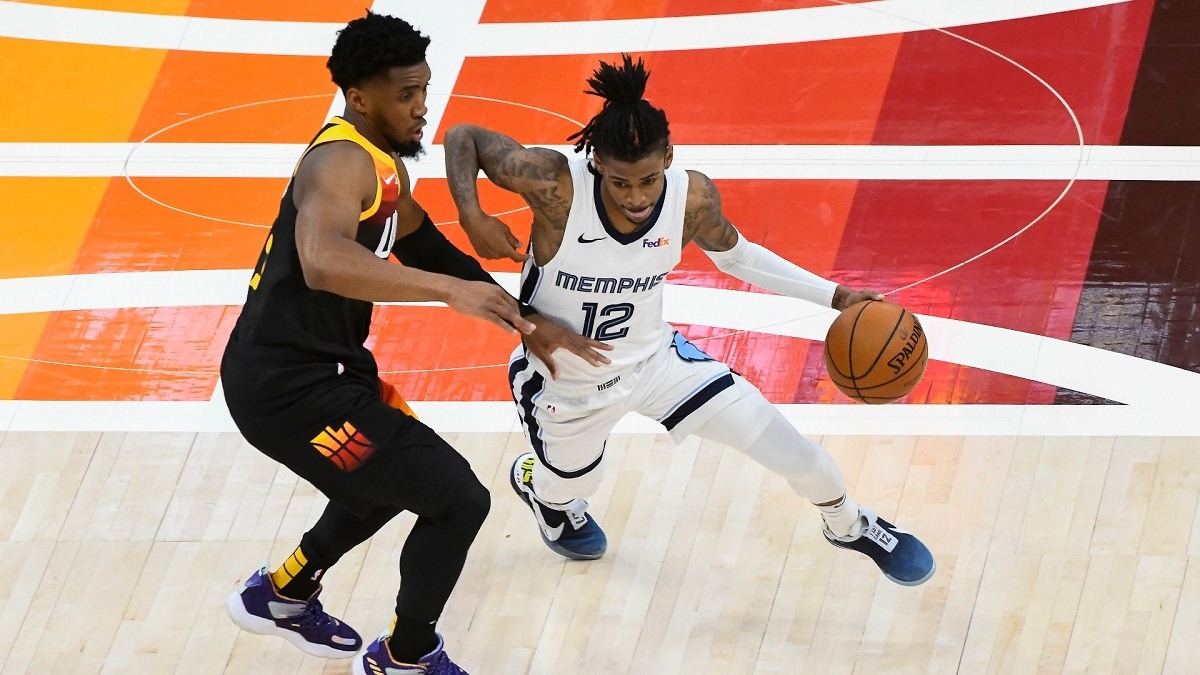 The Grizzlies enter Game 5 as a +9.5 underdog against the Jazz. After losing Game 1, the Jazz won and covered the last three games. If you like betting NBA totals, the over hit in the first four games. The points total for Game 5 is 226 over/under. The Jazz averaged 122.7 ppg during this high-octane series, while the Grizzlies averaged 116.3 ppg.
---
Game 5: #8 Memphis Grizzlies at #1 Utah Jazz (3-1)
Tip-off: 6:40 pm PT
Location: Vivint Smart Home Arena, SLC, Utah
Point Spread: UTAH -9.5
Total: 226 o/u
Money Line: MEM +385 / UTAH -475
Series Line: MEM +1100 / UTAH -4500
---
The Jazz saw their 2021 NBA championship odds bump to +400 over at DraftKings. They're now the second-best team on the NBA futures board behind the Brooklyn Nets. Injuries to key big men altered the futures landscape after Anthony Davis from the LA Lakers injured his groin and Joel Embiid from the Philadelphia 76ers tore his meniscus.
The Spida factor, close-out game
The Utah Jazz opened a 3-1 lead in the first round last year against the Denver Nuggets. The Jazz promptly blew the lead and were eliminated in seven games. They lost three games in a row after the Nuggets won three consecutive elimination games to stay alive and complete the comeback in Game 7. The Jazz are dead set on avoiding a similar collapse after they won Game 4 and extended their lead to 3-1 over the Grizzlies.
"We obviously remember that feeling that we had last season," said Mike Conley. "It's not something we want to experience again.
Ever since Donovan "Spida" Mitchell returned to the lineup, the Jazz scored at least 120 points per game. Without Spida, the Jazz lost Game 1 by three points. With Spida, the Jazz won three games in a row by an average of 10 points or so. That's the Spida Factor in full effect.
The extra cautious Jazz scratched Mitchell just before tip-off of Game 1, which perplexed his teammates and irked Spida. He had missed the last few weeks of the season while recovering from a sprained ankle, but was ready to go in Game 1. Since returning to action, Mitchell averaged 28 ppg.
Jazz triples
Teams live and die by the 3-pointer in the modern NBA. The precision-like Jazz knocked down 41.1% of their 3-pointers, while the Grizzlies connected on only 31.9% of their shots from beyond the arc. Royce O'Neal has been deadly from downtown, leading the Jazz with a 57.1% clip. Mike Conley is also hitting more than half his treys at 53.3%. Joe Ingles and Bojan Bogdanovic are both knocking down more than 40% of their 3-pointers.
The Jazz quartet is making up for a meh performance from Mitchell and cold shooting from Jordan Clarkson. Mitchell looked unstoppable in Game 2 with 25 points on 5-for-10 from 3-point land, but he struggled in Game 3 with a shoddy 2-for-10 night.
---
Utah Jazz 3-Point Snipers vs. Memphis
| | |
| --- | --- |
| Royce O'Neal | 57.1% |
| Mike Conley | 53.3% |
| Joe Ingles | 43.8% |
| Bojan Bogdanovic | 41.7% |
| Donovan Mitchell | 33.3% |
| Jordan Clarkson | 23.3% |
---
Clarkson, the reigning Sixth Man of the Year award winner, struggled to find his shot from the start of the series. He averaged just 15 points through the first games before snapping out of his funk in Game 4 with 24 points. Clarkson shot 0-for-8 in Game 1 and 1-for-6 in Game 2 for a ghastly 7.1% success rate. His skid continued with a 2-for-7 night in Game 3, but he finally snapped out of his funk with 24 points and four 3-pointers. At least he's been perfect from the charity stripe with an 18-for-18 stretch at the free-throw line.
The Griz Trio: Ja, Jonas, and Dillon
Coming into this series, we knew that Ja Morant and Jonas Valanciunas would be leading the Grizzlies on offense versus a tough defensive Jazz unit. Dillon Brooks excelled as the third wheel this series, averaging 25.5 ppg — eight points above his season average. Brooks shot a sizzling 53.3% from the floor and it makes you wonder why the Griz aren't getting him the ball more often.
Morant has been on fire this series, including an inspiring 47-point outburst in Game 2. Morant, the former #2 pick in the 2019 NBA Draft, averages 31 points and 7.5 assists per game in four games against the Jazz. He set an NBA record for most points in the playoffs by a player who is under 22-years old.
"Got to be aggressive at all times," said Morant. "I put that pressure on myself to get us back in the game. I was able to get to my spots on the floor and make shots."
Morant's 3-point shooting needs work in the offseason. He connected on only 17.9& of his attempts. If the Grizzlies want to extend the series and force a Game 6 in Memphis, then they'll have to find someone aside from their power trio to make a huge scoring contribution. The Grizzlies will also have to play much better perimeter defense and hope the Jazz's torrid shooters finally cool down.
Check out more coverage of the 2021 NBA Playoffs.