The Los Angeles Lakers knew that health would dictate their future in the 2021 NBA Playoffs, but through four games of a hyper-physical series, the banged-up Lakers are tied with the #2 Phoenix Suns at 2-2. The Lakers lost Game 4 when Anthony Davis exited the action early with a groin injury, and he's listed as questionable for Game 5 against the Suns tonight in Phoenix.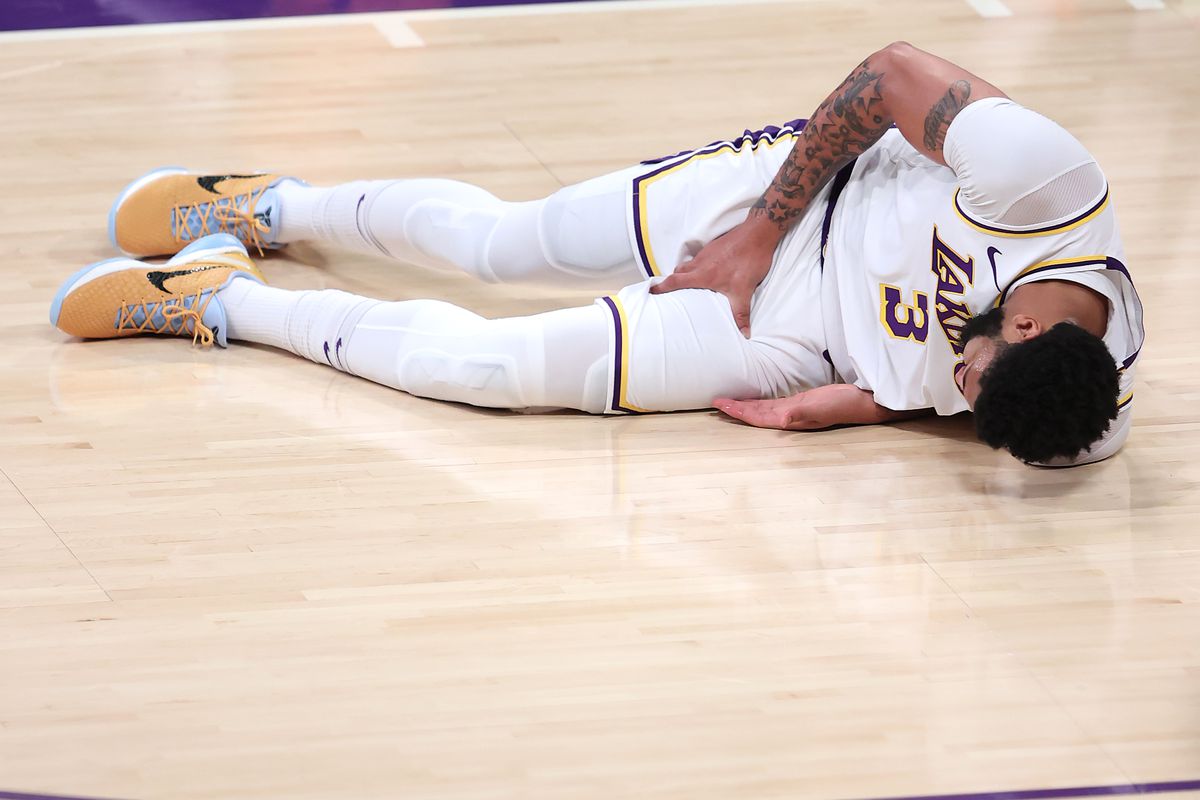 Davis tweaked his groin in the first half of Game 4 and didn't return to the game after halftime. The Lakers also might not have Kentavious Caldwell-Pope, who missed Game 4 with a knee contusion. Chris Paul continues to nurse a shoulder injury, which he suffered in Game 1 with the Suns. Paul looked much better in Game 4, but his shoulder is still a concern.
---
Game 5: #7 LA Lakers (2-2) at #2 Phoenix Suns (2-2))
Tip-off: 7 pm PT
Location: Phoenix Suns Arena
Point Spread: PHX -5
Total: 207.5 o/u
Money Line: PHX +180 / LAL -200
Series Line: LAL -145 / PHX -180
---
The Lakers are a +5 underdog heading into Game 5 in Phoenix. The Suns were only a favorite once this series during the opener in Game 1, which they won.
With the status of Davis unknown for Game 5, the Suns became the new favorite to edge out the Lakers and advance to the Western Conference semifinals. You can back the Suns at -180 odds to win the series, while the Lakers are -145. Due to Davis' groin injury, the Lakers are now the fourth-highest team on the NBA futures board at +600 odds to win the 2021 NBA Championship. The Suns are +1500 odds to take the championship.
Phoenix Suns: CP3's shoulder improving
After an ineffective performance in Game 3's loss, Paul asked head coach Monty Williams to start him in Game 4. CP3 looked like a new man leading the Suns to a 100-92 victory to even the series. He scored 18 points and dished nine assists.
"Everything clicks a little better with CP3 on the court and him being himself," said teammate Jae Crowder. "We feed off of that. He's a big part of the puzzle. It's a little challenging when we don't have him doing things he normally does. It's definitely monumental that he's out there for our team."
"We didn't have a lot of guys that missed a lot of games this season, so we're used to playing a certain way," said Paul. "Glad I could be out there and help."
Big man Deandre Ayton tallied 14 points and hauled down 17 rebounds without Davis roaming the paint in the second half. Ayton, the former #1 pick in the 2018 NBA Draft, averages 19.8 points and 13.5 rebounds per game this series.
Booker leads the Suns with 25.3 ppg in the postseason, but he's shooting only 26.3% from 3-point range. Backup point guard Cameron Payne has been the biggest surprise for the Suns. Payne stepped up when Paul went down with the shoulder injury in Game 1. Payne, a former journeyman point guard out of Murray State, averages 13 ppg and is shooting 42.5% from downtown.
LA Lakers: Future grim without Davis
When he's healthy, Davis creates havoc on both ends of the court as the Lakers' premier defender and rim protector. In both Lakers' wins in Game 2 and Game 3, Davis averaged 34 points. Davis hyperextended his leg in Game 3 and a nagging knee injury slowed him down coming into Game 4. He struggled in the first half with only six points and seven missed shots.
"Davis labored a little bit even before the groin injury," said Lakers head coach Frank Vogel. "His knee was sore, but there was no way that he was not going to play. I thought he gave a heck of a run at it, trying to compete through pain."
Without Davis in the second half of Game 4, the Lakers scored only 42 points, including 17 in the third quarter. LeBron James scored 25 points and added 12 rebounds in the loss.
Davis or no Davis, LeBron will be ready to roll in Game 5.
"These shoulders were built for a reason," said LeBron. "If it takes me putting on some more on top of them, so be it. I'm ready for the challenge."
LeBron missed significant time in the second half of the season with a high-ankle sprain, but the injury hasn't been a factor for LeBron during the first four postseason games. LeBron leads the Lakers with 21.8 points, 8.5 assists, and 7.3 rebounds per game.
Montrezl Harrell, last year's Sixth Man of the Year with the LA Clippers, saw limited action in this series logging 19 points in two appearances after falling out of the rotation in favor of Andre Drummond. If Davis can't play in Game 5, Harrell or Markieff Morris should log more court time.
Check out more of OG's coverage of the 2021 NBA Playoffs.