Do you believe in a Super Bowl curse? That could explain why the San Francisco 49ers, last year's runner up in the Super Bowl, continue to struggle with a rash of injuries that decimated their offense. The 49ers lost tight end George Kittle for the rest of the season with a broken foot on Sunday. In addition, Jimmy G went down with an ankle injury. Garoppolo, the Niners' starting quarterback, will miss approximately six weeks after reaggravating a high-ankle sprain.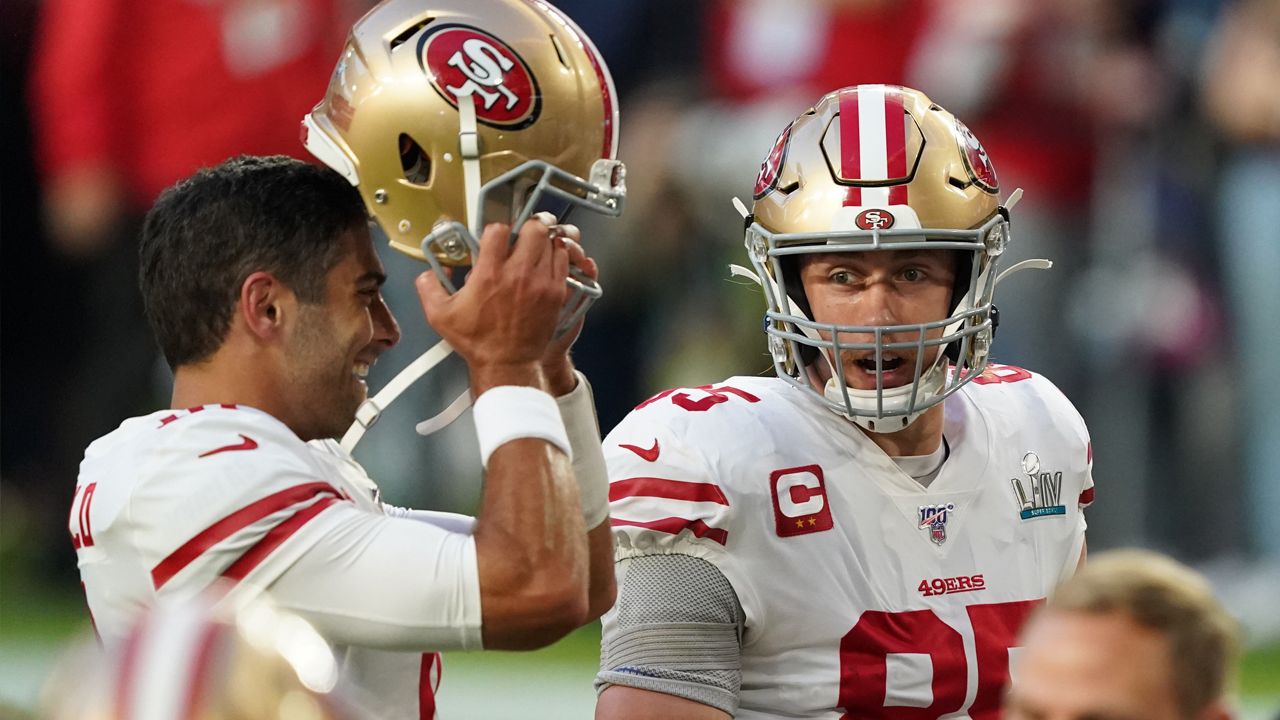 Jimmy G suffered a high-ankle sprain earlier in the season. He tried to come back too soon and got benched for his poor play. Fans were optimistic heading into Week 8 that Jimmy G turned a corner and would only improve during the second half of the season. Those high hopes were shattered when he limped off the field in the fourth quarter of a 37-27 loss to division rival Seattle.
Jimmy G could miss the rest of the season if he opts for surgery to repair the sprain.
The Niners had one of the fiercest rushing attacks in the NFL last season. Kyle Shanahan rode his three-pronged running attack all the way to the Super Bowl. This season, he hasn't had a healthy backfield from the get-go. Raheem Mostert played in only four games while nursing an ankle injury. Just when Tevin Coleman returned from an injury, he left again in Week 8 with a knee injury.
Because of the injuries, the Niners slipped to 50/1 odds to win the Super Bowl.
Kittle Out (Foot)
Kittle emerged as a force over the past couple of seasons. He competed with Travis Kelce of the Kansas City Chiefs for the coveted position as the best tight end in the NFL.
The Niners drafted Kittle out of Iowa with a fifth-round pick in 2017. He had a breakout season in 2018 with 1,377 yards and five touchdowns.
Kittle tallied a minimum of 1,000-plus receiving yards, five touchdowns, and caught at least 85 receptions in back-to-back seasons in 2018 and 2019. He missed two games last season, and still achieved those milestones in only 14 games.
Kittle suffered a foot injury in Week 8 and had to leave the Seattle game. X-rays revealed a broken foot.
"George Kittle will head to the IR, but could miss the rest of 2020 while recovering from the foot injury," said a team official.
For fantasy football owners, consider adding his backup Jordan Reed if you're in a bind.
Jimmy G Out, Trade Time?
The Jimmy G experiment was doomed from the start and jinxed with the injury bug. He blew out his knee in the third game of the 2018 season.
Last season, a healthy Jimmy G played all 16 games. He completed 69.1% of his passes and fell short of 4,000 yards with 3,978. He connected on 27 touchdowns, but threw 13 interceptions.
In limited action in 2020 due to an ankle injury, Jimmy G started six games and left two due to injuries. He got benched in another. He's averaging a 67.1% completion rate with 1,096 passing yards. He's thrown seven touchdowns against five interceptions.
Shanahan has no choice but to gamble with backup QB Kyle Mullens and third-stringer CJ Beathard. Mullens looked competent filling in for Jimmy G against the Seattle Seahawks. He tossed 238 yards and a pair of touchdowns in a shootout.
"Any time you can get out there and bounce back from my last start, it's definitely going to create confidence," said Mullens. "The biggest thing I've learned just going through it all is that the NFL is tough. It's all about what you do next. No matter if it is good or bad, it's all about what you do next."
Will San Francisco make a move? General manager John Lynch could be making calls to the East Coast as we speak. If Jimmy G is expected to miss the rest of the season, will FitzMagic make a cameo in the Bay Area? Or will he take a flier on the beat-down Sam Darnold from the LOL Jets? Will the Niners pull the trigger on a different quarterback?