The Milwaukee Bucks face a second-straight elimination game with a banged-up Greek Freak. They won't know the status of Giannis 'Greek Freak' Antetokounmpo and his sprained ankle injury until game time. The Bucks listed the Greek Freak as "questionable" on the injury report, but he will do everything in his power to suit up against the Miami Heat in Game 5 of the Eastern Conference semifinals.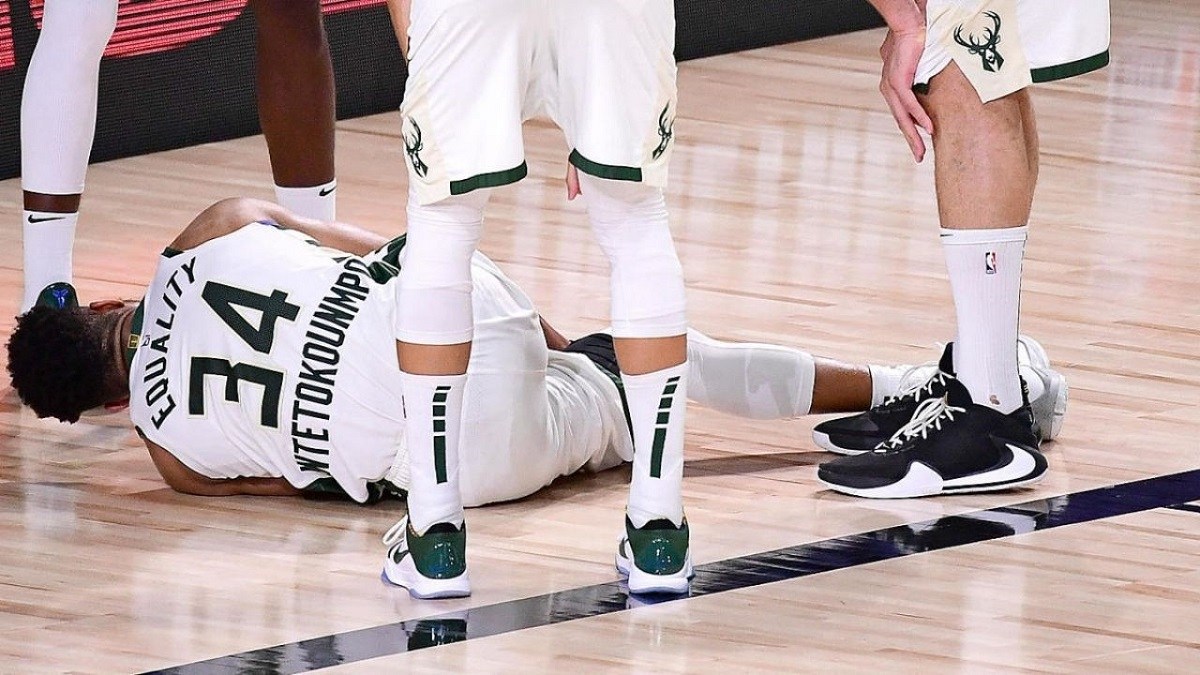 Greek Freak played only 11 minutes for the Bucks in Game 4, scoring 19 points before he suffered another ankle injury. He left the game for good in the second quarter. Despite missing the rest of the game, the Freak inspired his teammates to pull off the comeback win.
"The crazy part, he twisted his ankle again for the second time, and he's laying on the floor, so the competitive nature kicks in," said George Hill. "The first thing he said was, 'I should've dunked it!' That just shows you he's trying to lay it all out on the line for us, and we've gotta do the same for him."
Khris Middleton led the Bucks to an overtime victory to stave off elimination and avoid a sweep.
#1 Milwaukee Bucks (1-3) vs #5 Miami Heat (3-1)

Tip-off: 3:30pm PT
Point Spread: Miami -4
Total: 218.5 o/u
Money Line: MIL +160 / MIA -185
If the Heat didn't win Game 2 on a shady foul call, this series would be far from over.
According to a new update by DraftKings, the Heat are -1250 to win this series and advance to the Eastern Conference Finals. The Bucks are +700 odds to pull off a sick comeback and win four games in a row to knock out the Heat.
Oh no Giannis 😢 pic.twitter.com/qagyItyY6o

— NBA Central (@TheNBACentral) September 6, 2020
Bucks Avoid Sweep, But What About Game 5?
When the Freak went down, his teammates stepped up. Middleton had been a non-factor earlier in the series. He rose to the occasion in Game 4 with 36 points, eight rebounds, and eight assists.
Middleton drilled a clutch 3-pointer with six seconds remaining in overtime to seal a 118-115 victory for the Bucks.
The Bucks bench also stepped up with 32 points, led by 12 points from George Hill.
For Game 5, it's still a question mark for the Greek Freak and his ankle injury.
"I know how hard he's gonna work, and know how hard our sports performance group's gonna work," said head coach Mike Budenholzer. "It's just impossible to say, but I guess, yeah, there's hope. We're not ruling him out. Again, he's gonna do everything he can to make himself available."
The Greek Freak appeared at the walkthrough on Tuesday morning, but he'll be a game-time decision.
"We have his back," said Middleton. "But if not, we still have to play as hard as we can. We gotta fight every night to keep on playing."
BANG!! pic.twitter.com/p1uobI2VA5

— Milwaukee Bucks (@Bucks) September 6, 2020
Update: No Freak
2:30pm PT… The Greek Freak will not play in Game 5. He's officially out of the lineup, as reported by The Atheltic's Shams Charania.
Oddsmakers adjusted the point spread based on the news update and moved the line from Miami -4.5 to Miami -5.
Bucks star Giannis Antetokounmpo is out for Game 5 vs. Miami with right ankle sprain, sources tell @TheAthleticNBA @Stadium.

— Shams Charania (@ShamsCharania) September 8, 2020