Seven players for the Miami Heat scored in double-digits in a stunning 116-114 Game 2 victory over the Milwaukee Bucks. Jimmy Butler only scored 13 points, but he knocked down two controversial free throws with time expired at the end of the game to break a 114-114 deadlock. Miami now holds a 2-0 lead over Milwaukee, and the Bucks better buck up ASAP, otherwise they'll be digging their own graves with an 0-3 hole.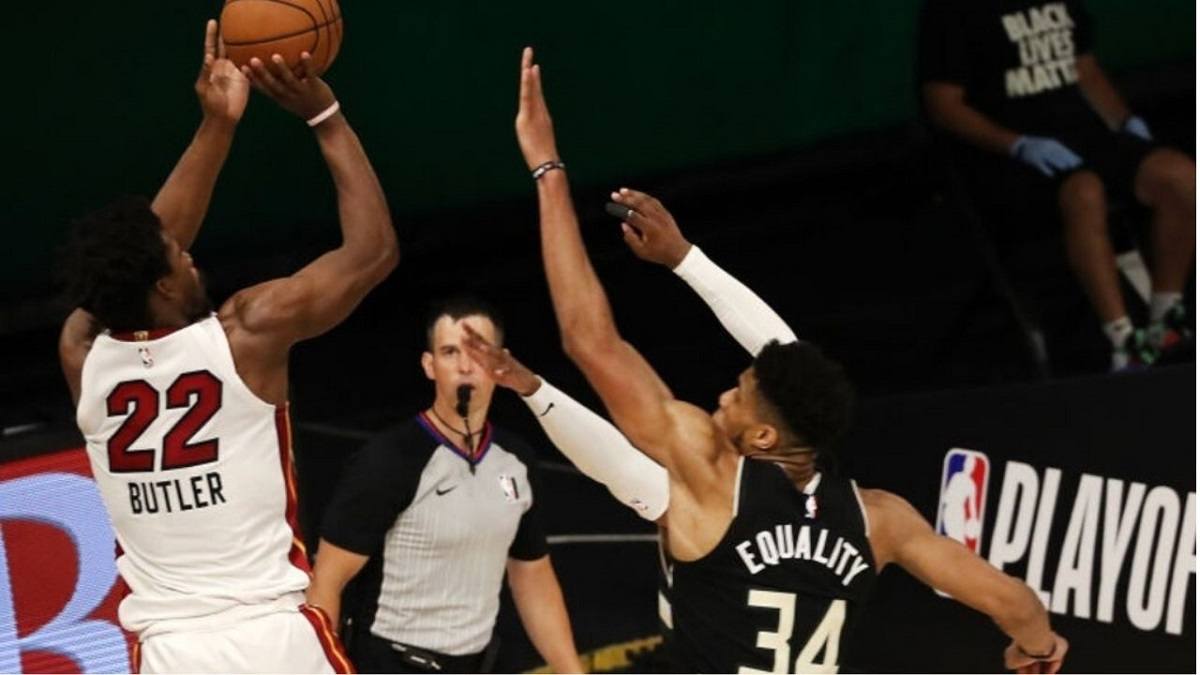 Officials whistled Giannis 'Greek Freak' Antetokounmpo for a foul on Butler, but it was a ticky-tack infraction that most officials would have overlooked in postseason play.
"I'd say we're disappointed with the judgment, the decision, and the timing," said Bucks coach Mike Budenholzer on the bad call. "I have a lot of respect for the officials. It's a tough job. Of course, we have our way of seeing things."
---
#1 Milwaukee Bucks (0-2) vs. #5 Miami Heat (2-0)
Tip-off: 3:30pm PT
Point Spread: MIL -5.5
Total: 223.5 o/u
Money Line: MIL -220 / MIA +195
---
According to DraftKings' NBA playoffs series odds, the Heat are -167 odds to win the series and advance to the Eastern Conference Finals. The Bucks are an underdog at +135 odds to overcome an 0-2 deficit and rally to the series win.
Oddsmakers at the South Point Sports Book in Las Vegas also adjusted their NBA championship futures. The Bucks slipped to 7/1 odds to win the title, while the Heat improved to 7/1 odds to win the championship.
Widespread Panic in Beer City?
The Heat had a six-point lead with less than 30 seconds remaining, but they failed to close out the game. A couple of poor decisions and turnovers allowed the Bucks to tie the score at 114. On the final play, Butler got the ball in the corner and attempted a shot to break the deadlock. The zebras whistled Antetokounmpo, the 2020 NBA Defensive Player of the Year, for the foul.
The Bucks didn't have any officiating challenges left, so the call stood. Butler was awarded two free throws and hit them to put Miami ahead of Milwaukee by 116-114.
Antetokounmpo scored 29 points and 14 rebounds in Game 2, but once again, it felt like he was a non-factor in crunch time.
Kris Middleton added 23 points in one of his strongest performances of the postseason.
"We've had possessions here and there where we just had some bad possessions," said Middleton. "That stuff tends to haunt us late in games. We just have to be better all the way around in Game 3."
The Bucks went cold from 3-point range in Game 2 with a 28% shooting versus 37.8% for the Heat. Toss out Brook Lopez's 3-for-5 shooting from downtown, and the Bucks were 4-for-20 in Game 2.
"We gotta come out and play harder," said Antetokounmpo. "That's why we gotta come out and make more shots. It's always going to be about us. It's not about what the other team is going to do."
Jimmy Buckets and Friends
In Game 2, Goran Dragic led the Heat with 23 points. It was truly a team effort for the Heat, with seven players scoring 11 or more points. Tyler Herro added 17 off the bench. Other double-digit scorers included Jae Crowder (16), Bam Adebayo (15), Jimmy Butler (13), Duncan Robinson (13), and Kelly Olnyk (11).
Butler scored just 13 points in Game 2 after he exploded for 40 points in Game 1.
"I score as much as my team needs me to (score)," said Butler.
Despite the low output in the scoring department, the Heat turned to their leader in crunch time. With the score tied and seconds remaining on the clock, they gave the rock to their finisher.
"It doesn't take a genius to figure out we're going to try to get the ball into Jimmy's mitts," explained Heat coach Erik Spoelstra.
"When the guy's dribbling and he's getting his rhythm, he's got four seconds," said Antetokounmpo. "He's not going to pass the ball. He's going to shoot the ball."
Greek Freak attempted to block the shot but was whistled for contact as Butler missed.
"I wish I could kick it in there and say that's how I won it," said Butler.
He missed the game-winning shot, but he hit two free throws to seal the victory. The Heat are now up 2-0 on the top-seeded Bucks.
"But you can't relax," said Butler. "The Bucks are too good of a team."