The Belmont Stakes was the race Mike Repole wanted more than any other. It was the race the entrepreneur he called "his Kentucky Derby." The race the native New Yorker loved so much that he watched the replay numerous times of his best finisher in the race: Stay Thirsty, in the 2011 Belmont Stakes.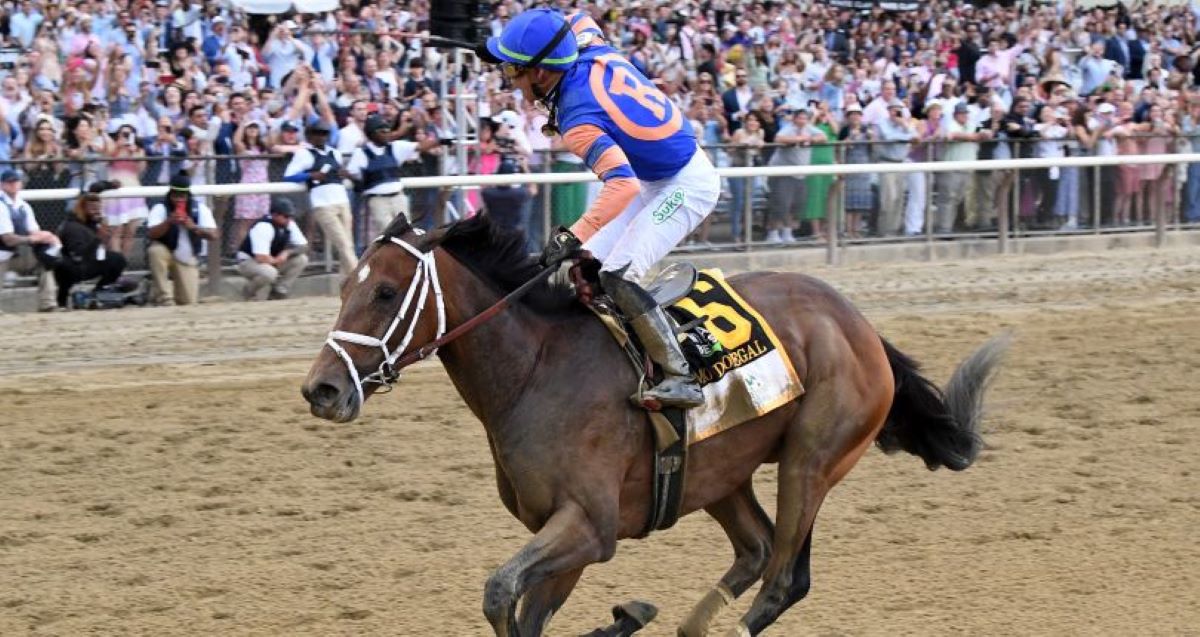 Now, Repole has another Belmont Stakes to replay over and over. The one where his Mo Donegal won Repole his first Belmont Stakes Saturday at Belmont Park. Oh, and the same race where Repole's filly Nest finished three lengths back in second.
We need more Mike Repole's in horse racing. Hope there is a Derby with his name on it. #BelmontStakes

— Darin Zoccali (@atTheTrack7) June 11, 2022
"It's a 40-year dream. Coming to this track and Aqueduct, being a kid from New York, this is New York's race," Repole told the New York Racing Association. "In 2011, I came in second with Stay Thirsty and I watched the replay 150 times I will no longer watch that replay. Getting a first and a second here, it makes up for it. This was the biggest goal of my racing life, and I just accomplished it and I ran 1-2."
Mo Donegal's come-from-behind victory as the 5/2 favorite paid $7.20, $3.80 and $3 on a $2 wager. It marked the third consecutive year and the fourth time in five years the favorite prevailed. At 5/1, Nest paid $5.30 and $4.10. Skippylongstocking, who nudged out pace-setter We the People for third at 11/1, paid $5.60.
Nest's ears say it all-she's angry she had to settle for 2nd in the @BelmontStakes, but props to Mo Donegal's connections & our partner in Nest, Mike Repole. Couldn't be more proud of Nest, @PletcherRacing @jose93_ortiz & our partners! She was gallant in defeat!#EclipseFillies pic.twitter.com/gdzRGoX0Xj

— Eclipse Thoroughbred Partners (@EclipseTBP) June 12, 2022
The $2 exacta paid a modest $27.60, the $1 trifecta $187.50. According to Xpressbet, this is the fifth time in the last six years that the $1 trifecta paid $312 or less.
Pletcher wins his third Belmont Stakes since 2013
The victory gave trainer Todd Pletcher his fourth Belmont Stakes title and first since Tapwrit in 2017. Mo Donegal was Pletcher's first favorite to win the "Test of the Champion." Nest's runner-up finish was the seventh by a Pletcher charge since 2006.
Irad Ortiz Jr. put Mo Donegal on a textbook trip for the closer. As expected, We the People wasted no time taking the lead and setting the pace – a moderate one at that. As the lone front-end speed, We the People clocked splits of 23.99 seconds (quarter-mile), 48.49 (half-mile) and 1:13.23 (three-quarters) on a fast track.
Yet, he couldn't shake Skippylongstocking, who stubbornly clung to We the People all the way down the backstretch. Meanwhile, Nest – who got off to a troubled start – began advancing down the rail on the backstretch. By the turn, she was in third.
Brother act finishes the Belmont Stakes 1-2
We the People led by a half-length after a mile and by a head after 1 ¼ miles. Meanwhile, as the pace-setter tired, Ortiz sent Mo Donegal approaching the quarter-pole. He went four wide at the top of the stretch and powered past We the People and Skippylongstocking at the three-sixteenths mark. Ortiz's brother, Jose, drafted off Mo Donegal, following his path.
Unlike the Kentucky Derby, when Mo Donegal endured a brutal trip brought largely to him by a rail post – yet still finished fifth – there was clear sailing to the wire. He completed the 1 ½ miles in 2:28.29.
Moments like this >>>>>>>>>

Mo Donegal + @iradortiz = 🧡💙 @BelmontStakes pic.twitter.com/r8IIetNqTe

— NYRA (🌳) (@TheNYRA) June 11, 2022
"Last time in the Derby, he didn't have the best trip and he still got beat by (only three or five lengths," Ortiz Jr. said. "I knew if I got a better trip, he could get there. When I asked him in the clear, he took off."
Rich Strike had no miracles remaining
As for We the People, trainer Rodolphe Brisset thinks 12 furlongs was a bridge or two too far for his colt.
"We had everything the way we wanted. I just think the mile and a half was just too long, you know," he said. "That would be our first guess to why he ran like that. There's nothing you can do – you have to try and he went in 48 and two-fifths and 1:13 and it was just too long for him."
As for 80/1 Derby winner and NYRA poster child Rich Strike, he never got untracked en route to finishing sixth out of eight. Trainer Eric Reed said if 4/1 Rich Strike was far behind early, he was done. After being last through a mile, the fractious colt – who was bouncing and circling on his way to the gate — was quite done. He finished 13 ¼ lengths behind Mo Donegal.
"We were hoping we could have been a little closer and our pace was slow," Reed said. "Our biggest change was deciding to stay a little off the rain and try to give him a good, open run where he could take off. The whole way, his head turned and he was trying to get to the inside. I guess we made a mistake not putting him on the fence."
Mo Donegal in the hunt for an Eclipse Award
Mo Donegal's victory was his second this year, buttressing his Grade 2 Wood Memorial score. He became the first horse since Empire Maker in 2003 to win the Wood Memorial and Belmont. Mo Donegal is now 4-0-2 in seven races. The $800,000 payday bumped his career earnings to $1,511,800.
MO DONEGAL WINS THE 154TH BELMONT STAKES! pic.twitter.com/LNKIb9dB69

— NBC Sports (@NBCSports) June 11, 2022
The Belmont Stakes Day card brought NYRA an all-sources handle of $98,766,906. That represents a drop of 12.3% from 2021's $112,700,000 handle. All-sources handle for the Belmont Stakes came in at $50,248,624. That's a 10% plunge from last year's $60,459,330.
The three-day Belmont Stakes Racing Festival, which started Thursday and offered 17 stakes and 33 races, checked in at $127,810,604.
On-track handle for the Saturday card was $9,530,303. This is hampered by the fact that Belmont Park's current capacity is only 50,000, due to the construction of nearby UBS Arena. NYRA reported paid attendance of 46,301 Saturday.