The first thing you need to remember about the Belmont Stakes is forget the long-believed idea the "Test of the Champion" is easy for closers to pass.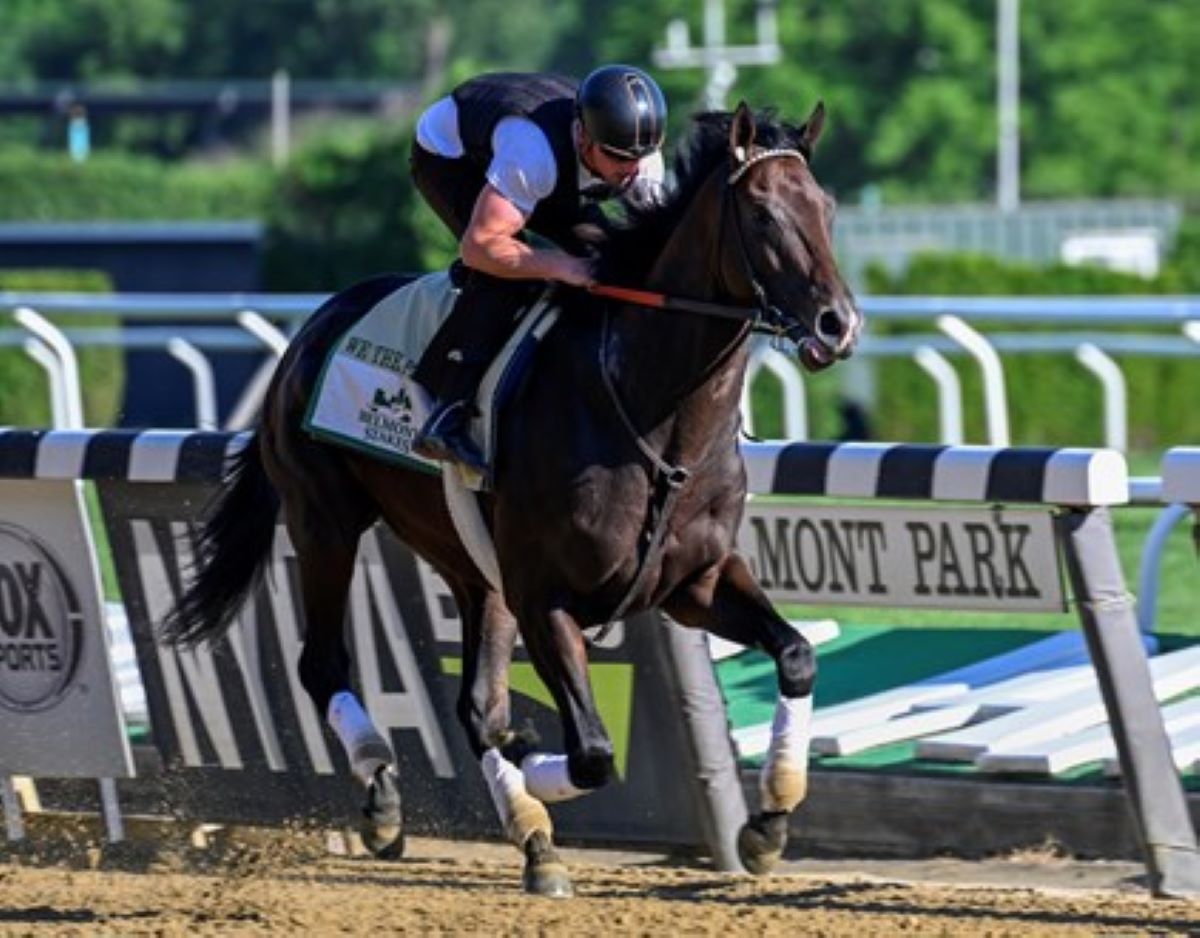 It isn't.
It sounds counterintuitive, doesn't it? Send horses 1 ½ miles – the longest distance any of them will ever run and it's closer bait, right? Send them those 12 furlongs around a big track with deeper sand that wears on a modern Thoroughbred's spindly legs and a deep closer is a natural, right?
No.
The only closer to win the Belmont since 2010 was Creator in 2016. He was one of only three horses since then to win from the back half of the field, joining stalker-deluxe Essential Quality last year and Sir Winston in 2019. In fact, according to Equibase, 13 of the last 15 Belmont Stakes winners were within 4 ½ lengths of the leader after the first half mile.
More trends? Yes, there are
That's one trend to watch when you watch the 154th Belmont Stakes, the centerpiece of the Belmont Stakes Racing Festival. One of eight Grade 1 races on Saturday's card, the Belmont Stakes is the 11th race, with an expected post time of 6:44 p.m. ET.
This year's Belmont Stakes sends out an eight-horse field, the lightest field of the 2022 Triple Crown races. It sends out three horses from the Kentucky Derby: 80/1 upset winner Rich Strike, fifth-place Mo Donegal and sixth-place Barber Road. Two more come from the Preakness Stakes three weeks ago: third-place Creative Minister and fifth-place Skippylongstocking.
There are other trends worth following when sifting through the myriad of contestants attempting 12 furlongs on a huge track. Perhaps the most important one is pedigree.
Who's your daddy makes a difference
Bloodlines matter here. Do they ever. Look at the pedigrees of recent Belmont Stakes winners and you find 14 of the last 15 came from a sire who won a Grade 1 race of nine furlongs or farther. Before you ask, the Belmont Stakes go-to sire: Tapit, doesn't have a horse in this year's Belmont Stakes. That means he can't extend his record of Belmont Stakes-winning progeny to five. But he is the sire of two sires with sons in the race: Constitution (We the People) and Race Day (Barber Road).
The other trend to pay attention to is the toteboard. Essential Quality's victory over Hot Rod Charlie last year made it four winning favorites in the last seven years. Two others: Tacitus (2019) and Irish War Cry (2017) finished second. But according to Xpressbet, the average winner odds over the last 20 years is 13.48/1. Those four winning favorites: Essential Quality, Tiz the Law (2020), Justify (2018) and American Pharoah (2015) were the only favorites in the last 15 years running to their odds.
Belmont Stakes is the 'Test of the Handicapper'
When a favorite doesn't prevail, someone at juicy odds does. Four times in the last decade, the winning horse came in at 10/1 or greater odds. A fifth (Tonalist) was 9/1. This is where you find Sir Winston (10.20/1), Creator (16.40/1), Palace Malice (13.80/1), Ruler On Ice (24.75/1), Drosselmeyer (13/1). Go back to the Aughts and there's Summer Bird (11.90/1), Da'Tara (38.50/1) and the biggest upset in Belmont Stakes history: 70.25/1 Sarava in 2002.
With that, OG News breaks down our field for Saturday's race in categories, worst to first. The listed odds are the morning-line odds.
Why are you here?
Skippylongstocking (Post 2-20/1): Here, we begin with one of the two Preakness ex-pats, one coming in off that fifth in the Triple Crown's second jewel – by a barely noticeable 7 ½ lengths. We also have the most experienced horse in the field: 10 races. That experience produced in-the-money finishes in half of his starts (2-1-2). Conspicuous with their absence in that record are stakes victories, of which Skippylongstocking has none. His best stakes finish was a third to Mo Donegal and Early Voting in the Wood Memorial, where he finished a non-threatening 3 ¾ lengths back. As always, we applaud trainer Saffie Joseph Jr.'s dogged determination sending this son of 2016 Preakness winner Exaggerator out for only his third start outside his native Gulfstream Park habitat – and second Triple Crown outing. Like Barber Road, he's a grinder who leaves every ounce of his limited talent on the track. In this company, the best scenario for that grinding is the bottom of the superfecta.
History suggests you take a flier
Barber Road (Post 8-10/1): Another race, another day for Barber Road to outrun his odds and grind his way to yet another where-did-he-come-from finish. He did this in the Derby, finishing sixth at 60.40/1, less than five lengths behind Rich Strike. He did this in the Arkansas Derby, finishing second at 10/1. Barber Road kept the plot in the Southwest Stakes, finishing second at 11.80/1. You get the idea. But what is missing from this grinding closer's trend of never taking a race off is actually winning a stakes race: graded or otherwise. Barber Road is 0-for-6 in stakes contests, although he does have four seconds and a third. He also has Eclipse Award-winning jockey Joel Rosario – he of the two Belmont wins since 2014 – in the irons. What Rosario will do is no secret: let Barber Road hang in the rear of the field, then turn the jets on at the top of the stretch and hope he can do what he usually does: pick off tired horses and grab a piece of the board. This may work – to a point. Barber Road will be on many tickets as a dark-horse because he's 6-for-9 hitting the board. But there are better closers with more speed keeping him from the upper echelon of the board.
Golden Glider (Post 7-20/1): Believe it or not, there's plenty to like here – once you take your eyes off Golden Glider's base-metal record on the Derby trail. Not that this is easy to do, seeing his fourth in the Tampa Bay Derby by three lengths and fourth by nearly seven in the Blue Grass Stakes. And yes, Golden Glider's pedestrian speed figures – nothing north of his 99 Equibase in the Tampa Bay Derby – aren't exactly glittering off the page. He did manage to stay with We the People for six furlongs of the Peter Pan, the Belmont Stakes' prep. And then, We the People decided enough was enough and pulled away to win by more than 10. So why aren't we talking about fool's gold here? Well, pedigree, for starters. Golden Glider is the son of former Horse of the Year Ghostzapper, who did win a Grade 1 at further than nine furlongs. And history for another. Trainer Mark Casse brought the ignored Sir Winston into the 2019 Belmont at 10/1 and came out with his first Belmont Stakes title. It's not out of the realm for Golden Glider to follow the trend of double-digit, well-bred afterthoughts stealing the Belmont Stakes. Given all of the above, it's not likely he steals anything north of the superfecta. But haven't we seen stranger things this spring?
No. Not again
Rich Strike (Post 4-7/2): Did someone ask about stranger things this spring? If our Kentucky Derby winner was a human being, he'd be a Kardashian, given the amount of attention NYRA's communications department has showered on him. They chronicled every move, trot, twitch and step of the Derby winner, starting with having video of him getting off the van when he arrived at Belmont Park — at 1 a.m. It's a good thing his fellow Belmont Stakes contenders weren't paying attention, lest they do more than kick dirt in Rich Strike's face Saturday. And make no mistake, Rich Strike will face plenty of kickback. He'll also face a pace scenario nowhere near the incendiary one that allowed him to rally from 15th after a mile to steal the Derby from Epicenter 50 yards from the wire. NYRA giving Rich Strike the Triple Crown-in waiting treatment is understandable to a degree. It's not every day you get an 80/1 Derby winner as your main storyline whose connections felt the Belmont Stakes was a better fit. Should Rich Strike validate that Derby win, he'll be the first Derby-Belmont winner since Thunder Gulch in 1995. That said, no horse has won the Derby, skipped the Preakness and captured the Belmont. The last to try? Gato del Sol, in 1982. He finished second in the Belmont Stakes. Along with that, you're asking us to take 7/2 (or worse) on a stone-cold closer who went off at 80/1 five weeks ago? A horse who is 0-for-5 outside Churchill Downs? We'll need more than good works and People Magazine-like coverage to snap that bet off.
The Wild Card 2.0
Creative Minister (Post 5-6/1): Remember before the Preakness, when we said we honestly can't gauge where Creative Minister would wind up, given his limited body of work? After his gritty third in the Preakness, behind Early Voting and Epicenter, we're still at a creative loss trying to figure out where Creative Minister fits here. Like Golden Glider, Barber Road and Skippylongstocking, this son of Creative Cause doesn't own a stakes win on the CV. His 99 Equibase was nine points lower than that 108 he clocked in his scintillating Churchill Downs allowance win. And even with that third, he never threatened the two horses in front of him. There's also the fact that only three horses in the last 20 years came out of the Preakness and won the Belmont Stakes. And two of those: American Pharoah and Justify, won the Triple Crown. That this is his third race in five weeks – and only fifth overall – makes you wonder why he's this high here. He's this high because we trust Kenny McPeek as much as any trainer. "He's been a horse who has handled whatever level we've taken him to. Good horses do that. It seems like if he can step forward one more time, he's right there," McPeek said. And 20 years ago, guess who was right there with 70/1 Sarava? Yep, McPeek.
Expect them to be there
Nest (Post 3-8/1): Often lost in the Triple Crown trainer chatter is the fact that Todd Pletcher is to the Belmont Stakes as Bob Baffert is to the Kentucky Derby and D. Wayne Lukas is to the Preakness Stakes. This is the New York-based Pletcher's domain in more ways than one. He greeted three of his charges in the Belmont Park winner's circle: Tapwrit (2017), Palace Malice (2013) and filly Rags to Riches (2007). None of them were favored. Go back to 2006 and you find Pletcher has six Belmont runners-up and three more who finished third. Simply put, you want a Pletcher charge on your tickets. And speaking of fillies, Nest has many of the elements to join Rags to Riches on Pletcher's Belmont trophy mantle. She has the pedigree: Curlin, out of graded stakes-winner Marion Ravenswood, a product of A.P. Indy, who has the second-fastest Belmont Stakes time in history. Her Equibase Speed Figures, with a peak of 102 set last out in her Kentucky Oaks runner-up finish, put her in the mix. Nest has never finished out of the trifecta (4-1-1), and her last two wins came by a combined 14 ¼ lengths. Yes, she's a filly who finished behind Secret Oath in the Oaks – the same Secret Oath who finished fourth in the Preakness. But we'll climb back on that limb once again. "We nominated her for the Triple Crown back in January because we've had this type of race in mind for her. She has a strong pedigree for hit and a lot of ability," Pletcher said. With Pletcher's record and Nest's pedigree and tactical speed, who are we to argue?
Mo Donegal (Post 6-5/2): Say "hello" to the best closer in the field, a colt who would have topped more Derby tickets had he not drawn the dreaded rail. Even with that cursed post and a nightmare trip that pushed Mo Donegal outside after he was pushed back early, Mo Donegal finished a solid fifth: only 3 ¾ lengths back. Along the way, he made up 17 lengths and 14 places. That was the only off-the-board finish in Mo Donegal's six-race career (3-0-2). Pedigree snobs may sniff at sire Uncle Mo, who wasn't a distance sire. But on Mo Donegal's dam's side, you've got the likes of A.P. Indy and Tabasco Cat, who make up for that perceived bloodline shortcoming. Meanwhile, you've also got a Belmont Park winner over 1 1/16 miles who owns two graded stakes victories: the Grade 3 Remsen and Grade 2 Wood Memorial, where he beat Preakness winner Early Voting. Mo Donegal. Yes, he's a closer in a race unkind to that genus. But someone's gotta finish second and a colt trained by a three-time Belmont Stakes-winning trainer in Pletcher is never a bad place to go.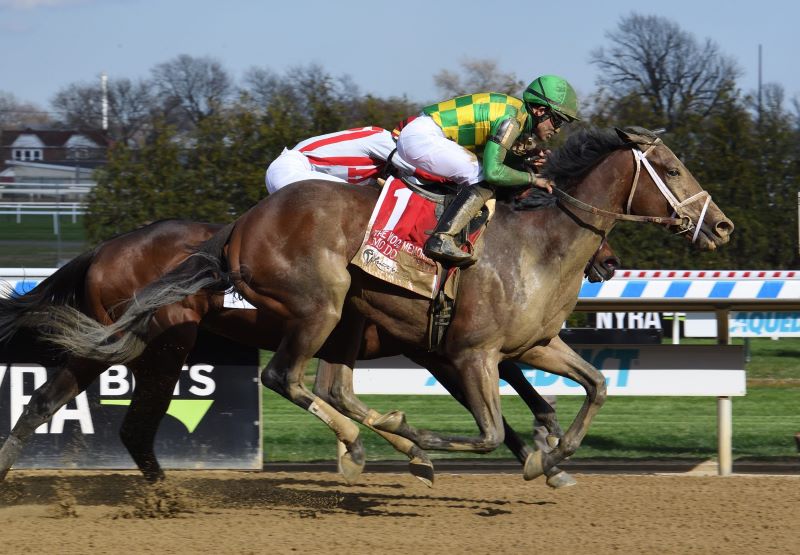 The Pick
We the People (Post 1-2/1): As is our custom, let's preamble We the People's flaws. He takes a huge step up in class from his 10 ¼-length Peter Pan romp. The last time he tried Grade 1 company – at the Arkansas Derby – his trip was anything but domestic tranquility: a miserable seventh. At anywhere around his 2/1 morning line odds, he is anything but a perfect union in terms of value, especially in this field. And yes, 11 of the last 15 Belmont Stakes favorites lost the plot. Now, that posterity of this Constitution colt established, here's why you're looking at the likely winner of the 2022 Belmont Stakes. First, he romped to that Peter Pan at Big Sandy. Winning a race at Belmont Park, with its soft sand and sweeping turns, can't be overestimated. Second, you can draw a line through that Arkansas Derby, since We the People did not secure the blessings of a good trip. He got sucked five wide into the first turn and four wide into traffic throughout. That seventh is the only time We the People did not win a race in four outings. And finally, the most important reason: We the People is the lone speed in the Belmont Stakes field. With Flavien Prat at the controls, expect We the People to bolt out quick from his rail post and use his speed as a common defense against his rivals – all of whom are closers of varying abilities. If he gets into a comfortable rhythm, especially if it rains — and there's a 30% chance it will Saturday — We the People's general welfare will include a Belmont Stakes title. And after you see new minority owner Bobby Flay in the winner's circle, you can cue up this catchy song in We the People's honor.